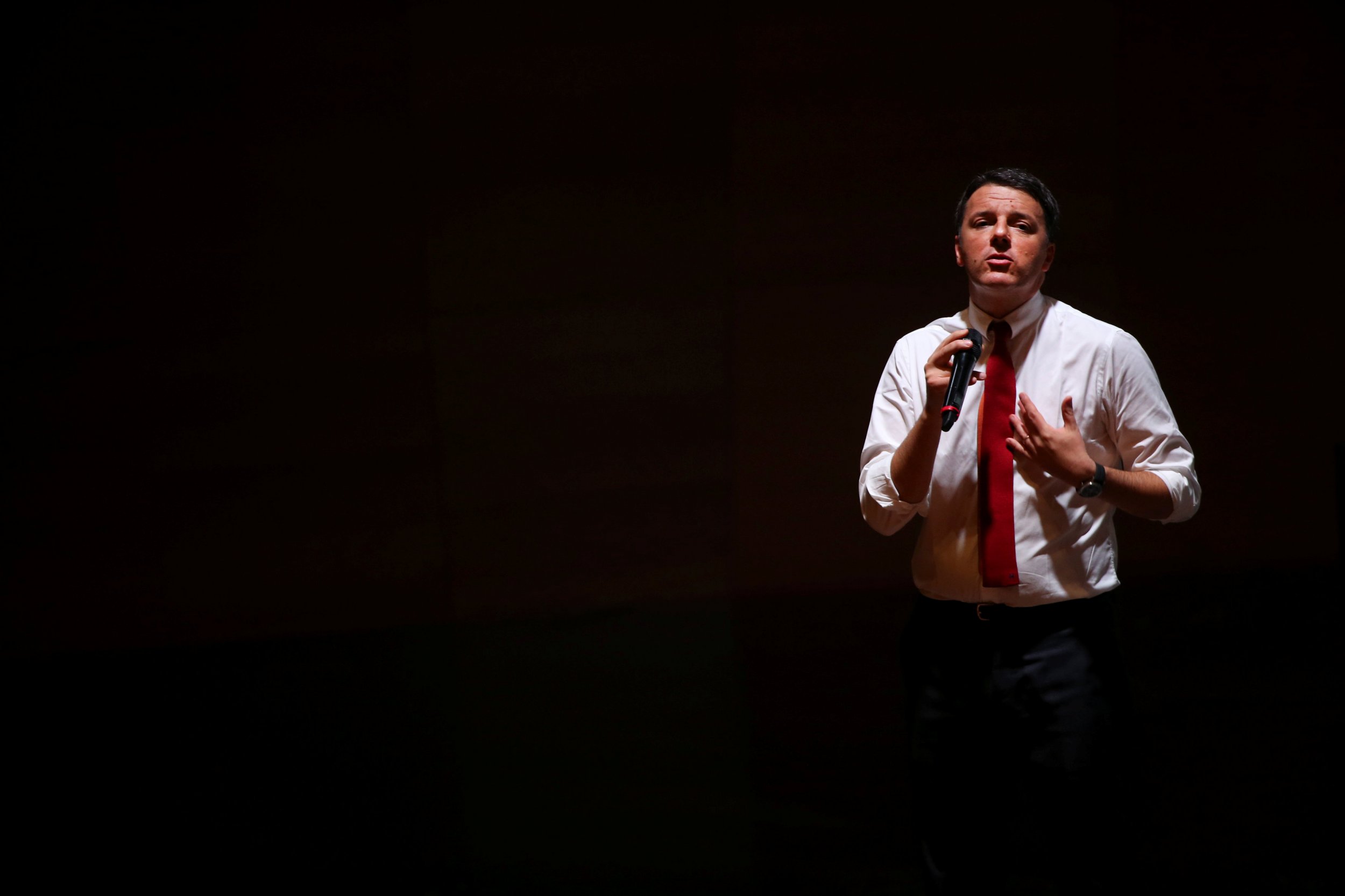 Italy votes on Sunday in a constitutional referendum that, should there be a "no" vote, could trigger the departure of Prime Minister Matteo Renzi. Following Donald Trump's election as U.S. president, and the Brexit vote in June, the poll in the Eurozone's third largest economy is the latest political event in which anti-establishment forces could trigger international shockwaves.
While the formal topic of the referendum is landmark constitutional change, there are significant concerns about what a no vote could mean for the stability of Italy—which is sometimes seen as the biggest threat to the Eurozone's future.
The country has the second biggest debt load in the single currency area at over 130 percent of GDP, and its banking sector is under significant stress with under-performing loans. Indeed, it is reported that up to eight of Italy's troubled banks could risk failing if the referendum is lost, with any ensuing market panic discouraging investors from recapitalizing them.
Moreover, a strong no vote could have contagion beyond Italy, potentially whipping up fresh turmoil across Europe. This is especially so in the context of important elections on the horizon in countries from Austria, Netherlands, France and Germany in the next twelve months.
In a country that has seen more than 60 governments in the post-war era, the purported ambition of Renzi's reforms is ushering in greater political stability. The prime minister's argument is that more stable majorities in parliament, and the stronger government this facilitates, will enable reforms needed to enhance economic growth and reduce the country's public debt.
Perhaps unwisely, however, Renzi (who has been prime minister for almost three years) has linked his personal future to the outcome of the ballot, asserting that he will resign if his reforms are rejected. Polls earlier this month indicated that the no side was around 5 percentage points ahead, although there has been a blackout of pre-referendum surveys since.
That Renzi appears to be on the backfoot reflects, in part, his declining political popularity, and continuing public angst over corruption, and continuing fragility of the economy with unemployment at around 12 percent. Indeed, GDP per head is now around less than in 1997 at constant prices: only Greece has fared worse in the Eurozone during this period.
Should Renzi's reforms be voted down, it remains possible he could perform a volte face and stay in power, or alternatively a new caretaker government, potentially headed by a technocrat, may take power before the next general election on or before in May 2018, but could come as soon as next year. One technocrat who could head up a caretaker administration is economics minister Pier Carlo Padoan.
This underlines that the instability impact precipitated by a no vote may well be contained, in the short to medium term at least. Rather than triggering new polls sooner rather than later, the parties comprising the present coalition have incentives to keep the current legislature going, and seek to form a new government. Moreover, former prime minister Silvio Berlusconi, and his Forza Italian platform, which is polling around 10 percent, has signaled that it might also support a new administration.
Conversely, if there is a yes vote, the reforms could have important implications for the country's future governance. The current constitution, which dates back to 1948 after Benito Mussolini's dictatorship, was designed to diffuse power equally between the Chamber of Deputies and the Senate, whilst giving autonomy to key regions.
Renzi's reforms would re-centralize power by ensuring that Rome takes back key responsibilities from provinces in areas like infrastructure and energy projects. Meanwhile, it puts greater responsibility on regional governments to display greater fiscal prudence with regards to their responsibilities, including health service provision.
The biggest controversy over the reforms, however, stems from the proposals to limit the powers of the Senate, vis-a-vis the Chamber of Deputies. Various Senate powers would be removed, including its ability to bring motions of no confidence in a government, and the number of senators would be reduced from 315 to 100 with these being sourced from local government rather than directly elected.
These referendum proposals coincide with new electoral legislation that states that a single party that wins in a first or second round of elections should obtain an absolute majority in the House of Deputies with 54 percent of seats. While this law has been approved, it is controversial and an appeal is pending which could yet see the Italian constitutional court make the new system more proportional.
Opponents of the reforms, including former prime minister Mario Monti, assert the measures would give the executive excessive powers, and make the government less accountable. These fears are particularly potent to critics of populist Beppe Grillo, who founded the anti-establishment Five Star movement seven years ago, given that there is an outside possibility that he could be the short to medium-term beneficiary of the changes were he to assume power in coming years.
Five Star won mayoral elections in Rome and Turin this year, and is just behind Renzi's Democratic Party in polls. In the past, Grillo has said that Italy should also reconsider its role in the EU, and called for a referendum on whether it should keep the Euro. In this context, many EU officials are nervous about the poll in the context of what has been a very difficult year already for Brussels, with Brexit potentially the EU's worst reversal in its more-than-half-century history.
Taken overall, rejection of Renzi's reforms could see renewed Italian political and economic uncertainty, and will be a further headache for Brussels. European political leaders are already scrambling to come to terms with the aftermath of Brexit and this, combined with potential departure of the Renzi government, will shape the political weather across the continent for months to come with other key European elections on the horizon.
Andrew Hammond is an Associate at LSE IDEAS (the Centre for International Affairs, Diplomacy and Strategy) at the London School of Economics