Italian Region Could Pay Your Wedding Expenses to Get Married In Rome
If your dream is to get married in beautiful countryside, or in a place full of art and history, then a wedding in Italy is probably what you're looking for—and this summer there is an extra reason to choose Rome and its surroundings over anywhere else.
The region of Lazio, in central Italy, is giving away cash to couples who wish to get married there this year, and while it's not a lot of money, it's definitely a good start. The initiative is part of a drive to revive the local economy, which relies heavily on tourism, an industry hit hard by COVID.
To support the most affected businesses, including travel agencies, florists and restaurants, the region is offering a reimbursement of up to €2,000 toward wedding expenses, with a project called "Nel Lazio con amore," or "In Lazio with love."
The €10 million project offers any Italian and foreign couples who get married or have a civil union in Lazio in 2022 the chance to request from the region a reimbursement for up to five expenses amounting to €2,000, which is about $2,250.
Lazio is where the city of Rome is situated, hosting some of the most beautiful monuments in the world, including the Colosseum and Trevi Fountain.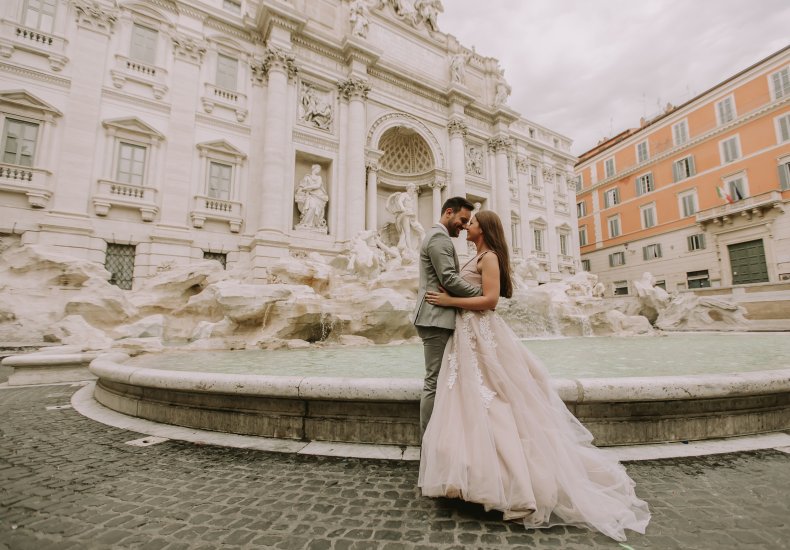 According to Italian wedding blog and organizer matrimonio.com, the cost of a typical wedding in Italy ranges from €15,000 to €30,000 in general, and while the €2,000 offered by the government won't be enough to cover the entire thing, it's still a significant discount you won't get anywhere else.
Wedding prices vary depending mostly on the location and the date. Typically a wedding in the north costs much less than it does in the south. In fact, the average for a wedding in the north is currently €22,103, while in central Italy it's about €27,085, and in the south it's €30,337.
The biggest expense for an Italian wedding is the location, which alone can come up to €4,000 depending on how many guests attend the reception. The second-biggest expense is catering, which is on average about €100 per person.
The most booked dates in Italy go all the way from May to October, when the weather is nice, with the busiest month for weddings being September, with about 37,235 weddings.
To be eligible for the reimbursement, the expenses you would like reimbursed must be made between December 14, 2021, and January 31, 2023. They can't be e-commerce transactions, and they must be paid in a way that can be tracked and proved. They must also be compatible with the categories listed in the scheme, which include all kinds of services from photography to flower arranging and catering.