Ship Returns Migrants to Libya in Apparent Breach of International Law
Italy reportedly sent a ship full of rescued migrants to Libya, due to an apparent breach of international law.
On Monday, a ship with an Italianflag took 108 people that it had saved from the Mediterranean to Libya, The Guardian reported.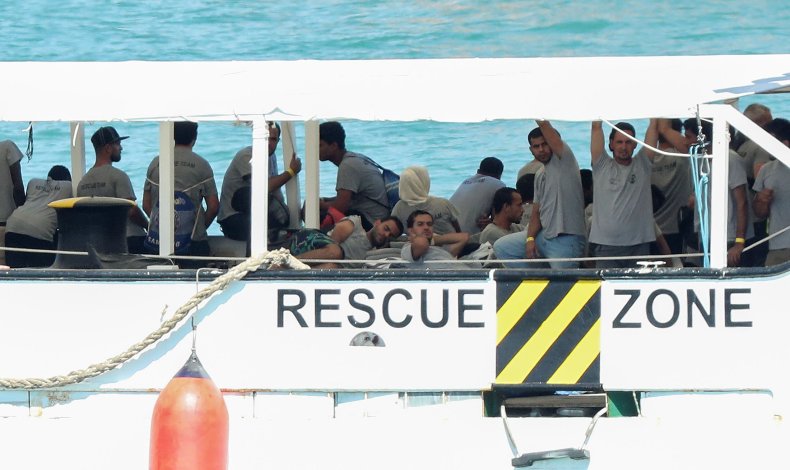 "Not only is it a violation of the right of asylum, but it is an inhumane act toward those 108 people," Amnesty Italia commented on the case.
Members of the Italian government said the Libyan coast guard led the rescue mission and added that Italy had nothing to do with the operation, ABC News said.
"The Libyan Coast Guard has saved 611 immigrants in the last hours," Matteo Salvini, Italy's interior minister, tweeted following the event.
He then added, "Do NGOs protest and the smugglers lose their business? Well, we move forward like that!"
While visiting the White House on Monday, Italy's Prime Minister Giuseppe Conte announced that he wants to hold a conference with Italy's allies in Rome. The issue discussed would be Libya, where most African migrants depart from to begin their journey across the Mediterranean Sea, Reuters reported.
"We would like to deal (with) and discuss all of the issues related to the Libyan people, involving all of the stakeholders, actors, protagonists in the whole of the Mediterranean," said Conte, whose government in recent months has turned away multiple migrant ships.
He went on to say that at the planned conference, the representatives of Italy and its allies will "discuss economic aspects, but also social aspects: the need for protection of civil rights; the problem of constitutional process – of issuing and passing laws so as to enable Libya, in particular, to get to democratic elections in a condition of the utmost stability."
The U.N. and the EU have stated that Libya is not safe.As a result, rescuing migrants in international waters and then taking them to a country where their lives may be in danger goes against international law.
The charity, Proactiva Open Arms, along with Italian politician Nicola Fratoianni, who was on the ship, first reported the situation when the ship had begun to head toward Libya, The Guardian reported.