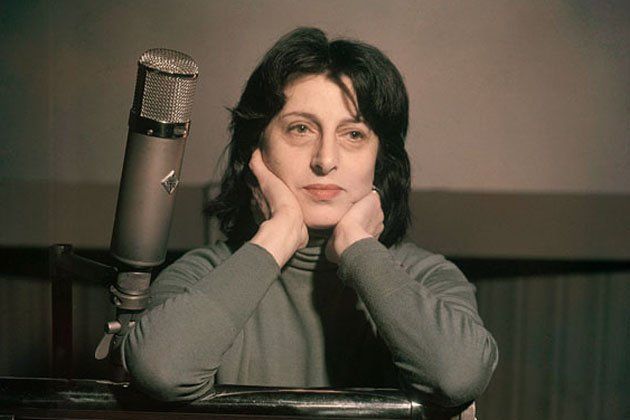 "Did you hear the one about an Italian trying to teach a German how to seduce a beautiful woman?" Silvio Berlusconi asks the university students at their formal graduation ceremony. He pauses, lifts an eyebrow, cocks his head, winks at the male emcee, and then reveals a punch line involving oral sex and champagne flutes. The joke bombs; the room is silent. "That was the watered-down version," he says, trying to recover. "The original version is much funnier—as you can imagine." A few minutes later, he's at it again, smirking at two blondes, there to collect awards for academic excellence. "Congratulations," he tells them. "You two are fabulous. I'm thinking of inviting you to a bunga-bunga" (referring to his infamous sex parties). It takes embarrassed laughter to break the uncomfortable silence.
Berlusconi has always been a joker. But Italian women are no longer laughing. The prime minister's apparent imperviousness to charges of corruption and seemingly unending revelations about sex parties have fueled anger and dismay. In February, nearly a million people demonstrated against his boorish behavior. And the fury has only escalated since. Editorials, livid op-ed letters, and sex strikes proliferate. There are demands for equality in the workplace and legislative movement to put women in positions of power. "Finally," says Maria Latella, editor of the magazine A, "the indignation and outrage is starting to spread."
The rage can be read in the polls. Berlusconi's approval rating among women has dropped from 48 percent a year ago to 27 percent—an all-time low. True to form, Berlusconi has his own statistics. "Did you hear about the latest poll?" he recently joked. "They asked women between 20 and 30 years old if they want to make love to Berlusconi. Thirty-three percent said yes, and 67 percent said, 'Again?'"
Arcidonna, a woman's group, filed a lawsuit against Berlusconi last month for 25 years of abuse against Italian women. "The conduct of the prime minister—now charged with child prostitution—is the final straw," says Valeria Ajovalasit, the group's president.
The 74-year-old recently admitted to paying about $65,000 to a Moroccan belly dancer known as "Ruby the Heart Stealer" when she was 17. But the money didn't pay for sexual favors on 13 different occasions, as the prosecution contends. Rather, it was intended for a hair-removal machine so the belly dancer could start a beauty salon, he told reporters. "I paid her so she wouldn't have to be a prostitute."
"Once again Berlusconi has managed to transform something grave and serious into a ridiculous comedy," says Anna Finocchiaro, a senator with the opposition Democratic Party. "The dignity of women is not a commodity that should be bought and sold."
Like their American counterparts, Italian women burned their bras and demanded equal rights during the 1970s. But any gains slipped away during the following decades. "Women actually started moving backwards," says Emma Bonino, a vice president in Italy's Senate. "They went to sleep." Berlusconi's behavior, however, has awakened a desire for change. "They are determined to change the status quo," says Bonino.
During demonstrations earlier this year, protesters in Rome carried signs with slogans saying, "Our Country Is Not a Whorehouse" and "Give Women Back Our Dignity." A huge inflatable penis, flaccid and caught in a pair of giant scissors, floated above the heads of the more than 100,000 protesters at the historic Piazza del Popolo. There were more than 200 similar protests that day elsewhere in the country.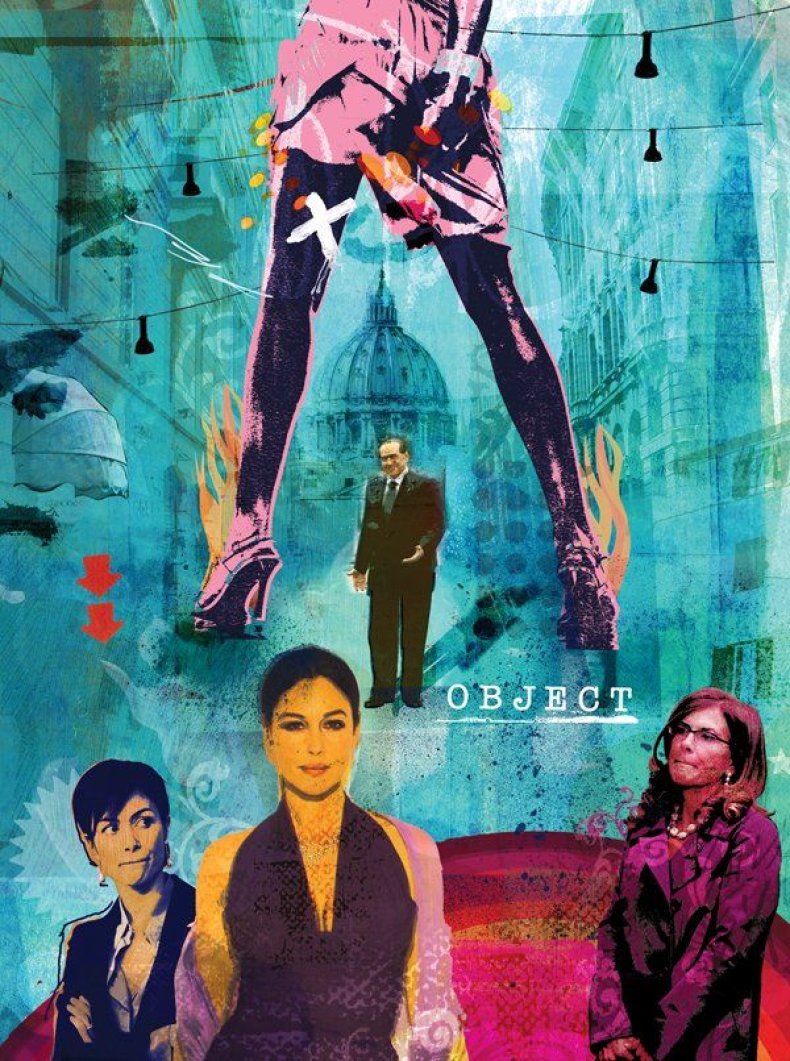 Mussolini "used to say that genius is just a men's quality," says the actress Monica Bellucci. "We are coming from that as the base, and it takes so much time to come up from that mentality." Bellucci, who quit law school to model, could have ended up a velina—one of the sequined and lacquered showgirls ubiquitous on Italian networks—but instead chose to move to Paris and built a successful career as a serious actress. "In Italy, women have to learn so many things," she says. "But most importantly, they have to learn confidence. Women in Italy are beautiful and sexy, but they have to learn that's not all they have."
Mara Carfagna, a former showgirl whom Berlusconi appointed minister of equal opportunity, has proposed an "independent gender authority." Once listed by Maxim as one of the "world's hottest politicians," Carfagna has also signed an agreement with 20 major advertisers to end hypersexualized depictions of women, and has promised to back it up with a bill. Berlusconi has said he'll back the law, and Carfagna has refrained from commenting on the allegations against him. "What's important is stopping the imagery that is plainly wrong and offensive to women's dignity," she recently said.
As it is, Italian media are saturated by female nudity. Giant advertising billboards show women in seductive, open-legged poses. Radio shows are peppered with orgasmic moans. And the television anchors have a skin-to-clothing ratio that would make Caligula blush. In his dual roles as media mogul and Italy's head of state, Berlusconi has done more than anyone to shape the media landscape. During the 1970s, he offered revolutionary programming, including a racy quiz show with housewives who stripped off an item of clothing—apron, kitchen glove, housedress, down to the garter belt—every time a male contestant answered a question correctly. The format for successful television shows hasn't changed much since then: men are still at the forefront, participants and winners, while women are relegated to the background, silently taking off their clothes. "Women on television are treated like pieces of prosciutto," says author Lorella Zanardo, whose popular documentary Il Corpo delle Donne, or Women's Bodies, criticizes sexism on Italian TV. "A woman is either a passive nothing or a blatant whore," says Zanardo. "While the rest of the world is advancing towards gender equality, we women in Italy are stuck in time, living permanently in a subordinate role." Certainly, the statistics are staggering. According to the 2010 Global Gender Gap report by the World Economic Forum, Italy ranks 74th in terms of women's rights, behind Colombia, Peru, and Romania. Indicators include wage parity, labor-force participation, and domestic violence. Other statistics reveal 95 percent of Italian men have never used a washing machine, and that Italian women spend 21 hours a week on housework while Italian men spend only four. "It's the Latin tradition that a man is too macho for housework," says Bellucci. "The idea was—and often still is—that women have to just be at home, to make babies, and that the father has to be a real man who is always in charge of the situation."
Many have begun the countdown to the end of the bunga-bunga era when Berlusconi's term finishes in 2013. "It's time to take back the country and change the direction of history," says Finocchiaro. "Women are the new protagonists and we must help them. We represent a great modern power."
null