Towns in Italy Under Lockdown as Coronavirus Cases Surge in Southern Europe and Middle East
A silent panic befell northeastern Italy during the final weekend of carnival. Bars, schools, restaurants, and other public spaces in 10 towns here closed, with more expected to follow, after the region reported its first two deaths from the new coronavirus. From Milan to Venice, villages and communities resembled ghost towns.
The first victim, a 76-year-old man, died in Padua, in the Veneto region north of Venice, according to the Ansa news service. A second victim died in the Lombardy region southeast of Milan on Saturday, where at least 32 new cases were reported.
"It's a little worrying. Until this happened in Padua it almost seemed like a media stunt," Marco Bertoni, who lives in the northern city of Feltre, told Newsweek. "Now that it's closer, people are worried. Even though Padua isn't all that close, people are scared because they don't know the source. Let's hope it doesn't spread, but if it does, I think our health services are prepared."
More than 50,000 people have been asked to remain shuttered inside their homes and to avoid carnival celebrations, church masses, and sporting events.
"Everything is under control," Italian Prime Minister Giuseppe Conte told local media.
In Casalpusterlengo, in a village in Lombardy, a message board outside the town hall read: "Coronavirus: the population is invited to remain indoors as a precaution," according to Agence France-Presse.
A 38-year-old Italian man returning from a business meeting in China was the first locally reported case in Italy. He and his pregnant wife, and a friend with whom the man played sports, were each in intensive care. Italian media reported that three other cases were in elderly people who frequented bars in their town.
The deaths in Europe come after the World Health Organization (WHO) warned of the "narrowing" window in which to stem the rapid coronavirus epidemic. Early Saturday, WHO expressed concern that cases have risen where an infected person had not been in contact with someone returning from travel to China.
Meanwhile, Iran's health ministry reported 10 new cases of the COVID-19 infection, and one new death, raising the toll across the Middle East to five. Lebanon and Israel also confirmed their first cases of the virus on Friday. Last month, the United Arab Emirates was the first country in the Middle East to report cases of the new coronavirus.
"This outbreak could go in any direction," said WHO director general, Tedros Adhanom Ghebreyesus, according to The Guardian. "If we do well, we can avert any serious crisis, but if we squander the opportunity then we will have a serious problem on our hands."
The worldwide death toll reached 2,360, according to Johns Hopkins University, with more than 77,662 cases of which 21,029 have recovered. Adhanom, in a Twitter post, said that 80 percent of cases are considered mild, 20 percent critical, and 2 percent are fatal.
The deadly virus is characterized by symptoms including fever, dry cough, and shortness of breath. Cases are predominantly in mainland China, though the virus has spread to more than 25 countries and territories, including the United States, as shown below in the infographic by Statista.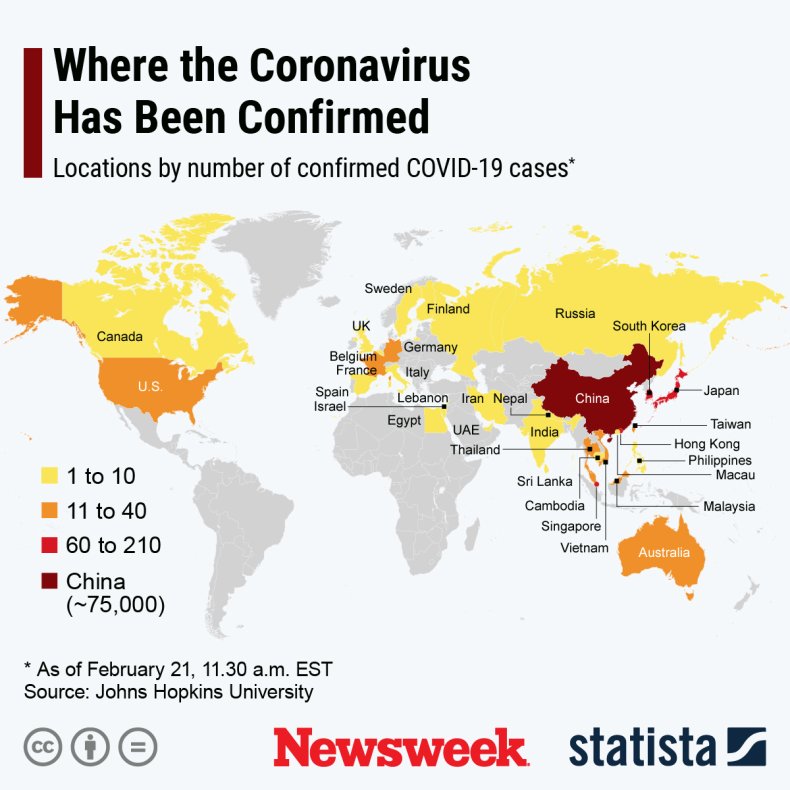 Health officials late last year discovered the virus when workers at a market in the Chinese city of Wuhan, Hubei province, fell ill. While experts work to understand how the virus is transmitted, recent studies suggest contamination may come through contact with fecal matter.
The Chinese Center for Disease Control and Prevention published a report stating the virus had been found in the stool of COVID-19 patients from the northeastern province of Heilongjiang. "This virus has many routes of transmission, which can partially explain its strong transmission and fast transmission speed," the report added.
The WHO noted that other members of the coronavirus family, namely SARS and MERS, were transmitted largely through unsanitary conditions, where the exposed individuals came in close contact to an infected patient's coughing and sneezing.