Prisoners in Coronavirus-Stricken Italy Start Riot, Set Fire to Prison After Visitors Banned to Prevent Disease's Spread
Riots broke out at several Italian prisons as the government expanded restrictions to stop the spread of a new coronavirus, including limiting visits from inmates' families.
Francesco Basentini, head of Italy's prison administration, confirmed three inmates died inside a jail in the province Modena and, three other inmates died after they were transferred from the prison, according to Reuters. Two guards were taken hostage in Pavia, a town in northern Italy, and some prisons, including one in Salerno, were set on fire and sustained significant damage.
"A real war scenario," OSAPP, a prison guard union, said in a statement on Sunday.
Over the course of two days, OSAPP said there were uprisings at more than 30 penitentiaries in the country and the riots caused several hundred thousands of euros in damage. Four prisons—Salerno, Naples Poggioreale, Moden and Pavia—sustained "almost irreversible damage," according to OSAPP.
The Polizia Penitenziari, a law enforcement agency in Italy, said in a statement that protests in every institution were about the coronavirus emergency and the government's actions to limit it from spreading.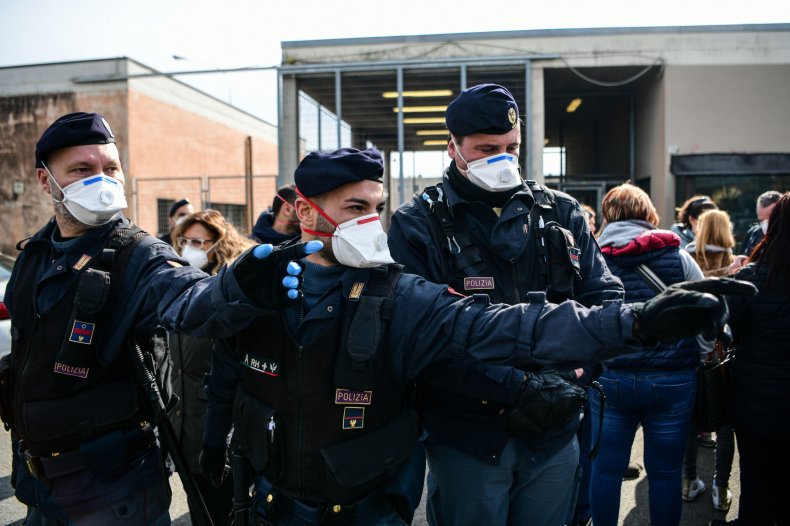 Italy's experiencing one of the largest outbreaks of the virus and as of Sunday, 6,387 people tested positive, according to the Civil Protection agency. Of those cases, 622 have recovered and 366 died, the most deaths reported in a single country outside of China.
On Sunday, Italian Prime Minister Giuseppe Conte signed a decree that further limited movements in parts of the country that were experiencing widespread outbreaks of COVID-19. Along with expanding a quarantine area to include about 16 million people, the decree banned families from visiting inmates until March 22. Instead, inmates would be confined to contacting visitors by phone or other remote methods.
News of the restrictions leaked ahead of the government's official announcement, an action Conte called "irresponsible." The leaked plan caused confusion and chaos in Italy and thousands of people attempted to flee places that were included in the decree.
"This exodus doesn't help you and it only hurts," Michele Emiliano, President of Puglia, posted on Facebook on Saturday. Emiliano told people from the impacted regions to stay where they were so as to not bring the virus to the Puglia region.
He acknowledged that he didn't have the power to close the region's borders, but issued an order requiring anyone from 14 provinces to stay home for 14 days, fill out a form to declare they were back in the region, remain reachable for surveillance activities and inform a doctor or health provider if they experience symptoms of the virus.
Within the areas indicated in the decree, people were required to fill out police forms if they wanted to move outside the quarantined area and those who tested positive for the virus were banned from leaving home. To ensure people are following the measure, officials set up checkpoints on roads and highways and health checks at railway stations and airports. Those who violate the order face up to three months in jail or a fine of 206 euros, according to the Italian Health Ministry. Lockdown measures will be in place until April 3.
Conte claimed that his administration has been accused of being too strict, as well as, not strict enough and said it would be that way until the end.
"But our line does not change and I repeat it as a mantra to all ministers and to the organizational machine: maximum precaution, adequacy and proportionality of the measures," Conte said.