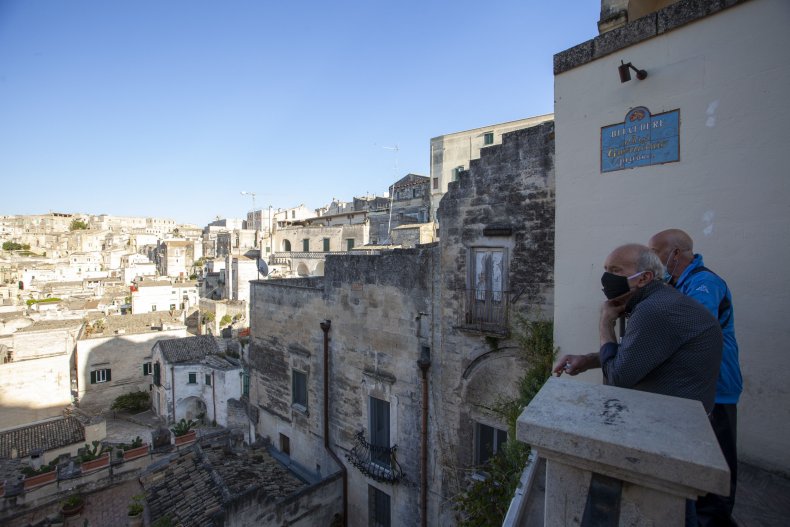 The first bus arrived one day this week at 10 a.m.
Twenty-three southern Italians alighted into San Fele, a small town (population: 2,800) two hours east of Naples and tucked like a pocket square into a fold of rolling mountains. For the next three hours the visitors, with walking and selfie sticks, navigated the bucolic forest paths and descended into the city streets where they bought ricotta from a local farmer and had lunch at a restaurant girding the town's center.
Some visitors wore masks as masked locals looked on.
The visitors had worried the locals, who saw in the three-hour day trippers two invasions: one which marked the signal of the European vacation season that often doubled the town in size each day, and one which hadn't made its way to the town all year: the coronavirus.
San Fele had not seen a case, or any symptoms, of the novel coronavirus, remaining COVID-19-free throughout the pandemic even as Italy briefly became the global epicenter in March and April.
As Basilicata, the region in which San Fele sits, saw 401 cases, San Fele never recorded one. It had no curve to beat. Its residents spent recent days enjoying mangiare fuori, or eating outside, and relishing their safely guarded place of amnesty.
"Our fear," Donato Sperduto, the mayor, told The Washington Post, "is those who come from the outside."
As the European Union seeks to open its borders to intra- and international travelers on July 1, creating "air bridges" between locations that have lowered daily infection and mortality rates, questions persist about the precarious state of regions and countries that have managed to mitigate the virus' spread. How can a weekend tourism destination thrive economically while also maintaining its literal health?
"We can't rest easy," Sperduto said, vowing to test visitors who arrive.
Like much of northern Italy, where the high mortality rate was attributed to the aging, San Fele is home to some 15 centenarians and dozens older than 90.
Italy, which began its first steps to roll back quarantine measures on May 4, has remained one of the hardest-hit nations in Europe during the COVID-19 pandemic. It was the first country to announce a complete lockdown which shuttered all business and effectively forced its 60 million residents to stay at home. On June 3, the nation loosened inter-travel restrictions, virtually reinstating summer vacation plans after two months of lockdown and sending travelers out to beaches and hillside oases across the peninsula.
In April, Prime Minister Giuseppe Conte reassured Italians wearied and weakened by lockdown measures that summer would not be spent indoors.
"This summer we will not be spent on the balcony and the beauty of Italy will not remain in quarantine. We will be able to go to the sea, to the mountains, to enjoy our cities," Conte told Corriere della Sera. "And it would be nice if the Italians spent their holidays in Italy, even if we do it differently, with rules and cautions."
Italy has reported 34,716 deaths from the coronavirus, according to Johns Hopkins University, with more than 240,000 confirmed cases as of Saturday.