'Soon the Dead Will Start Arriving Again,' Italian Cemetery Worker Says as Cases Rise Across Country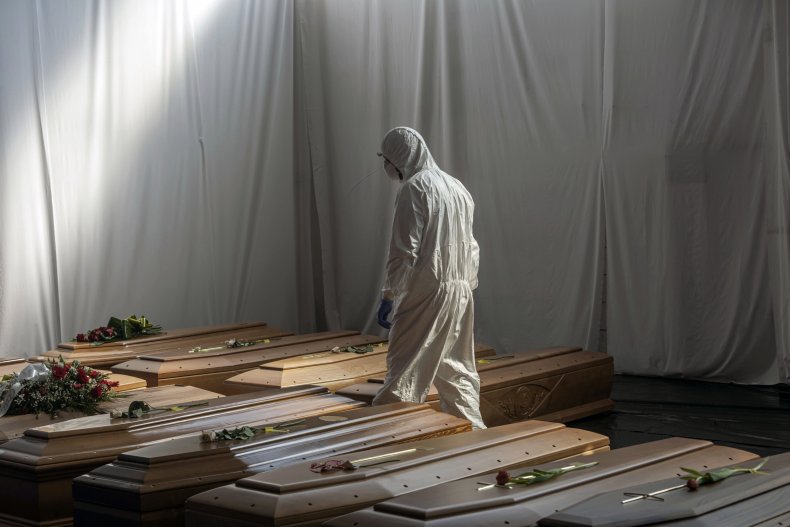 Fears are rising in an Italian town that faced the brunt of the coronavirus pandemic this spring, where between 50 and 60 residents died daily during the height of the outbreak.
Residents in Bergamo, in northern Italy, are watching as cases spike again even though the country is largely reporting lower coronavirus cases than neighboring countries.
"The dead arrived in force—50 or 60 a day—they didn't stop coming for two months," a cemetery manager told The Observer newspaper. "It was horrendous. And now infections are rising again. Young people are infecting older people, and so soon the dead will start arriving again."
A deja vu of sorts is setting in.
Compared with other nations like Spain, France and the United Kingdom—which on Tuesday reported 10,799, 10,088 and 4,926 cases, respectively—Italy had been managing the outbreak.
But by Wednesday, infections in the Lombardy region—which experienced the brunt of cases in the first wave in which some 37,000 Italians died—have more than doubled. More than 4,100 cases were reported in a single day, with over1,800 of those cases were in Milan, the economic hub of the region.
The country recorded a nationwide total of 19,000 new cases on Friday after a summer of lax restrictions led to Prime Minister Giuseppe Conte encouraging renewed lockdowns and curfews. Towns and regions are able to decide how they will curb the rise in cases, unlike the nationwide lockdown that shuttered the country for months beginning in March.
A nationwide mask requirement has led to a reduction in cases in recent months, but more recently a younger population has flouted restrictions. While hospitalizations are on the rise, deaths are fewer than in spring, in part to hospitals having prepared for a second wave.
Regional leaders and Conte convened late on Sunday and agreed to the closure of all cinemas, swimming pools and gyms across the country in a further attempt to stop the spread of the virus. Bars and restaurants will be forced to close by 6 p.m. local time, though some general purpose shops will remain open.
Yet memories of spring remain in Bergamo, the worst-hit city, where morgues and cemeteries struggled to cope with the rapid death toll. At one point the military was called in to handle an excess of corpses. Italy was the first country to install mobile refrigeration units in which to store the bodies.
"The second wave is different from the first," Giorgio Gori, the mayor of Bergamo, told The Observer. "In March it was concentrated in the north, now it's everywhere. For some people it's the first real experience of the pandemic, so they might live the same experience we lived."