Coronavirus Italy Update: Europe's First Major Outbreak Sees Fourth Death From the Virus, More Than 150 Cases Confirmed
A fourth person has died after contracting the coronavirus in Italy. The country has seen more than 150 confirmed cases since Friday, with thousands remaining on lockdown in parts of northern Italy. The latest cases mark the first major outbreak in Europe, which has raised fears over the rapid global spreading of the virus.
The Venice Carnival was canceled from Sunday and all major sporting events, including marquee top-flight soccer matches, have been suspended since the outbreak. Events around Milan Fashion Week are also affected.
According to the latest report on February 23 by the World Health Organization, the deadly virus has infected more than 78,800 people globally, with 77,042 cases confirmed in China, where the virus was first identified in Wuhan city of the Hubei province. It has claimed the lives of 2,445 people in China and 17 outside China, according to WHO's most recent report.
The latest death in Italy saw a man in his 80s killed by the virus after having been at the hospital to be treated for an unrelated illness, according to Italy's national broadcaster RAI.
The other three deaths in Italy include a 78-year-old man who died on Friday, a 77-year-old woman who died on Saturday, and an elderly female cancer patient who died in a hospital in the city of Crema in the Lombardy region, Agence France-Presse reported.
While the cancer patient, who was hospitalized for several days, had tested positive for the coronavirus, it was too early to know whether the virus was the actual cause of death, said Lombardy's health chief Giulio Gallera.
"The rapid increase in reported cases in Italy over the past two days is of concern," a spokesperson for WHO, Tarik Jasarevic, said on Sunday.
"What is also worrying is that not all reported cases seem to have clear epidemiological links, such as travel history to China or contact with a confirmed case," he added.
More than 50,000 residents across 11 towns in northern Italy have been on mandatory lockdown since Sunday following the surge in confirmed coronavirus cases in the country. The number increased from three cases on Friday morning to 152 over the weekend, Angelo Borrelli, the head of Italy's civil protection ministry, confirmed at a press conference.
Ten of the quarantined towns are within the Lombardy region (the capital of which is Milan), while one is in the neighboring Veneto region, whose capital is Venice. The quarantine period could last for weeks, the country's prime minister, Giuseppe Conte, said.
Most of the cases were reported to be around the small town of Codogno, located about 43 miles southeast of Milan.
Anyone who has come into direct contact with an infected person will be quarantined for 14 days, while others within the affected region are recommended to stay home, the country's health ministry said.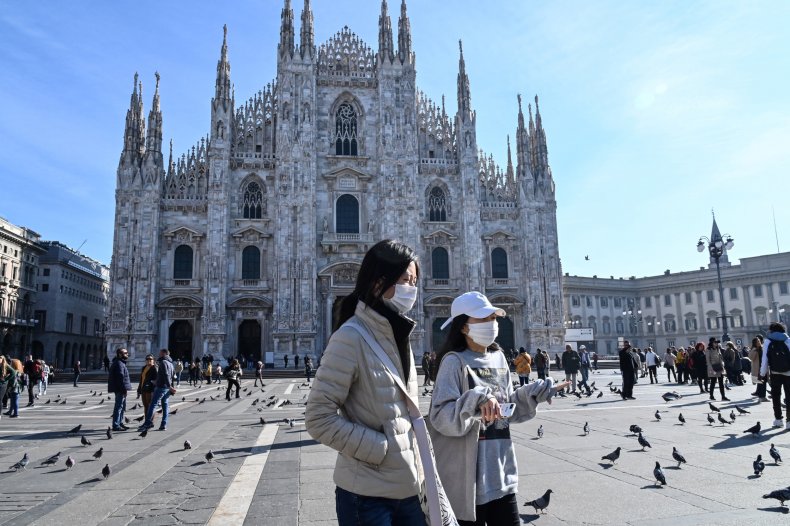 Police checkpoints have been set up across the affected regions, with residents prohibited from leaving the quarantined towns, while any areas where crowds might form, such as bars, restaurants and nightclubs, have also been closed by regional authorities. Those violating the travel ban will be subject to fines and three months in jail, the government confirmed.
The government also confirmed it is prepared to deploy the military to enforce the lockdown and thousands of beds have been prepared in military barracks or hotels to house any quarantined or sick individuals as needed, Borrelli confirmed at the press conference.
Various cultural events in the country have been affected by fears over the coronavirus, including Venice Carnival, which attracts thousands of tourists from around the world. The annual event was closed on Sunday, two days earlier than scheduled, while performances at La Scala, Milan's major opera house, were suspended as a precautionary measure.
Milan Fashion Week, which has been on since last week, has seen a sharp decrease in attendance by Chinese buyers. Fashion designer Giorgio Armani live-streamed his fashion show on Sunday, with no guests in attendance.
The Italian Olympic Committee (CONI) confirmed it will postpone all sporting events in the Lombardy and Veneto regions to comply with government instructions.
Major sports matches, including four Serie A and five Serie C soccer matches, have been postponed amid coronavirus fears. AC Milan also announced the suspension of its women's soccer team match against Florentina.
"Now more than ever we have a duty to be prudent and responsible," Italy's sports minister Vincenzo Spadafora said.
"It is necessary to act seriously and determinedly, while maintaining calm and not taking any unnecessary risks.
"For this reason, we have suspended sports competitions in areas where there may be even the possibility of spreading the virus," he said.
The museum at the Allianz Stadium of Juventus, the soccer team of Cristiano Ronaldo, will remain closed until February 29, while the Six Nations rugby match between Italy and Scotland, which was scheduled to take place in Legnano, just north of Milan, has also been postponed.
From Milan to Venice, villages and towns are said to resemble ghost towns with local supermarkets showing nearly empty shelves in the aftermath of the outbreak, according to Italy's La Stampa.
Residents wearing face masks were reported to be queuing outside one supermarket in Casalpusterlengo, a town located about a 10-minute drive from Codogno, and only allowed to enter in groups of 40.
"It's inhuman," a man called Sante told AFP. "Fighting over four sandwiches is just disgusting," he added.
Experts from WHO and the European Centre for Disease Prevention and Control are expected to arrive in Italy on Tuesday for further investigation of the latest outbreak, according to WHO spokesperson Jasarevic.