Italy Earthquake: Watch as Seven-Month-Old Baby Saved from the Rubble on Volcanic Island of Ischia
The Italian island of Ischia was hit by a 4.0 earthquake on Monday evening and rescuers have been working through the night to contain the number of casualties.
Two deaths have so far been confirmed, a woman's body was found in the rubble of her home and another woman died when a church collapsed. Around 39 people were injured in the earthquake and at least one of them is in serious conditions, the Italian news agency Ansa reported.
Rescuers have so far managed to pull two men and two women from the rubble and were working to free one of two brothers from the ruins of their home. On Tuesday morning a video emerged of rescuers retrieving a seven month baby to cheers and applause.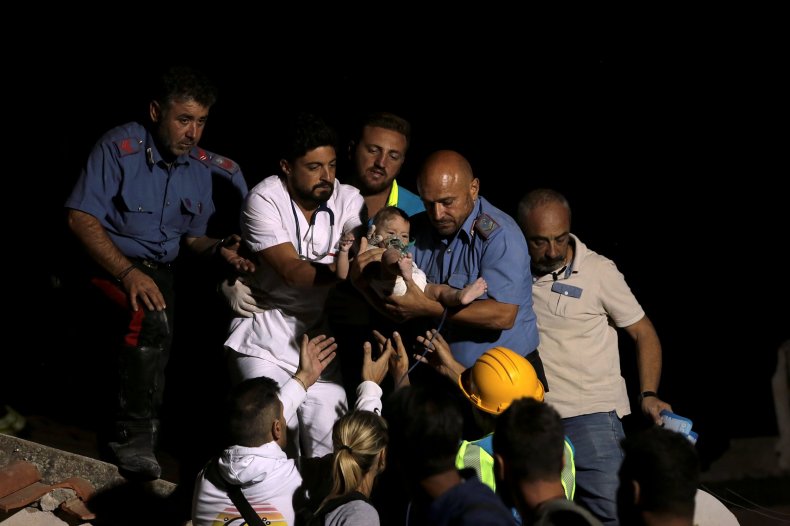 Sharing an image from the rescue, the Italian firefighters call it a "miracle."
A popular tourist resort, Ischia is a volcanic island in the Gulf of Naples, which is home to two active volcanoes (the supervolcano Campi Flagrei and Vesuvius) and seven undersea volcanoes: the Marsili and six others that were discovered last year.
The earthquake's epicenter was located off of the northwestern coast of the island and experts believe it was tectonic and had no relation to volcanic activity.
The first earthquake was felt at 8.57pm local time (2.57pm EDT), according to the Italian Institute of Geophysics and Volcanology. A volunteer for the Italian Red Cross told Newsweek around 2,000 people live in the area most affected by the earthquake, around the town of Casamicciola.
The number of those left homeless due to the damages to buildings, at least six of which have collapsed, will be assessed on Tuesday morning.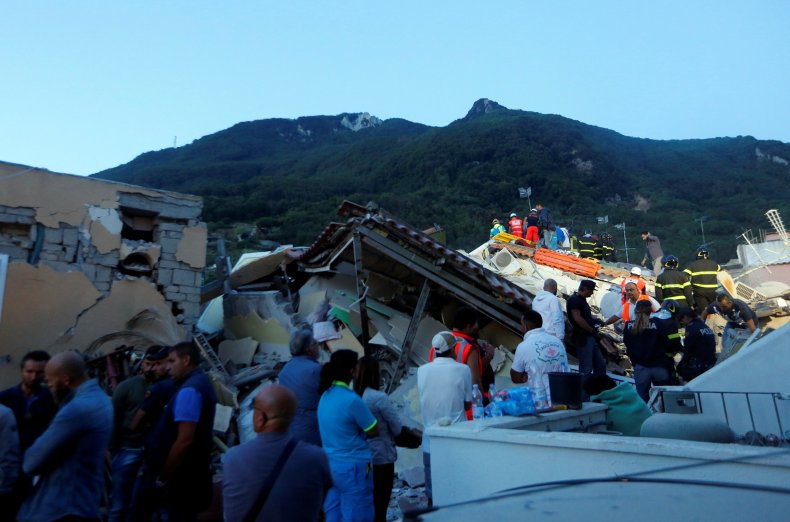 More than 1,000 people, including many tourists, headed to the ferries after the earthquake struck. Those who could not board last night have spent the night near the piers, waiting for the ferry service to resume in the morning, Italian media reported.
The earthquake struck Ischia almost a year to date since the deadly earthquake of Central Italy, which originated near the town of Amatrice in the night between August 23 and 24, 2016.
Ischia itself is considered to be a seismic area. A powerful quake in 1980 destroyed large parts of the town of Casamicciola and killed more than 2,000 people.