Italy's Far-Right Government Expels Migrants From Shelters Before Christmas, Reports Say
Italy's far-right government has reportedly begun to expel asylum seekers—including children and victims of human trafficking—who were protected under the now-scrapped humanitarian protection status, local media reported.
At least 24 migrants were asked to leave a shelter in the southern municipality of Isola di Capo Rizzuto last Friday, while 200 others are being forced to evacuate that center next week, The Independent reported citing Ansa news agency. The evacuation orders come on the heels of a decree that became a law last month that was pushed by far-right interior minister and deputy prime minister Matteo Salvini. The new law seeks to halt refugee application processes for those deemed "socially dangerous," thus reducing the number of people who receive asylum status. Under the new law, the government would take four years, instead of two, to process Italian citizenship applications through naturalization or marriage.
The Independent added that nearly 20,000 people—a quarter of people who sought asylum in Italy last year—obtained such status, with almost 100,000 of them reportedly receiving it in total. They were eligible to stay in Italy, and even those who did not qualify for refugee status were allowed to remain on Italian soil because they were deemed unsafe in their home country, based on rulings by local authorities.
The new system would exclude new migrants from local centers known as Sprar, which helps them integrate into society by offering courses in Italian and job training. While the government said the law should not affect those who already received humanitarian protection status, there are reports of people being removed from those centers, the publication said.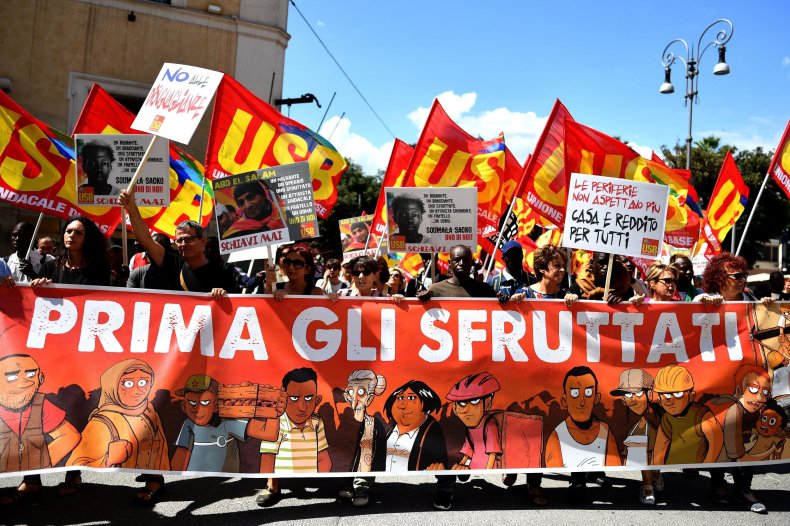 Ever since The League—a right-wing regionalist party from northern Italy—assumed power with the 5 Star Movement last summer, it has pledged to clamp down on irregular immigration, and it has done so by refusing to let boats carrying migrants—mainly those from sub-Saharan Africa—to dock in the country's ports, Reuters reported. The so-called "Salvini decree" put restrictions on protecting victims of domestic violence, trafficking, work exploitation and natural disasters, the news agency added.
Speaking to a crowd in Northern Italy this summer, Salvini had allegedly told undocumented migrants to "get ready to pack your bags," CNBC reported.
Migrants departing from Northern Africa face a deadly journey as they attempt to cross the dangerous waters of the Mediterranean Sea. The International Organization for Migration reported last June that 2,844 people died or have gone missing as they tried to arrive in Italy in 2017. So far this year, 1,285 migrants have died or have gone missing.
The new law could run afoul of the 1951 U.N. Refugee Convention that protects all refugees from mandatory return to their places of origin, except when they're considered a danger to public safety.