Italian authorities have ordered the seizure of a migrant rescue ship and launched an investigation into its operators over claims of mismanagement of waste, including clothing they reportedly claim could be contaminated by HIV, tuberculosis and meningitis.
Prosecutors in Catania, Sicily, ordered the seizure of the Aquarius rescue ship and the accused nonprofit Doctors Without Borders (known by the acronym MSF, for its French name, Médecins Sans Frontières), which operates the ship, of having illegally disposed of 24 metric tons of medical and contaminated waste accumulated during nearly 50 rescues, Associated Press reported.
MSF said the Aquarius is currently docked in Marseilles, France, out of Italy's reach. However, Italian judicial authorities had said they plan to seize the ship if it enters the country's waters.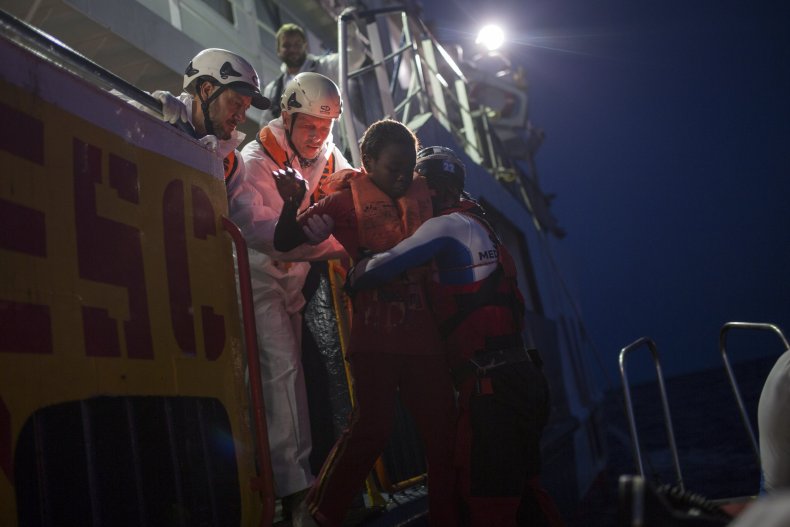 Authorities have also fined MSF €460,000 ($524,070), which prosecutors reportedly say is the amount the organization had saved by not properly disposing of waste.
They have also frozen some of the organization's Italy-based bank accounts and placed 24 people under investigation, including Evgenii Talanin, the captain of the Aquarius and Michele Trainiti, who serves as deputy head of the Italy mission of MSF Belgium.
A statement from prosecutors asserted that there were cases of scabies, HIV, tuberculosis and meningitis among newly arrived migrants, and said their "contaminated clothing" risked spreading infection, the AP reported.
HIV/Aids awareness groups have hit out at prosecutors' claims that clothing could be contaminated with HIV, with Deborah Gold, chief executive of the National Aids Trust, telling British newspaper The Guardian, "Clothing categorically is not, and has never been, an HIV transmission risk."
"This would have stood out as ridiculous even amongst the misinformation of the 1980s, never mind in 2018," she said.
"Migrants and people seeking asylum have historically been attacked using myths about HIV and infectious conditions, and we condemn this both for its stigmatizing of people living with HIV and of migrants fleeing hardship," she added.
In its own statement, MSF said it "strongly condemns the decision by Italian judicial authorities to request the seizure of the Aquarius for alleged anomalies in its disposal of onboard waste," calling it a "disproportionate and unfounded measure, purely aimed at further criminalizing lifesaving medical-humanitarian action at sea."
The nonprofit said that the request to seize the Aquarius and the order to freeze some of its bank accounts came after a "longstanding investigation" by the Catania prosecutor's office regarding the disposal of onboard waste, "with particular reference to food leftovers, the clothes of rescued people and waste from the ship's medical activities."
MSF maintained that "in-port operations, including waste management" of its search-and-rescue vessels have "always followed standard procedures."
"Relevant authorities did not question these procedures, nor did they identify any hazard for public health since MSF began search and rescue operations in 2015," the nonprofit said.
MSF said it was "fully willing" to cooperate with Italian authorities, but still "questions the Public Prosecutor's interpretation of the events and refutes accusations that it was involved in criminal activity aimed at illicit waste management of any kind."
The organization said it would also submit an appeal over "inaccurate or misleading" allegations from prosecutors, with Gabriele Eminente, the general director of MSF in Italy, stating: "We are more than ready to clarify the facts and stand accountable for the operational procedures we followed, but we strongly reaffirm the legitimacy and legality of our humanitarian work."
MSF noted that in the past year alone, more than 2,000 people have died trying to make the treacherous journey across the Mediterranean, while others continue to risk their lives to make the trip in search of refuge. The nonprofit said it had assisted more than 80,000 people in coordination with maritime authorities and "in full compliance with national and international laws."