Italy Ready to Lead Coalition in Libya to Prevent 'Caliphate Across the Sea'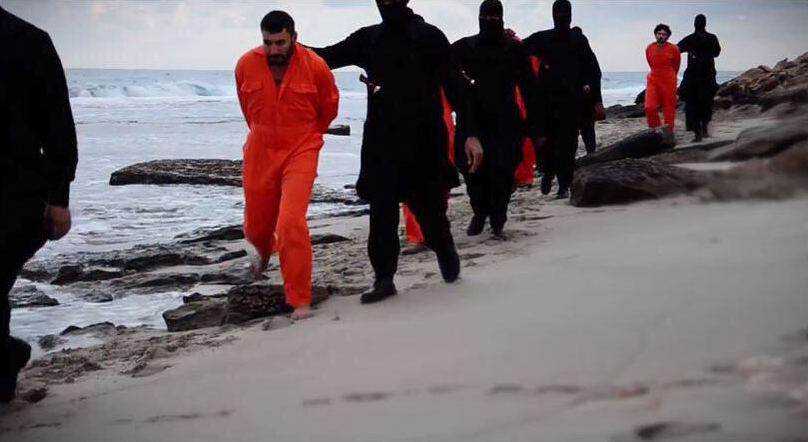 Italy is ready to lead a multilateral effort to tackle the growing threat from jihadists in Libya and prevent "a caliphate" forming across the sea from Europe's shores, the Italian defence minister has said.
Last month, ISIS claimed responsibility for a deadly attack on the Corinthia hotel in Libya's capital, Tripoli, and yesterday the group released a video purportedly depicting the beheading of 21 Egyptian Coptic Christians, filmed on the shores of the Mediterranean sea. In the video, the militants talk of conquering Rome and point out to sea towards the Italian coast. The eastern Libyan town of Derna which is under the terror group's control, is approximately 520 miles from the southern tip of Italy.
In comments made to Italy's Il Messaggero newspaper, Italian defence minister Roberta Pinotti spoke of the "imminent" risk posed to Italy by radical Islamist groups in the north African state beset by unrest between warring factions.
"We have been discussing this for months but now it has become urgent," she said. "The risk is imminent, we cannot wait any longer. Italy has national defence needs and cannot have a caliphate ruling across the shores from us."
Italian prime minister Matteo Renzi has also called on the UN to implement a "stronger mission" in Libya because Europe has to "stop sleeping" as jihadist groups continue to thrive near Europe's borders.
While it is unclear what action any potential international coalition would take in regard to Libya, French president Francois Hollande and Egyptian president Abdel Fattah al-Sisi today called for an urgent UN Security Council (UNSC) meeting to discuss how to halt the terror group's advance in the country.
Following the ousting of Colonel Muammar Gaddafi in 2011, Libya has slid into civil war with two governments operating separately in the west and east of the country, allowing radical Islamist groups such as ISIS and the al-Qaeda-linked Ansar al-Sharia to capitalise on the power vacuum.
A spokesperson for the EU's foreign policy chief, Federica Mogherini, herself a former Italian foreign minister, said of Pinotti's comments: "The EU has taken note of Italian interest to lead a European coalition to fight terrorism in Libya. The meeting on Libya of the UNSC, as suggested by French President Hollande, should provide a good opportunity to discuss this and other initiatives."
Sir Richard Walton, former British ambassador to Libya, said that the homegrown jihadist threat remains a priority to European Union nations and said member states "cannot afford to ignore any front". However, he also says that multilateral action could be limited to airstrikes - similar to Egypt's response, who have launched airstrikes on the group - as opposed to boots on the ground.
"It [the EU] is going to have to make up its mind on what is the right strategy," he says. "It could be that the conclusion is the threat is not imminent to Europe, therefore international action should be confined to containment, which could be done through an air campaign."
Mohamed Eljarh, Libyan analyst and non-resident fellow with the Atlantic Council's Rafik Hariri Centre for the Middle East, agrees with Pinotti that the threat of ISIS's affiliate in Libya to Italy's security "cannot be overstated". He added that the group's latest video was a direct threat "against Italy and the EU in general".
However, Michael Horowitz, senior analyst at the geopolitical risk consultancy Max Security Solutions, argues that the tactic to be seen as a threat to Europe is actually "aimed at bolstering the group's prestige" among rival jihadist groups in Libya, such as Ansar al-Sharia.
Pinotti's warning comes after Rome removed all of its embassy staff from the country on Sunday and suspended its diplomatic operations due to the growing jihadist threat to foreign interests. The Italian Foreign Ministry confirmed that approximately 100 Italian nationals were evacuated by ship "because of the worsening security situation" but that Italian oil and gas workers would remain in country.
The rise of ISIS's influence in Libya has caused concern that, as the group continues to grow, it could use the country as a launchpad for attacks on Europe, with militants hiding themselves among the thousands of refugees who attempt the treacherous passage of Libya to Italy by sea.
Pinotti told Il Messaggero that it "could not be ruled out" that jihadists would arrive in Italy disguised as refugees. Last month, reports emerged that Syrian jihadists were using the same tactic to enter the EU via its eastern borders.
Last week, 300 refugees died when their boats sank in the Mediterranean sea while 2,000 migrants were rescued this weekend by the Italian coastguard between the Italian island of Lampedusa and the Libyan coast as many continue to risk their lives to escape conditions of war and famine in order to reach the shores of Europe.
Carlotta Sami, senior spokeswoman for the United Nations High Commissioner for Refugees (UNHCR) office in Rome, warned that arrivals of refugees to Italy from Libya were nearly doubling year-on-year. According to UNHCR figures, approximately 3,500 made the journey last month while only 2,100 did so in January last year. "At this pace, I think we might reach 6,000 by the end of February," she added. "It's very urgent."