Chairs were thrown. Fights erupted. Pedestrians crowded promenades and vehicles chocked streets from Turin to Naples.
After more than two months of lockdown, Italy entered the second phase of its national reopening campaign, to include museums, libraries, restaurants and cafes last week, and the opening of gyms and sports centers on Monday. But a similar surge to the one which shuttered the nation was seen again over the weekend, only this time it wasn't a virus consuming the country: it was revelers.
Videos posted to social media showed throngs of people at bars and cafe. The nation, once the European epicenter of the coronavirus outbreak, hasn't heeded the calls of wary leaders warning against flouting social distancing mandates.
"If the infections start again, we are ready to close," Luca Zaia, the president of the Veneto region in the country's north, said during a press conference, echoing concerns underlined by the Technical-Scientific Committee which has helped the government asses its response to the virus. The mayor of Milan, Giuseppe Sala, also responded to the crowds by saying he was "frustrated by the difficulty of managing the gatherings."
The Civil Protection Agency on Sunday called for a force of some 60,000 volunteers, who will be paid as "civic assistants," to patrol public areas including beaches and to enforce social distancing guidelines. The move comes as the nation struggles financially to support those whose incomes were stymied or lost during the shutdown.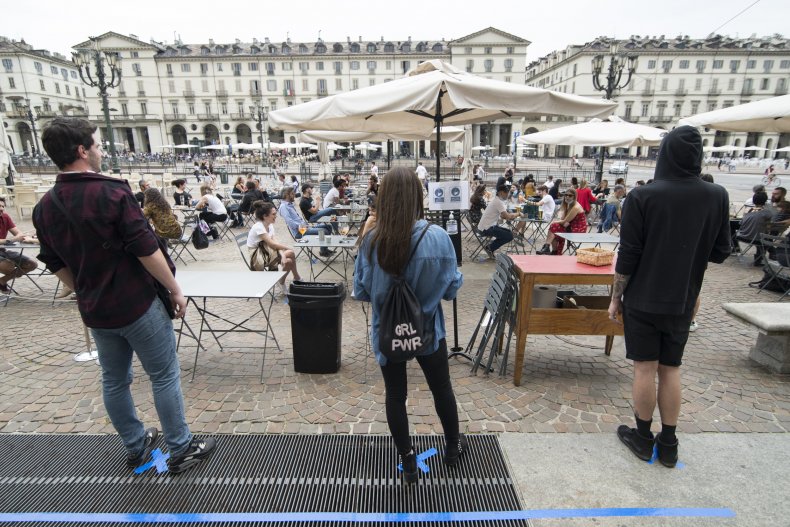 "They are not patrols and they are not municipal officers," said Francesco Boccia, the Minister for Regional Affairs, in announcing the effort. "Instead, these volunteers will make themselves available to their municipalities for up to 16 hours a week."
While anyone can apply, but those who have faced layoffs or are eligible for state benefits, including those in retirement, will be prioritized.
"I expect much more than 60 thousand applications," Boccia said.
Over the weekend thousands of fines were issued to those gathering en masse, according to authorities. The mayor of Brescia ordered a weekend curfew as crowd control. Though Italy has seen more than 32,000 deaths as a result of the novel coronavirus, on Saturday the nation recorded 119 new deaths compared with 130 on Friday, according to the Civil Protection Agency. The daily toll of new cases rose slightly, from 652 to 669.
"We are still in a very dangerous phase," Deputy Interior Minister Matteo Mauri said on Sunday.