The Italian far-right deputy prime minister Matteo Salvini has called an NGO boat a "pirate ship," stating the 43 rescued migrants aboard should go to The Netherlands and Germany.
NGO Sea-Watch is challenging Italy's refusal to allow its Sea-Watch 3 boat entry to its territorial waters or to dock at the port in Lampedusa, an Italian island in the Mediterranean around 160 miles off its coast, in the European Court of Human Rights, which has asked for Rome to justify its decision.
Sea-Watch saved the migrants from the sea near Libya on June 12, but they are stuck in the water because of Italy's Salvini-driven policy of not allowing any more NGO ships to dock without permission. Those that do face fines of up to €50,000.
"Does the European Union want to solve the Sea Watch problem? Easy," Salvini, leader of the League party and interior minister in Italy's fragile coalition government, wrote on Facebook. "Dutch ship, German NGO: Half of the immigrants in Amsterdam, the other half in Berlin. And seize the pirate ship."
A group of 10 migrants who were among the original contingent of those currently aboard Sea-Watch 3 were allowed to disembark at Lampedusa by Italy for medical reasons back on June 12. Three unaccompanied minors, the youngest of them just 12, remain onboard.
Salvini argues that his country has taken in too many of the migrants picked up by rescue boats, and that only a fraction are genuinely fleeing war. He had already once refused entry to Sea-Watch 3, only to have the decision overturned by the ECHR in May. Sea-Watch 3 landed at Lampedusa with the 65 migrants it had rescued from a rubber dinghy in the waters off Libya before the ship was impounded for three weeks. It was then released back to the NGO by Italian authorities.
There is disagreement across the European Union (E.U.) on what to do about the migrants and refugees attempting to reach its borders. Many are fleeing poverty, war, and persecution from areas in Africa and the Middle East.
Those at the coalface of the Mediterranean crisis, such as Italy, feel they are overburdened and that the problem is not shared equitably among all E.U. partners, as demonstrated by Salvini's insistence that Sea-Watch 3 should be the responsibility of the Dutch and Germans.
According to the European Commission, E.U. programs for refugees resettled 27,800 people between 2015 and 2017 at the height of the crisis. From 2018 to today, a further 32,071 were resettled with a target of 50,000 by October 2019.
These programs are intended to deter refugees from making perilous journeys by land and sea. Tens of thousands of people are known to have died trying to cross the Mediterranean in boats that are overloaded and unsafe, and more still come via this route.
Tove Ernst, a spokeswoman for the European Commission, told Newsweek that E.U. officials are watching the situation closely.
"For the Commission, this situation shows once again that predictable and sustainable solutions are urgently needed in the Mediterranean," Ernst said, adding that the Commission has pushed for E.U. member states to "agree on temporary arrangements following disembarkation."
"We renew our call on all Member States to facilitate and speed up this crucial work," she said.
"In the meantime, until such arrangements are in place, we also call on Member States to bear the humanitarian imperative in mind and contribute to a swift resolution.
"Whilst we welcome that Italy has proceeded with the evacuation of a number of persons from Sea-Watch 3 for medical reasons, a solution for the remaining people on board is still needed."
Sea-Watch did not respond immediately to Newsweek's request for comment. The European Commission representatives for The Netherlands and Germany directed Newsweek to the national government of each country.
A spokeswoman for the German interior ministry told Newsweek that the federal government is focused on a quick solution to the Sea-Watch 3 issue. She declined to provide details of discussions between the German and Italian governments on the subject.
A spokesman for The Netherlands government told Newsweek it had received a letter from Salvini on the matter and would respond soon.
Meanwhile, those onboard Sea-Watch 3 are struggling in difficult conditions. A video posted to Twitter by Sea-Watch shows one man, Hermann, who the NGO says escaped torture in a Libyan prison, saying the group is exhausted.
"We cannot hold and longer. We are like in a prison because we are deprived of everything. We cannot do anything. We cannot even walk, go a bit further, because the boat is small and we are plenty. There is no space anymore," Hermann says.
"Really, really, we ask for help. We ask for help to humankind. We ask for help to the people living on earth. Really help us, think about us, because here it is not easy."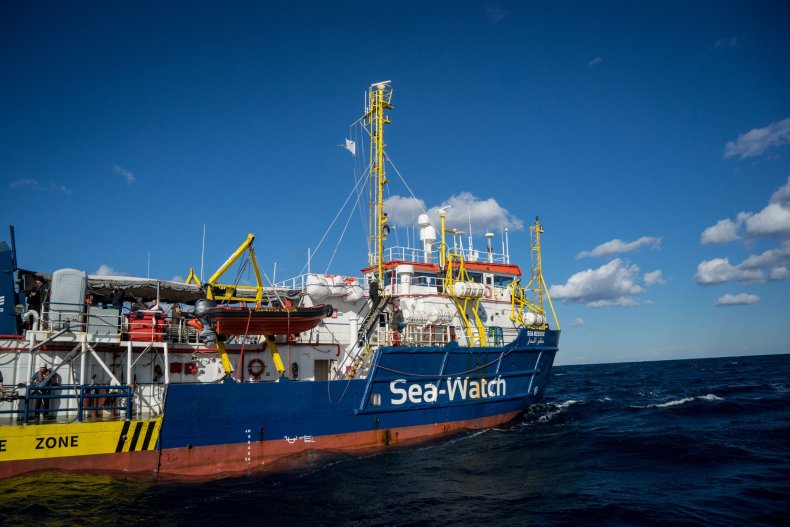 This article was updated to clarify responses by European Commission representatives and add comments by spokespeople for the German and Dutch governments.