Italy's Ancient Monuments and Cultural Heritage Crumbling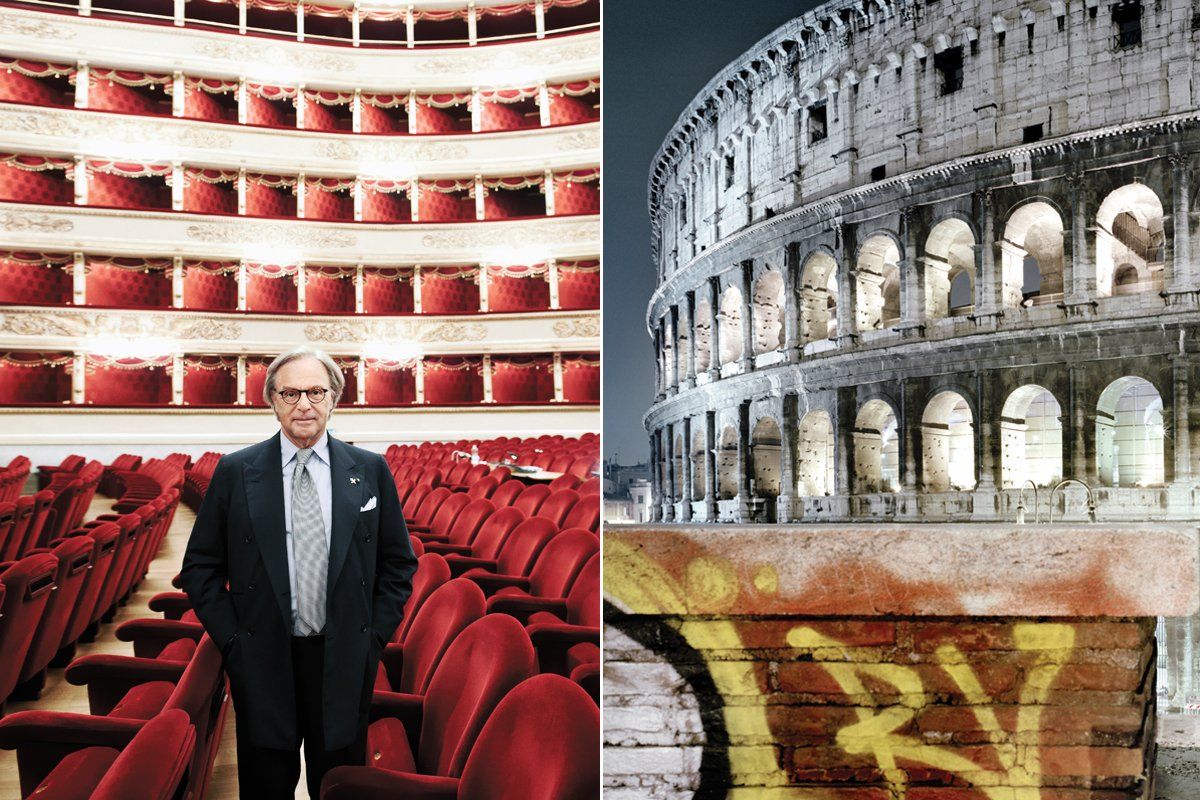 The economic crisis that has swept Europe and brought Greece to the brink of chaos is claiming Italy as its latest victim. As stocks and bonds have come under pressure in recent weeks, European finance ministers have huddled with furrowed brows and wrinkled foreheads in emergency meetings, putting even more pressure on Italian officials, who, in response, have announced an ambitious austerity package to the tune of almost $68 billion.
Like the economy itself—though less noticed abroad—Italy's ancient monuments and cultural heritage are crumbling. Venice is sinking, the famed Duomo in Florence is cracked and flaking, and Norman-era churches in Sicily have been boarded up. That ancient structures degrade over time is hardly surprising. But Italy's cultural woes are not restricted to crumbling travertine. Since 2008, there have been 15 major archeo-emergencies in Pompeii alone, and scores more across the country, caused by neglect and increasing budget cuts.
The roof of Nero's Golden Palace in Rome caved in last year, crushing a gallery and destroying a gilded ceiling. At the Colosseum, three large chunks of mortar fell to the ground just hours before the venerable theater opened to the public. And the ancient city that volcanoes failed to finish off might be done in by a lack of money: in November the 2,000-year-old House of Gladiators in Pompeii collapsed into a heap of rubble.
Italy has more UNESCO World Heritage sites than any other country in the world, yet its culture budget has been cut almost in half over the last three years, from $603 million to $340 million, and now barely covers maintenance or preservation.
"Whoever thinks that cutting the culture budget in a country like Italy is the solution doesn't understand anything," says Italy's Minister of Culture Giancarlo Galan, warning that cutting funds further will not just imperil masterworks and architectural treasures, but lead to more bad headlines.
Earlier this month Italy's national patrimony association, Italia Nostra, sent up an emergency flare, calling on UNESCO to put Venice on its danger list to try to stop the rampant destruction. "You want a Venice without the lagoons, keep cutting our funding," says Lidia Fersuoch, president of the Venetian Italia Nostra chapter. "We've got uncontrollable tourism … and the Grand Canal has become an aquatic superhighway for boats. Yet no one invests in any restoration or maintenance. At this rate, there will soon be nothing left."
At stake is not just sentimental attachment to national monuments. Italy's millennia of temporal riches draw more than 45 million visitors every year, making tourism the country's primary industry and accounting for 8.6 percent of the gross domestic product. Italy, as a brand, doesn't just denote quality and beauty, but translates into euros.
Few people understand the power of branding as well as Diego Della Valle, head of the luxury-leather-goods company Tod's, and his friend, Ferrari president Luca Cordero di Montezemolo. Acting like modern versions of the Renaissance Medicis, they are stepping in to save Italy's heritage with cash donations, sponsorships, and the power of their social network.
At La Scala in Milan on a recent summer afternoon, the sound of tapping hammers and buzzing chain saws echoed between the decaying walls with joyful fortissimo as Della Valle settled into a red-velvet chair in a mezzanine row.
The construction noise—more than the faint hum from invisible wind instruments playing somewhere backstage—was music to his ears; the shoe magnate has given more than $7 million to the storied opera house—the largest donation in the theater's 233-year history, and a gift that will keep the singers singing for a few seasons yet, despite a budget crunch that otherwise threatens Italy's famed patrimony.
"La Scala is easily one of the top 10 symbols of Italy's cultural excellence," Della Valle said. "That makes it vital to our global image. Closing it would send a message to the rest of the world that Italy doesn't care."
The moguls' largesse is needed because the country is falling apart.
Montezemolo, not surprisingly, has unimpeachable taste, coupled with a sense of humor. Stroking the Ferrari engine displayed like a sculpture in his opulent office in Rome, he allows himself a barely perceptible wink at a reporter. "We have to talk about more than shoes," he says. "Italy is about excellence—from our history and archeology to our sunsets over Capri. No other country in the world has this catalog to offer. When I see how we are wasting it, it makes my heart sink."
In part, their reasons are selfish. Their businesses rely on the prestige Italy enjoys for its quality goods, aesthetic judgment, and high culture—a prestige under threat by the country's disrepair and, under Prime Minister Silvio Berlusconi, a new reputation for sleaze and sex scandals.
"A monument that represents Italy in the world must be restored," says Della Valle, who donated more than $36 million to save the Colosseum after Italy's Culture Ministry conceded that it simply couldn't keep up with the maintenance costs. "For our group, who lives on the 'made in Italy' reputation, it's not a choice. It is simply something we have to do."
There hasn't been involvement by private businesses in Italian culture on this scale before because the state owns the cultural assets—and is therefore supposed to be their keeper. But with a government so severely in the red, these businessmen are adopting monuments and encouraging others to do the same.
In June, Montezemolo launched an initiative called Italia Futura with the goal of sponsoring projects across the country and shaming others who rely on Italy's reputation to contribute. He likes to remind his peers that "made in Italy" means nothing if the headlines showcase only crumbling walls and scaffolding. "Culture is our core business," Montezemolo said. "If we don't invest in that business, we have no future."
Italia Futura is part think tank, part networking community, aiming to meld politics, philanthropy, economy, and culture. Many in Italy speculate that this is a first step to create a political party with Montezemolo at the helm. For now, though, it's being used to generate funds for some of the most urgent projects in the country, like the revitalization of the dilapidated Genoa harbor.
Whereas Montezemolo's strength is raising funds, Della Valle has donated a lot of private money—more than $40 million, without extracting a promise of advertising or control over how the restorations are taking place.
Among other things, his company is funding a two-year renovation of the Colosseum—no easy task given the dire state of the 2,000-year-old amphitheater. Work is scheduled to begin this fall and will include crucial cleaning and maintenance as well as the addition of features that will make it more accessible for the disabled and elderly. Della Valle also plans to sponsor trips to Rome for those who may not otherwise visit the iconic monument. He has sentimental reasons to take on this fixer-upper, he says. "I remember seeing the Colosseum for the first time when I was a young boy," he says. "It left a lasting impression on me."
With a solid build and playful eyes behind his signature round glasses, Della Valle has the elegance and charm of a dignified statesman. His family hails from the hilly Le Marche region in central Italy, where his grandfather worked as a cobbler. His father expanded the business, making shoes for luxury department stores such as Saks and Neiman Marcus. Della Valle took over the enterprise in 1978, launching the family's own label by borrowing the name J. P. Tod, which he found in a Boston phone book. The signature driving shoe with its pebbled sole had been born, and Della Valle soon grew the brand to become one of Italy's most successful.
The home he shares with his wife and 12-year-old son is a 17th-century monastery in Casette d'Ete, near the shoe factory, a $60 million palazzo filled with fine art. And as befits a mogul, Della Valle has homes in Capri, Rome, New York, and Paris; he owns a mahogany yacht (that once belonged to John F. Kennedy), a Dolphin helicopter and Falcon 2000 jet—and, of course, a Ferrari. And he spreads the wealth. His employees dine gratis in a communal restaurant, and their children are educated for free in a nursery school on the grounds of a school that his own son once attended.
Montezemolo, by contrast, is a rambling playboy, a sort of Italian Richard Branson. Thin and wiry with long hair and a regal profile, he is like a bubbling river, energetic and seemingly unstoppable, jumping from topic to topic, sometimes within the same sentence.
Born in Bologna to an aristocratic family, he enjoyed a spell as a professional race-car driver but also studied law at Columbia University, before returning to Italy, where he quickly ascended within the Fiat empire. Although he won't confirm or deny any political ambition, he is widely rumored to have his eyes set on political office, post-Berlusconi, and he has been deeply involved in the high-profile creation of Italy's first private train line, the NTV, to launch later this year. Charming and mercurial, he lives in Rome but confides that in an ideal world, he would divide his time between Italy and New York. He's been married three times—most recently to a 29-year-old woman whom he wedded at 52—and has three children.
The two men, who met in college, are quintessentially Italian, embodying in both taste and deed the "made in Italy" label. (Della Valle's company even designed a car shoe—made specifically for driving one of his friend's Ferraris—that is sold exclusively at Ferrari dealerships.)
Of course, many luxury brands in Italy and elsewhere dedicate millions to philanthropic and humanitarian causes. Bulgari, for example, has donated $15 million from sales of a specially designed ring to Save the Children for projects in Afghanistan and Africa. Gucci has given $9 million in profits from its UNICEF handbag toward the African Schools program. In the U.S., Ralph Lauren has donated $10 million to restore the original Star-Spangled Banner, and in France, Giorgio Armani has given $170,000 to renovate Paris's picturesque St-Germain church.
What differentiates the situation in Italy is that the list of endangered national treasures is so long—and the present situation so dire. Italy's Culture Ministry has its hands tied in terms of funding—the government has cut the annual culture budget by 50 percent in the last six years—and, judging by the latest economic news, more bad news is likely on the way for the ministry.
Adding to the woes, the ministry has recently faced broad accusations of impropriety and mismanagement. Culture Minister Galan's predecessor, Sandro Bondi, resigned last year following accusations of mishandling the archeological site of Pompeii. A damning July report issued by Italy's Court of Auditors condemned the ministry for poor management and lack of transparency, and said in its conclusion that Italy's cultural needs "far exceed the available resources, although there is no doubt that the proper conservation and promotion of this heritage would have a positive impact on the tourist industry."
Della Valle says he prefers not to engage in a blame game over why things got so bad. "It's counterproductive to start dissecting what went wrong," he says. "Our energy should go to what we can do from this point forward—and concentrate on how to fix what we've got. We have it now; we just can't lose it."
While cautioning that Italy is not for sale, Galan welcomes the private initiative. In fact, the ministry has come to rely on businessmen—and is now hoping for a private donor to save Emperor Hadrian's 1,800-year-old villa outside Rome, which needs more than $3.5 million to keep its doors open to its quarter million annual visitors.
Of course, this being Italy, everything is done in the best possible taste. There will be no obvious tacky plaques or vulgar sponsorships. The Colosseum restoration comes with a strict regulation: Tod's can't plaster it with corporate logos. "I'm sure everyone thinks I've got the key to the Colosseum now," says Della Valle. "But this is something we are doing without anything in return. If I want to visit, I have to buy a ticket just like everyone else." Montezemolo, for his part, is quick to distinguish between sponsoring a restoration and turning sites into theme parks. "I don't want Pompeii to become a Disney World," he says. "But I also don't want it to disappear entirely." Striking that balance will be the masterstroke: saving the country without selling its soul.
The two luxury moguls are leaning on their peers to help save the country's cultural gems, but Della Valle believes it might take a generation before people come to understand the importance of preserving the ancient artifacts and investing in Italy's reputation. "It's important that the world sees that we are taking care of what we have," he says. "I hope others start doing the same."
His friend Montezemolo couches it in even more patriotic terms: "I am so proud to be Italian. I can't imagine anyone who is Italian who wouldn't do everything they could to save places like this."