Italy's New Government Is Steve Bannon's Dream Come True
It took 90 days, several rounds of talks and a minor constitutional crisis, but Italy finally has a new government, its 62nd in the 70 years of existence of the Italian Republic. Giuseppe Conte—an academic with no political experience—officially accepted the role on Thursday, presenting a government team predominantly male, populist and euroskeptic.
The general election on March 4 failed to deliver a governing majority to a single party or a coalition, but voters awarded the largest amount of seats to the Five Star Movement (M5S), rejecting traditional centrist parties. The M5S was created by the comedian Beppe Grillo in 2009 as an anti-establishment platform promoting direct democracy and transparency, but it eventually encompassed conspiracy theories about vaccines, euroskepticism and anti-immigration sentiments.
Luigi Di Maio, the young leader of the M5S, was given the mandate to form a government. He eventually entered discussions with the far-right party Northern League, led by Matteo Salvini. The two men found points of agreement between their political programs and, combined, could count on a governing majority in the legislative assemblies.
The combination of a populist and a far-right party delighted Steve Bannon, the former campaign strategist and top aide to President Donald Trump, who had traveled to Italy in March hinting he supported Salvini. Bannon was in back in Rome earlier this week to give a speech in which he praised Italy as an example of what populist movements can achieve. "If it works in Italy, it is going to work everywhere. If it works in Italy it shows that it is going to break the backs of the globalists," he said, quoted in The Daily Beast.
The arduous task of forming a coalition between rival parties rooted in opposite ends of the political spectrum came close to failing several times until the Italian President Sergio Mattarella, who holds a largely ceremonial position except when it comes to awarding mandates to form new governments, gave an ultimatum last month. Should Di Maio and Salvini fail to nominate a prime minister, Mattarella warned, he was going to pick a nominee for a "caretaker" government before calling new elections.
The prospect of a caretaker government almost became a reality last week, when the leaders offered a government that included a vocally euroskeptic economist and former banker Paolo Savona as the finance minister. Mattarella, in a rare move critics said pushed the constitutional limits of his role, rejected the government.
On Friday, having agreed to replace Savona but still not trusting each other enough to concede either of them should be prime minister, the two party leaders finally reached an agreement to give the premiership to a third person. The choice fell on 54-year-old Conte, a little-known law professor at the University of Florence who has been affiliated with the M5S for the past few years and whose WhatsApp profile bears a quote from J. F. Kennedy: "Every accomplishment starts with the decision to try," according to the Italian news agency Ansa.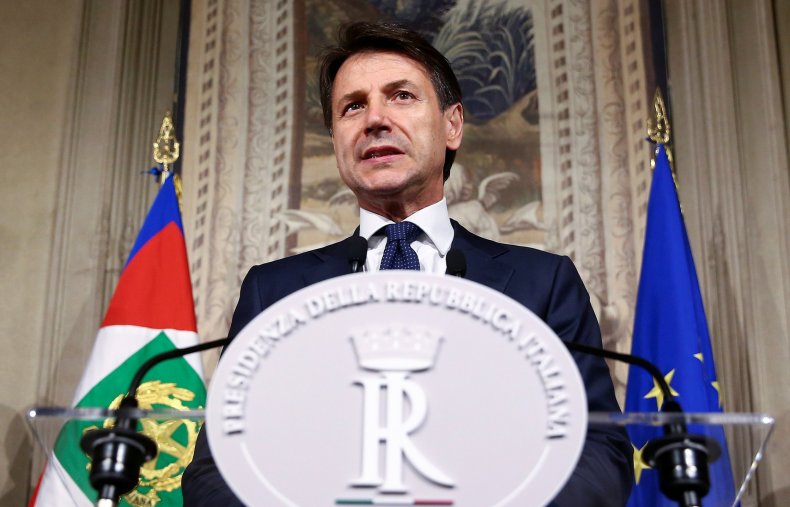 Conte's students in Florence told the newspaper Corriere della Sera they were never able to pin down the professor's political beliefs, but one of his colleagues, professor Giovanni Furgiuele, said that Conte was on the left side of the political spectrum. "Giuseppe is a leftist, with a familiar sensitivity close to the progressive movement," he told the news outlet.
Conte's choice of ministers, however, does little to suggest a particularly progressive agenda and has more in common with Bannon's anti-globalist vision. A new ministry will specifically focus on "family and disabilities." While it is unclear what kind of families and what kind of disabilities it will prioritize, some clues can be evinced by its soon-to-be minister Lorenzo Fontana.
Fontana has co-authored a book about Italy's demographical decline titled "The Empty Cradle of Civilization: The Origins of the Crisis," which rejects the idea that immigration will provide the solution to a declining population and defends what Fontana calls the "natural family" as the way to preserve "Western civilization" against globalist forces. Fontana has also taken part in anti-abortion marches, opposed same-sex unions and sees Russia as an example to follow "for those who believe in an identitarian model of society," as the Corriere noted. Fontana's Twitter account prominently features a picture of him with his party leader Salvini and the French far-right leader Marine Le Pen.
Italy, which ranked 82nd of 144 in the World Economic Fortum's annual Gender Gap Index, will see only five women holding ministerial roles in the 19-member government team. One of them, Giulia Grillo, was nominated to head the Ministry of Health. Despite Italy's growing rate of nearly eradicated diseases like measles, she has let it be known she does not support compulsory vaccinations—a position sympathetic to the anti-vaccination movement.
Ruling party leaders Di Maio and Salvini will each hold the role of deputy prime minister and lead a ministry. Di Maio, who has never held a regular job before becoming a full-time politician, will lead the Ministry of Labor. Salvini, who for years has advocated stricter immigration rules, will be in the position to act upon his slogans as interior minister.
The Finance Ministry will instead go to economist Giovanni Tria. The ministry's nomination nearly created a constitutional crisis as Mattarella vetoed Conte's initial choice earlier this week, prompting from Di Maio calls of impeachment, which he later retracted, and which upset international stock markets, plunging the euro to a 10-month low against the dollar.
Savona, meanwhile, will still play a role in the new government, overlooking European affairs. His euroskepticism will be balanced by foreign minister nominee Enzo Moavero Milanesi, who previously served as minister for European affairs.
Conte and his government team, known as "yellow-green" due to the ruling parties' main colors, will be sworn in on Friday afternoon, before facing a vote of confidence in front of the two legislative chambers early next week. The proposed coalition controls 347 of the 630 seats in the House of Representatives and 167 of 315 seats in the Senate. The next challenge for the new prime minister will then be to stay in power for longer than the 14-month average lifespan of other notoriously precarious Italian governments, and show the world whether Bannon is right in seeing Italy as a populist paradise in the making.