'It's Alive and Recovering': New Yorkers Slam Trump for Calling the City a 'Ghost Town'
President Donald Trump criticized New York's handling of the coronavirus pandemic during Thursday's presidential debate, causing a social media response from New York residents.
Trump claimed that New York, his former legal residence, had been harmed by the coronavirus mitigation efforts set in place by Democratic Governor Andrew Cuomo. When Democratic vice-presidential nominee Joe Biden suggested putting plexiglass shields in between tables at restaurants, Trump responded negatively.
"If you go and look at what's happened to New York," Trump said, "it's a ghost town. It's a ghost town. And when you talk about plexiglass, these are restaurants that are dying. These are businesses with no money. Putting up plexiglass is unbelievably expensive."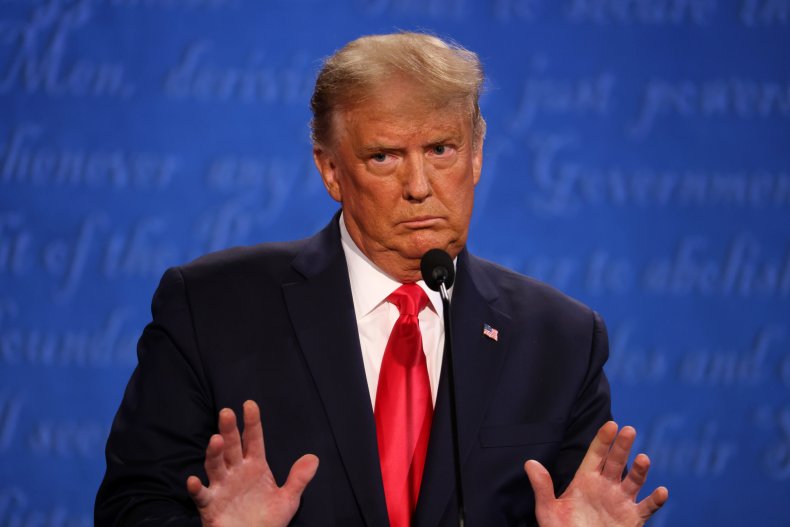 Twitter user Avery Thompson took issue with Trump's description of New York
"New York City is not a 'ghost town,'" Thompson tweeted. "We are resilient. So shut your lying mouth, Trump."
Standup comic Rosebud Baker tweeted, 'NEW YORK IS NOT A GHOST TOWN FOR GODS SAKE! THEY'RE JUST THE ONLY ONES WHO CAN STILL AFFORD TO LIVE HERE."
"I hope someone smashes him in the face with a New York Cheesecake," tweeted Beauty director at Harper's Bazaar Jenna Rosenstein.
CNN analyst Max Boot tweeted, "New York is not a ghost town. I am writing from the Upper West Side. I go to restaurants that have full outdoor areas all the time."
"New York is not a ghost town and I will happily eat in a plexiglass cubicle," tweeted Daily Beast reporter Kevin Fallon.
Governor Cuomo's office directed Newsweek to a Thursday tweet from Cuomo's secretary Melissa DeRosa. "New York is shut down? News to me," DeRosa wrote.
Although New York City is in Phase 4 of its coronavirus reopening strategy, some areas that have been deemed virus hotspots have had extra restrictions enacted by city leadership. In October, Cuomo specified areas in Brooklyn, Queens and Broome, Orange and Rockland Counties as areas where transmission of COVID-19 had increased.
"Until now, we have been targeting all our actions either on a statewide level or a regional level," Cuomo said in a Saturday statement.
Cuomo said that the state would be using a micro-cluster method in order to bring the hotspots back under control.
"It has the advantage of causing less disruption," Cuomo said.
Restaurants in New York City that have reopened their doors after the coronavirus shutdown may charge their customers for a portion of reopening expenses. According to the COVID-19 Recovery Charge, which was passed by the New York City Council in September, small restaurants can add a 10 percent surcharge to customer bills as long as the extra charge is clearly identified. After 90 days, the surcharge is expected to be removed.