For over a decade, It's Always Sunny in Philadelphia has been a dilapidated show, unmatched in its depravity. The intentionally cheap, anarchic sitcom, set in an Irish dive bar, features the Paddy's Pub Gang—illiterate rathunter Charlie (Charlie Day), volatile moron Mac (Rob McElhenney), shallow identical twins Dennis (Glenn Howerton) and Dee (Kaitlin Olson), and degenerate patriarch Frank (Danny DeVito)—a group of sociopathic borderline alcoholics hell-bent on testing the boundaries of dark comedy.
"When we started, we were doing things that nobody else was, and the show is still completely unapologetic, funny and brave," Olson tells Newsweek. The close group of friends have stuck with this mantra for 12 seasons. With the 13th season scheduled for release on Wednesday, It's Always Sunny has become one of the longest running sitcoms in history, surpassing classics like Seinfeld, Friends, and Cheers.
Olson's Deandra "Sweet Dee" Reynolds—a character created by her husband and co-star McElhenney—is a vapid bartender delusional in her self-perceived abilities to seduce men and pursue Hollywood stardom. Since the show aired in 2005, Dee has casually dabbled in blackface, ingested bath salts at a wedding, lured her friend into cocaine addiction for her own financial gain, and held a funeral for her fake baby in order to get out of an IRS audit, among countless other misdeeds in the gang's pursuit of fame and fortune.
Dee, like her other four male counterparts, has no shame and will do anything to prove a point, but that's exactly what made the show a cult phenomenon. And although there's been cosmetic adjustments to her character over the years, Olson insists Dee hasn't grown up, hasn't changed, hasn't learnt anything… and never will.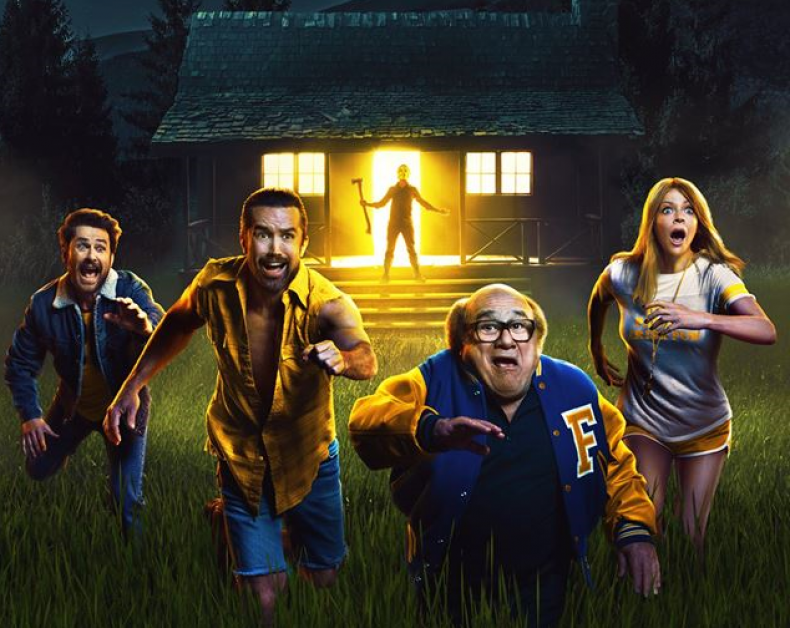 Kaitlin! Congrats on season 13. How would you describe It's Always Sunny it to a friend who has never seen it?
It doesn't really have a premise or storyline. It's about these deeply insecure and flawed characters and their relationships with each other. That's why you can jump in anywhere. You can start by watching an episode from season 7 and you'll get what it is.
The gang are all extremely selfish. We decided from the beginning that these were characters that would grow up and never change, never learn anything. That's why it was so great to bring in Danny [DeVito] because he was literally the older, more mature version of these really immature people. It's the exact same character in an older man's body. You're not going to want to be these people or be friends with these ridiculous people but for some reason you wanna watch them.
The other part I love is that it's a huge social commentary, although we're not hitting anyone over the head with a message. It's just a funny show, but you can always look back and be like, "Oh right, we were making fun of something." We were pointing out something that we had seen in society.
Me and my two best friends sometimes pretend that we're members of the gang and I'm always Frank.
You're Frank?! Why are you Frank?
I'm a slob, I'm short and I have no shame. Where do you and Dee's similarities and differences lie?
I also have my set of insecurities. I'm an actor, that sort of comes with the territory. But I'm not a horrific person though, I'm a nice person who cares about my friends and I'm a good mom. She is selfish really and doesn't care about anyone except herself and proving how great she is to these other four people.
Who is your favourite character? Who do you want to play the most?
I want to be all of them. I want to play every single role. I honestly feel like we've hit the jackpot and something just clicked. Charlie is the most loveable because he's just so dumb and has a big heart. Everybody wants to be Charlie.
True.
But there's something really wonderful about Dennis's psychosis and how angry he gets when he has some kind of insane plan. Like, when he's trying to explain something and calls us all idiots and savages or when he said he was going to turn my skin into luggage. When Glenn [Howerton] goes off like that, freaks out and it's clear that he's a psychopath... those are the only times I really ever break. I can't take it. It's so funny.
What's the most hilarious thing that's happened on set over the past 13 seasons?
Frank all slimed up and squishing out of the couch naked was pretty amazing. That was hard to get through and then there was another time when he was covered in hand sanitizer and bald while laying on the floor naked. Anytime Danny DeVito gets totally naked is amazing... and alarming.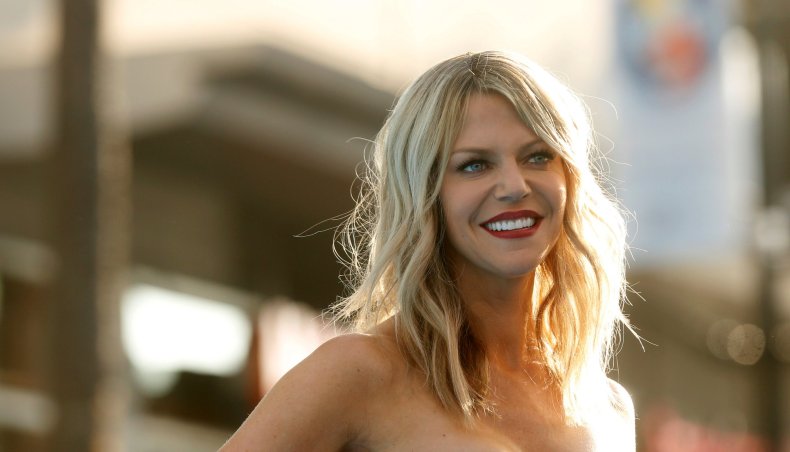 Does he ever say no to anything?
Nope. I think he's up… I think we're all up for whatever. Even though what we're doing is humiliating, it's still so much fun. These are the kinds of things you don't get the opportunity to do as an actor very often. So when these guys think of it, we're just all so grateful that we get to do something so unique and outrageous. I don't think anybody's ever turned anything down or said "that's too much."
Shut up bird! Do you get fans on the street insulting you like they're a part of the gang?
Online people are really brave. Fans have written "shut up bird" to me probably over a million times on social media. It's everyone's favourite thing to do. They think they are very clever. I'll just go on record and say: you'll be the million and tenth person.
In real life, people are just so excited. Fans seem to love the show so much that when they see us they're not just like "Oh, famous person," they are so beside themselves and shaking and excited. It just makes me feel good that people are legitimately just so happy. It makes us feel like we're doing great work.
One of my favorite episodes is the one where Frank hosts a child beauty pageant and spends the entire time convincing people he's not a kiddie molester while wearing mortuary makeup.
Ahh yes, Frank's little beauties.
Are there any lines you guys won't cross? Any subjects off limits?
There are creative, funny and smart ways to approach any subject. But just being cruel for cruelty's sake is not funny to us. People will pitch us, like, "Oh you know what will be really funny... if the whole gang gets AIDS." What are you talking about? What's funny about that?! It's not a shock value show.
Has the network turned down or cut an idea because it was too much?
No, they are amazing. They always want us to push it further and further. FX has been an absolute joy to work for, I feel so grateful that we ended up here. They've been so supportive. They have ideas and they share them but at the end of the day, they trust Rob, Charlie and Glenn. And if Rob says, "I promise this is funny," they're like "great, go for it."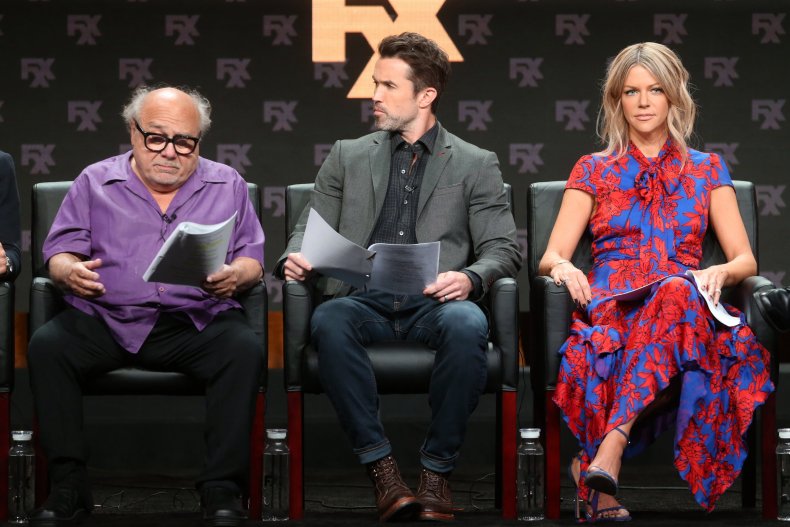 How do you prepare for Sweet Dee?
I don't anymore at all. She's just inside of me now.
What is it like being the only female in an all male cast?
I always get asked that question and I don't really know quite how to answer it. I love the dynamic that we have. They don't treat me like a woman or the only woman. I'm just kind of one of the guys. There's just five of us and we're funny. I'm also surrounded by women on set because of our crew.
You're married to Rob McElhenney, who co-created the show and plays Mac. For the seventh season he gained 50 pounds and gave birth to "Fat Mac". What did you think of that at the time?
It was hilarious. I think that was one of his funniest seasons. I had just had a baby and was in the process of losing 30 pounds and he was gaining weight as fast as he could so our kitchen was an interesting mix of donuts and protein shakes and vegetables and lean proteins.
He wanted us to all get fat. His plan was for all us to gain 60 pounds and just be fat for a season because he thought it would be funny. But Glenn and Charlie didn't want to do that and I had just had a baby and was breastfeeding so he did it by himself. I was just really impressed. He went to our doctor and it was all healthy and monitored.
If you could get any living guest on the show who would it be?
Bill Murray. That would be cool.
The last season had moments of genuine sweetness, like when Mac came out of the closet. Is the show heading in this direction?
No, we're not heading in any direction. It's still just going to be a funny show. There's definitely also a very sweet moment this season but I think just one.
That particular moment came out of overwhelming feedback that Rob got on social media when Mac came out of the closet. It happened when the boat that we were on was sinking. But once he realised we weren't dead, he took it back.
We thought that was really funny but the LGBTQ community was so happy that a gay character was going to be on the show and they were so legitimately bummed out when he went back into the closet. Rob really paid attention to that and was like "why not just let him come out of the closet." We thought that was a great opportunity and we went with it. You can be a comedy and you can also have a sweet moment and that's okay, that's life. We were unapologetically proud of that episode.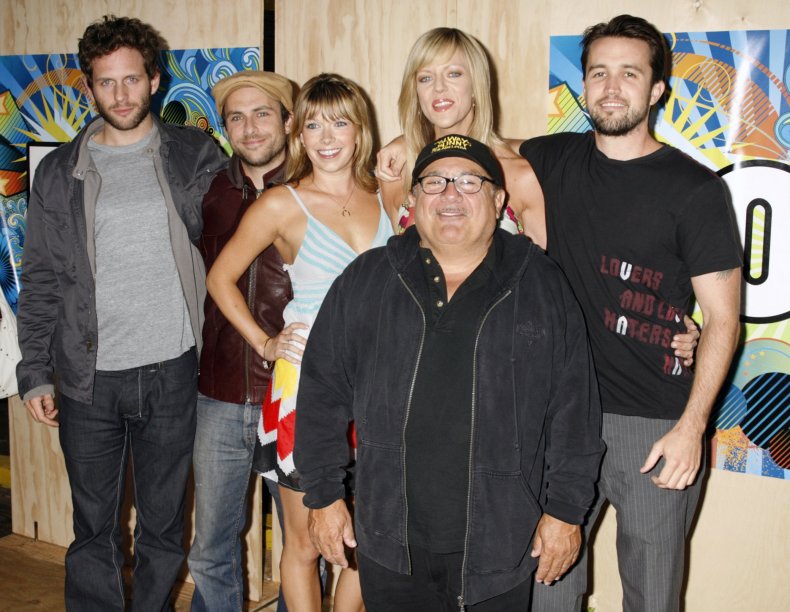 Let's talk about fan theories. In keeping with It's Always Sunny always being described as "Seinfeld on crack," one theory claims that the entire series takes place in a courtroom and each episode is the gang giving testimony against each other. Some fans believe the finale will play out exactly like the end of Seinfeld.
No, as far as I know, that is not true. But I love it. What I love the most is that there's all this discussion and all these theories going on as if we have this well laid out plan from the beginning... as if we had any idea that it would go 13 seasons.
Another theory claims that Paddy's Pub's carbon monoxide leak is slowly killing the gang or at least causing them severe brain damage. In the beginning, the gang seem to be well-meaning screw-ups but after Dennis beat Charlie over the head while training him to fight, it caused him brain damage. Since then Charlie has been ignoring the beeps of the CO detector.
Oh I like that. I think that would be easy to work in. I'm just going to go ahead and say yes.
Last one! Season four's "The Nightman Cometh" musical is based on Charlie's twisted family growing up. The Nightman is uncle Jack, a pedophile who probably molested Charlie as a boy. The troll is Charlie's prostitute mother who charged Jack rent money to bunk with her son. And the Dayman is Mac, Charlie's oldest childhood buddy. Charlie originally wanted Mac to play the Dayman, but Mac decided to play the more interesting Nightman.
Again, the fact that anyone would try to make sense of Dayman and Nightman which probably was just born out of Charlie Day's improvised singing nonsense... I think he probably just started singing and all that came out and some of it rhymed and then we went with it. I think that's the theory behind that one.
It's Always Sunny In Philadelphia seasons 1-12 are on Netflix, with season 13 released September 5.