It's Amy Adams' Birthday, Could Someone Give Her an Oscar Already?
Amy Adams turned 45 years old Tuesday, which caused her to trend on Twitter (rightfully so). From fans to film studios, everyone wanted to wish the acting star a happy birthday. Celebrating her life and career is fine and dandy, but what people should really be talking about is the sobering reality Amy Adams lives every-single-day: she's one of the biggest losers in Academy Awards history.
Adams has been nominated for six Oscars. That puts her right behind Glenn Close (who has seven nominations) as the most nominated actors currently living who have never won an Academy Award. If we're counting both living and dead actors, she ties for the third biggest loser. The actor Peter O'Toole is the biggest loser, with eight nominations, followed by Richard Burton, Glenn Close and Deborah Kerr with seven losses, and then Thelma Ritter and Adams with six.
How did Amy Adams lose six whole times? Circumstances maybe? Bad luck perhaps? But one thing is for sure, Miss Adams can act and deserves to be rewarded for it.
Here are the six films she was nominated for and who she lost to. We'll leave it up to you to decide if she was robbed.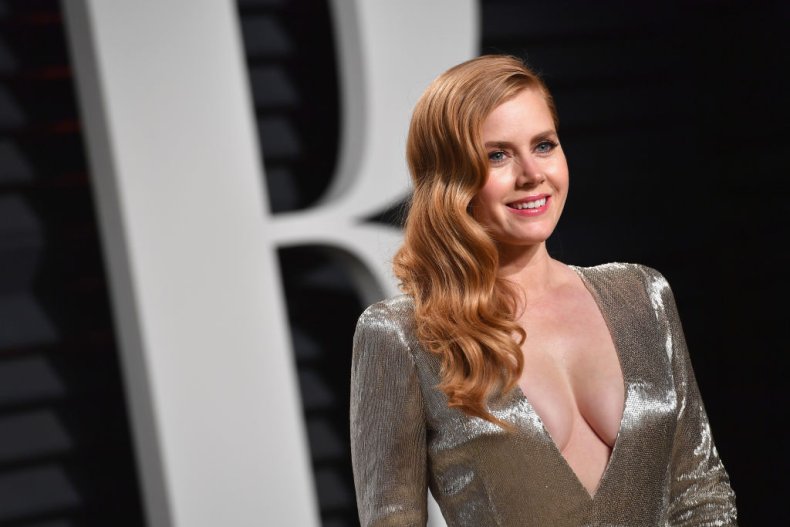 Junebug (2005)
Nominated for Best Supporting Actress.
Lost to Rachel Weiscz for The Constant Gardener.
The fact that Adams was even noticed for her role as the very pregnant Ashley in the film Junebug proves how talented Adams is. The film was a small indie that earned a lot of praise, mostly for Adams. Before this breakout performance, Adams had only appeared in a handful of films and TV shows, including the film Catch Me If You Can and the TV show The Office. However, it should be noted that her first role ever was in the cult classic Drop Dead Gorgeous.
Doubt (2008)
Nominated for Best Supporting Actress.
Lost to Penélope Cruz for Vicky Cristina Barcelona.
OK, fine, it would have been hard for Adams to win in a category shared with Cruz and Viola Davis (also from Doubt). But she deserved the nomination for standing out in a film with Davis, Phillip Seymour Hoffman and Meryl Streep.
The Fighter (2010)
Nominated for Best Supporting Actress.
Lost to Melissa Leo from The Fighter.
It's got to sting when you lose to someone from your own movie, but that's what happened to Adams in 2010. Leo gave a great performance as Mark Wahlberg's mother in the film, but Adams as the tough-talking girlfriend was the heart of the film. Adams' Massachusetts accent in the film deserved its own nomination.
The Master (2012)
Nominated for Best Supporting Actress.
Lost to Anne Hathaway from Les Misérables.
Fine, Hathaway can sing, but can she make people do things just by giving them a look? That's what Adams did in The Master, playing the wife of an L. Ron Hubbard type leader, played by Phillip Seymour Hoffman. Even though Hoffman is "the master," it really was Adams who controlled everything.
American Hustle (2013)
Nominated for Best Actress.
Lost to Cate Blanchett for Blue Jasmine.
Let's be real, it's probably safe to assume you're going to lose if you're in a category with Cate Blanchett. That said, Adams gave an incredible performance in the film with an all-star cast (Christian Bale, Jennifer Lawrence and Bradley Cooper, all nominated as well). This was also the first time Adams was nominated for Best Actress.
Vice (2018)
Nominated for Best Supporting Actress.
Lost to Regina King from If Beale Street Could Talk.
There was a lot of buzz around Adams finally winning for her performance as Lynne Cheney, wife of former Vice President Dick Cheney. But in the end, King's powerful performance was too strong to beat (despite Adams having to wear that horrible wig in the film).
She might not have an Oscar (yet), but there could be gold in her very near future. Come September she might go home with an Emmy. She's nominated for Best Actress and for Best Limited Series for starring in and producing the HBO film Sharp Objects.
NOTE: We're aware you think we're missing her nomination for the 2016 film Arrival, because how could she not have been nominated for that (right?), but we checked and double-checked, she was not nominated for it.