It's Been 5 Months Since Kamala Harris Visited the Border—What Has She Said Since?
Thanksgiving marks five months since Vice President Kamala Harris has publicly visited the southern border.
Harris, the Biden administration's lead on "stemming the migration to our southern border," was last seen at the Customs and Border Protection (CBP) processing facility in El Paso, Texas, on June 25.
When Biden tapped Harris to handle the border crisis on March 24, he said: "I've asked her, the VP, today—because she's the most qualified person to do it—to lead our efforts with Mexico and the Northern Triangle and the countries that help—are going to need help in stemming the movement of so many folks, stemming the migration to our southern border."
The focus of his speech centered on the vice president's role in addressing "root causes" through overseeing policy. However, Harris has been under fire from lawmakers like Senator Josh Hawley (R-Mo.) and conservative commentators like Joe Concha for not doing enough to stem the tide.
In the months following her appointment on the issue and subsequent June 25 visit, activity at the southern border experienced a historic surge. From February (around the time Biden and Harris took office) up until July, the number of reported encounters at the southwest border increased each month, peaking at over 213,000 confrontations.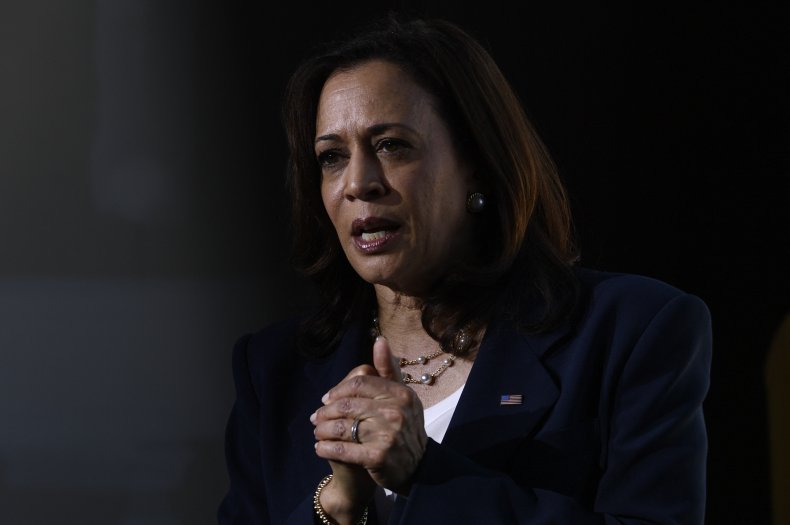 As the face of the Biden administration's border policy team, Harris remains a target for those dismayed by the large number of crossings—with others in the administration, like Homeland Secretary Alejandro Mayorkas, having to reiterate that she is not a "border czar," but rather the lead on addressing "root causes."
In a November 18 interview with ABC News' George Stephanopoulos, Harris took a moment to clarify this role and address her critics for one of the first times in months, echoing Mayorkas' statement.
"We can't just flip a switch and make it better. The reality is that we inherited an immigration system that was deeply broken," she said. "On the root causes piece, what we're looking at is, frankly, people don't want to leave home. And when they do, it's because of two reasons. Either they're fleeing some kind of harm, or to stay at home, they simply cannot satisfy the needs of their families."
Over the past five months, Harris' media appearances have been limited. When she does appear on TV, she often addresses a wide number of issues rather than solely focusing on immigration. At times, she has attempted to avoid answering questions on the issue outright, like during a November 12 appearance in Paris.
While on a trip to focus on European matters, a reporter asked Harris to comment on how the politicized migrant encampment at the border of Poland-Belarus compared to what was happening at the border of the U.S. and Mexico. Harris avoided mentioning the situation facing America, only expressing concern over the crisis in Poland and Belarus.
However, when she has addressed the border, her message has consistently focused on the topic of "root causes." She stressed America's duty as "neighbor" to support nearby countries not only out of a humanitarian sense, but also as a way of helping people to feel safe in their home countries.
On September 21, Harris reacted to the images of Border Patrol officials on horseback responding to encampment of thousands of Haitian migrants with whips in hand. She said she supported a DHS investigation into the incident and stressed the need to focus on the reasons why the migrants had left their country to begin with.
"(Haiti) has experienced so much tragedy that has been about natural disasters, the head of state assassinated," she said, per Bloomberg. "We really have to do a lot more to recognize as a member of the Western Hemisphere, we have got to support some very basic needs that the people of Haiti have."
She continued: "Be them from Haiti or in the countries in Central America, people want to stay home. They don't want to leave home, but they leave when they cannot satisfy their basic needs."
Similarly, after her trip to El Paso in June, Harris again echoed this sentiment, as reported by CNBC:
"The work that we have to do is the work of addressing the root causes, otherwise we'll continue to see the effect, what is happening at the border. The United States is a neighbor in the Western Hemisphere, and not only do we have a reason to concern ourselves with the root cause issues because of what we see at the border, but also because we live in that neighborhood."
Despite this consistency, Harris' name continues to surface among those unsatisfied with the administration's handling of immigration, often resulting in her being painted as an inactive vice president. However, John Hudak, an expert with the Brookings Institution who examines the role of presidential power in policymaking, said the optics may not project reality.
With a massive issue like immigration, steps toward recovery are often incremental and generally go publicly unnoticed, he said. Harris has spent little time on TV speaking about her actions as a lead on this issue and has rarely traveled to the site of crisis. While such moves do not play well with the public, Hudak takes them as a good sign. He said that one does not need to be at the scene to introduce policy and speak about accomplishments in order to achieve them.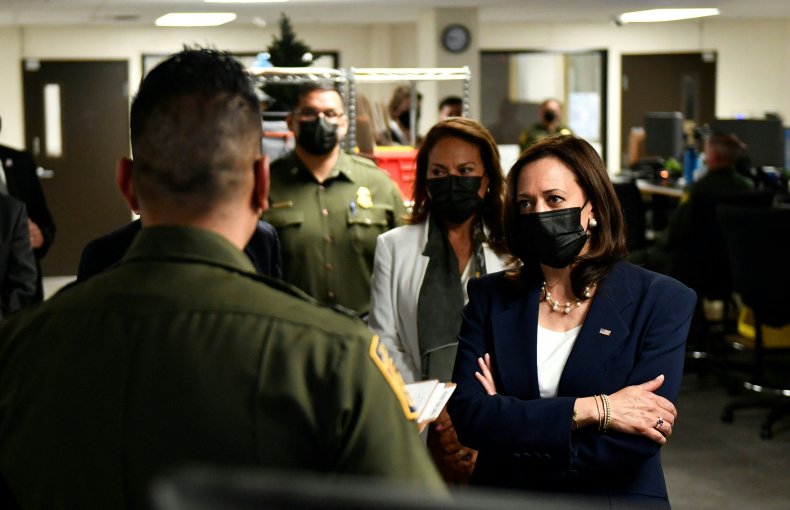 "From my perspective, that she is not in front of cameras often is actually a really positive sign, that work is being done, that progress is happening behind the scenes," Hudak said. "If a vice president is not achieving things behind the scenes, the only thing they feel they have left is to do things in front of the camera."
While migrant encounters at the southwest border still stand at historic levels, the totals have dropped each month since August. No one factor can be pinned as the reason for the decline. But the first drop in encounters was reported the month following the White House's July 29 announcement of the Harris-led root causes strategy.
By the time of that announcement, the White House had allocated $250 million in funds to address the disasters of hurricanes, the pandemic, and drought caused by climate change in Latin American countries. Furthermore, Harris launched anti-migrant smuggling task forces in both Mexico and Guatemala as well as an anti-corruption unit to weed out corruption within civil society that can lead to the empowering of local gangs.
Ultimately, Hudak said that enforcement of laws at the border falls on Mayorkas. While Harris can make suggestions and coordinate policy efforts, the powers of enforcement rest outside of her office, he noted. Reforming these laws falls on Congress, and until that happens, comprehensive changes in the laws of immigration processing cannot come into fruition.
In the meantime, executive action can be taken to move money and apply pressure to foreign leaders. Harris remains focused on these actions and appears intent on letting the public know that this is her area of concern. While the vice president may face criticism now for the continued number of encounters, as the problem subsides, Hudak believes Harris could walk away from the issue with significant political capital.
"One of the weaknesses in the vice president's record, or experience, is that she's relatively new to federal politics and hasn't had a ton of experience dealing with issues of foreign policy," Hudak told Newsweek. "It helps her have that resume and get her that experience, which I think is substantively important for the vice president. Optically, it's also pretty important for the vice president now and when she runs for president at a later time."