It's Been One Week Since Georgia Eased Its Coronavirus Lockdown and Reopened Businesses—Here's Where The State Stands Now
It's been a week since some businesses in Georgia were allowed to reopen, and aside from one spike, newly confirmed coronavirus cases have continued to show a downward trend.
Governor Brian Kemp's decision to start reopening the state on April 24 came under heavy scrutiny for being too much too soon. On Monday, the governor acknowledged the differing opinions on how best to reopen and what the path forward should look like. But he defended lifting restrictions on the basis that the data showed positive trends and that the state had the ability to test, contact trace and provide sufficient medical care.
On Thursday, the Georgia Department of Public Health reported only 45 new cases, the lowest to be reported on any single day since March 5. It was a continuation of a downward trend that began on Tuesday. However, the DPH noted that some confirmed cases over the past 14 days may not be accounted for because they may not have been reported or test results may still be pending.
With the exception of four days—April 19, 20, 24 and 28—Georgia's cases have largely been trending downward for the past 14 days. The prior 14-day cycle saw eight days where newly confirmed cases increased from one day to the next. Georgia has reported 1,140 deaths from the new coronavirus, about 2 percent of the total deaths in the United States.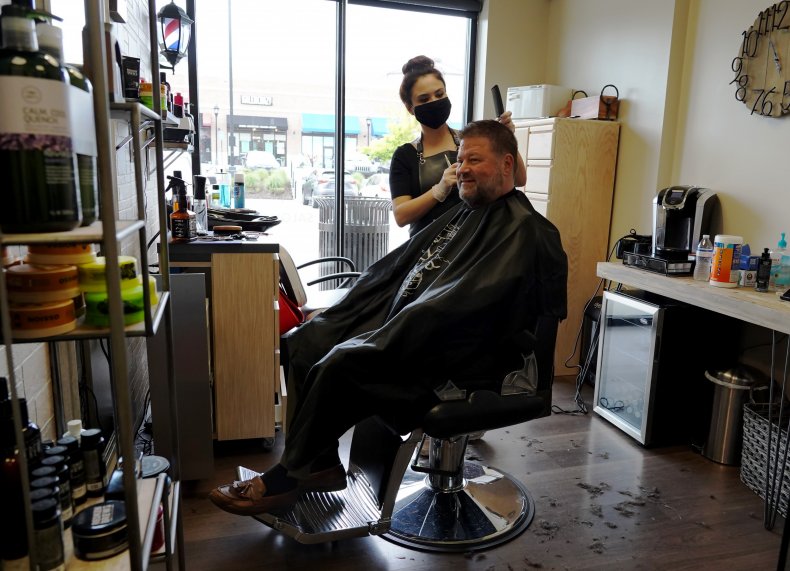 Because it's among the first states to significantly ease restrictions, all eyes are on the state to see what impact the reopening will have on the outbreak. Given the delays in test results and the fact that people may not show symptoms for up to 14 days, it will likely be a while before Georgia's plan can be deemed a success or failure.
In the meantime, Kemp extended social distancing and sanitation rules for businesses through May 13 and the public health state of emergency until June 12. On Thursday, he said he would sign an executive order requiring "medically fragile and elderly Georgians" to shelter in place through June 12.
Movie theaters could reopen Monday, and restaurants were able to resume in-person dining. Parties of theater patrons must be seated at least 6 feet apart, and restaurants were restricted to 10 patrons per 500 square feet of public space at one time.
Georgia's northern and southern neighbors, South Carolina and Florida, also started reopening but took a more gradual approach.
South Carolina Governor Henry McMaster announced on April 20 that some nonessential businesses would be permitted to reopen, followed by beaches on April 21. However, the list of businesses did not include "close-contact" operations, such as hair salons and barbershops, which were allowed to reopen in Georgia.
Whereas Kemp prohibited local governments from implementing further restrictions on businesses, McMaster's executive order didn't require closed areas to reopen; it just didn't prohibit them from doing so. South Carolina agencies, departments, counties, municipalities and political subdivisions of the state that have jurisdiction can still close any of the entities in McMaster's executive order.
The Palmetto State has had only 6,095 cases, a small outbreak compared with other parts of the country. Some state lawmakers are calling for McMaster to end the state of emergency and allow all businesses to reopen. But on Monday the governor extended the state of emergency for an additional 15 days.
In Florida, Governor Ron DeSantis gave counties the green light to reopen beaches on April 17. Since then, Florida has seen only six nonconsecutive days where new cases decreased, and with 33,690 cases, the state has had the country's eighth biggest outbreak. On Monday, however, some businesses will be allowed to reopen.
In every county except Miami-Dade, Broward and Palm Beach, restaurants can open with 25 percent capacity indoors and offer outdoor seating if tables are 6feet apart. Stores can also reopen with 25 percent indoor capacity. Unlike Georgia, Florida decided to keep gyms, spas and hair salons closed during the first phase of the reopening.