It's Beyoncé's World and We're Just Living In It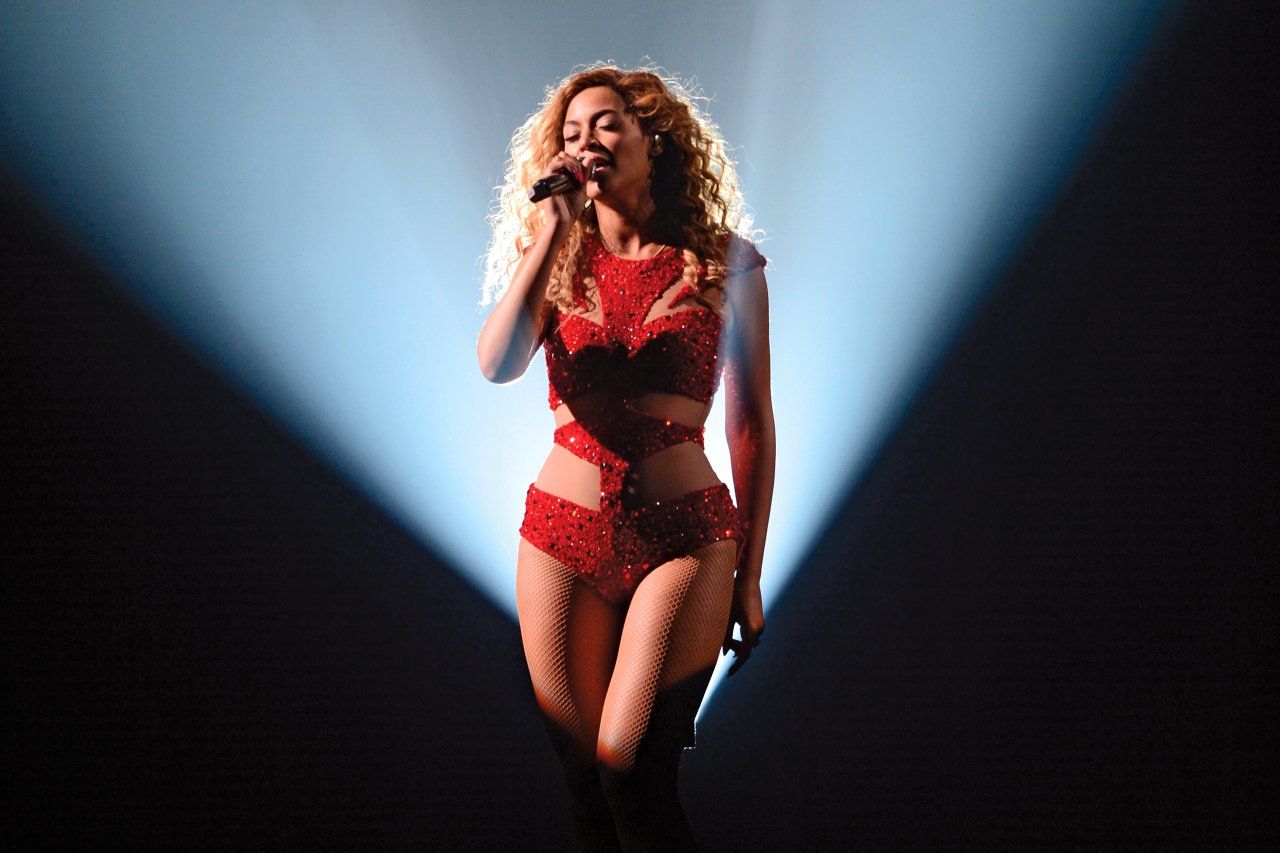 Whether your assessment of Beyoncé is that she's a pop princess, hip-hop diva, a conspiracy theorist's latest incarnation of the Illuminati, a feminist icon, an overexposed celebrity, or just another working mother—albeit one who seems to have Oprah, Prince Charles, and the president of the United States on speed-dial—one thing is for certain: we are now—for better or worse, for good or ill, or all the malaise in between—living in the Age of Beyoncé.
She has become—perhaps even more than Michelle Obama or Oprah—the all-around compliment-by-comparison for any black woman. I got off a plane from Wyoming, and a gentleman said to me—"We thought you did great at Super Bowl!" It was quite obvious he had not mistaken me for Beyoncé, as I am several sizes larger, bereft of Bey's honey highlights, and more than several sequins shy of Beyoncéhood. Nevertheless, this comment was shorthand for saying he thought I was—ahem—comely.
How is it that Beyoncé has come this far, this fast? It seems it was just yesterday Chris Rock was lampooning her—or rather her name—in one of his skits on The Chris Rock Show."Who goes and names their child Be-YON-say!" Yet that same Chris Rock was in attendance at the premiere of her HBO documentary Life Is But a Dream, a film all about Beyoncé's ... well, being Beyoncé.
A lot of the hullabaloo has to do with how Beyoncé has taken the very same categories other female celebrities have rescued from stereotype—the glammed-up girl-next-door, the sultry songstress, the sex goddess, the demure stand-by-your-man "good wife"—and catapulted off the trail as though running through her own Hunger Games edition of America's Next Top Model.
Not since Oprah's talk-show hegemony has an African-American female celebrity appeared so powerful, so ubiquitous, and yet insistent on announcing their down-home humility. Not since Angelina Jolie's first forays as a special envoy and U.N. ambassador has a female celebrity combined pure star wattage with not-so-subtle nudges of interest in engaging in—or at least circling the periphery of—America's political scene. She's taken Halle Berry's sex-kitten image—itself an embroidering of Dorothy Dandridge and Eartha Kitt's smoldering sexuality from a time when whites preferred to think of black women as Amos 'n Andy's Sapphire or Gone With the Wind mammies—and one-upped it, taking a page out of J.Lo's brown skin–blonde locks combo, then stamping her own "bootylicious" label upon it, then continuing on to eventually triumph over J.Lo for "best derrière" assignation (no pun intended)—all while racking up hit after hit of billboard-topping singles.
In the early '90s, when hip-hop and rap were beginning to achieve crossover success, female artists had one of two paths—the R&B songstress route or the hard-edged female-rapper route—which itself branched off in either emulation of male rappers' bravado and sexual braggadocio (à la early Lil' Kim) or the pliant striptease sex object (à la late Lil' Kim). What Beyoncé has managed to do is straddle the line between hard and soft, between ladylike sophistication and the more virile displays of the impresario; between potent diva and passive doll, between the virtuosic vocal melismas of powerhouses in the vein of Patti LaBelle or Aretha Franklin, and the more playful, sweet—and sometimes anodyne—stylings best suited to pop music's chronicles of heartache and heartbreak.
In short, Beyoncé is a chameleon, a master of the quick change, noted for a record number of costume changes at the Oscars, as if some creature during molting season—but also in the sense of reconfiguring America's ideas of blackness and black female identity. Most black women orbiting within the satellite of rappers rarely become their wives the way Beyoncé has become "Mrs. Carter" as she did after marrying Jay-Z, a.k.a. Sean Carter. Nor do they—after delivering several multiplatinum albums—not to mention a baby named Blue Ivy—tumble with their status as feminist icons by naming their next tour (which sold out in mere minutes) The Mrs. Carter World Tour.
"Beyoncé has done a very good job fostering this notion of a new black Southern woman who is independent, family-oriented, who can be a lover in the bedroom, a lady in the parlor, a CEO in the office," says Alyss Dixson, a former executive from Paramount Pictures, who was once tasked with identifying potential movie projects for Beyoncé. "The 'bring home the bacon, fry it up in a pan'—she's packaged all of that."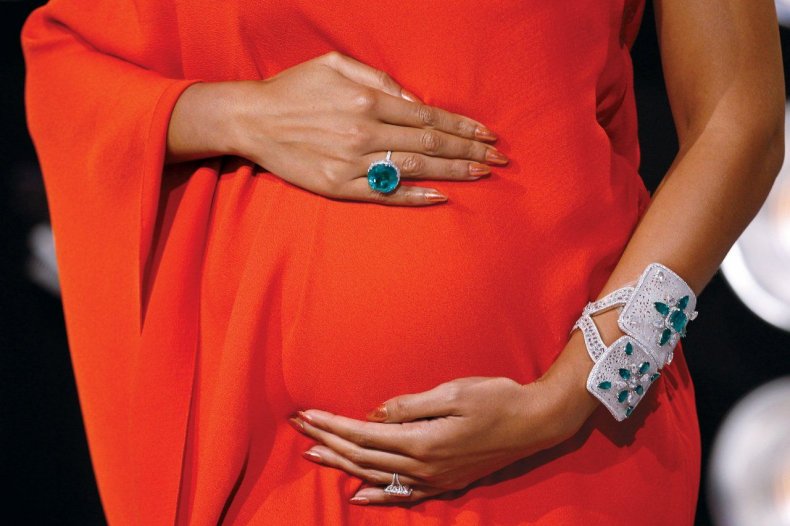 "She very much desires to be an actress, but she is such a fantastic concert performer that she knows that performing, rather than acting, is her forté," says Dixson. Beyoncé herself affirms the superiority of her ability as a performer. At her post-inauguration press conference, after singing the national anthem to prove she could sing it without lip-syncing, she defended her life as a singer-entertainer, "This was what I was born to do."
But Dixson goes on to say, "She also understands that her connection to her fans is through being vulnerable and accessible, and by allowing them to vicariously experience what it's like to grow up in the music business. And the financial reality of the music business right now is that you must be an entertainer—not only a musician."
Yet despite the barrage of celebrity reality shows, most Americans forget that celebrity is manufactured, and that the celebrity with the greatest cultural relevance at any given moment is often not the one fundamental to creating a zeitgeist, but the ones who—like Beyoncé and Lady Gaga, and Madonna before them—encapsulate an industry-created zeitgeist.
Touré, an anchor and analyst for MSNBC's The Cycle, agrees with the "black hole" theory of entertainment-industry-funneled stardom. "She's multitalented and multiplatform; this is the way the game is played at the top level." Touré, also a former writer for Rolling Stone, and who has written about Beyoncé for that magazine, says, "I've talked to the Knowleses about this: Matthew Knowles was a high-level marketing executive and at IBM—an expert at marketing. He left IBM to market Beyoncé's career, originally just Destiny's Child. He understood that Beyoncé's career—which would eventually become a solo career—could be marketed in the same way; therefore Beyoncé is blessed with an infrastructure that is far superior to that of anyone else in the business, as almost no one else comes into the business with a marketing expert at the beginning of her career, with a mother able to design and make her clothes—I mean, they would talk about making the clothes with the back far reaches of the stadium in mind!"
When I ask Touré why Solange Knowles, Beyoncé's sister, as well as Kelly Rowland, who grew up as Beyoncé's sister and was also a member of Destiny's Child, have succeeded but not achieved the same level of über-celebrity as Beyoncé despite being privileged with the same marketing prowess, Touré theorizes, "It's hard for lightning to strike twice in the same family at the same time," then hesitates to add, "Beyoncé is perhaps more beautiful?" Before settling on this: "Beyoncé had something that made it click. Millions and millions of people became fans of hers. There's an extraordinary amount of work that goes into award performances, the shows, the tracks, the music, the production ... there's the dance aspect, there's the singing aspect, there's the writing aspect. It's a five- or six-skill game—and not everyone is working as hard as Beyoncé. You put musicians out on a tour, and some of them lose it. They're on five nights a week. The rigor of it is physically as challenging as being an athlete, and you'll hear of people breaking down. But I've heard of people who've toured with Beyoncé say that she'll say, 'Nothing breaks me down.' Other people have success and it went away: but they did a whole season, and they think, Ahh, I'll do it on the other album. But you gotta give it to her; Beyoncé really wanted it more."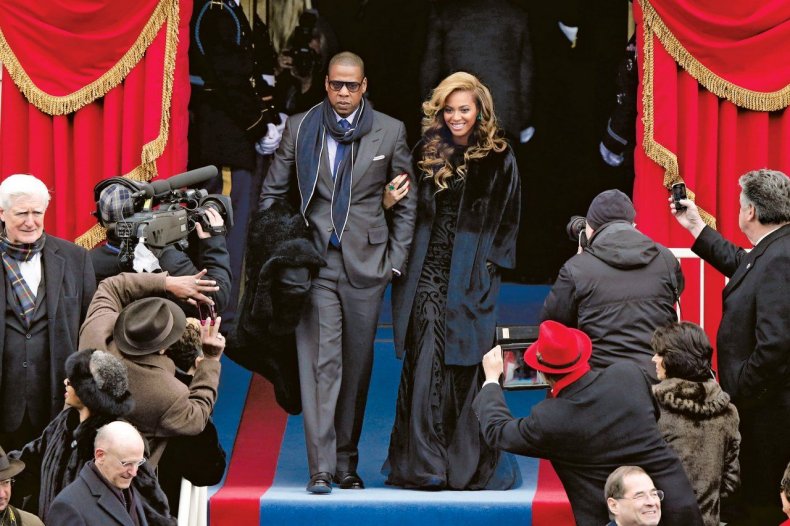 While celebrity does not necessarily signify stardom, it seems as though in Beyoncé's case—no matter how manufactured the performances, no matter how omnipresent the infrastructure—with talent, hard work, and an audience hunger for some "new" way of being—whether that new way is "post-racial" (whatever that means) or "post-feminist" (whatever that means)—it all becomes up for grabs as a highly public, interactive brand of performance art, with the majority of America participating—whether it wants to or not.
"She lives the life that she promotes, and promotes the life she lives," Dixson says. "Beyoncé seems to clarify how she can be all of those things. Mother, wife, CEO. Madonna, on the other hand, sings about sexual revolution but has her English manor out in the British countryside."
Walter Mosley, author of the forthcoming novel Little Green, has a bit to say about crosscultural appeal. "Etta James—major talent. Ella Fitzgerald, the way she phrases—Johnny Mathis said of Ella, 'She's just the greatest of all of us.' Etta James could sing. But still, when it comes to being a star, what you have to do is grab the imagination of people. The performer only does half the work—the rest comes from the audience. Beyoncé is giving her audience the right material to make something beautiful."
"I'd say that her work, such that it is," Mosley continues, "brings people together, brings together generations—young people and old people who like her very much. It's not that she's trying to sell herself with one particular community—racially. She's done a lot of work to make a place for herself—as part of the cultural consciousness in the musical way—as a star—whatever that means. Some people are stars—their stars fade, but maybe hers won't, she'll be a legitimate star. I think that's why Obama has paid so much attention to her. She's done the work—it wasn't just her, it was her, her father, her mother—it's a whole machine. And in her own kind of little way, she's become entertainment royalty."
MSNBC most certainly seemed to think of JayBey as entertainment royalty: as Jay-Z and Beyoncé filed in during the inauguration, and they were announced with "But this is really America's first couple." While that sort of equation of celebrity with substance seemed over the top—given the cultural and historical significance of the Obamas themselves—no matter how hyperbolic, the prominence of an African-American couple who did not go the route of the Obamas (Columbia and Harvard, Princeton and white-shoe law firms)—but the Brooklyn projects and Star Search—seemed to endow Beyoncé and Jay-Z with a respectability by proxy normally only afforded to black celebrities (Will Smith and Jada Pinkett-Smith come to mind) who've made a point of distancing themselves from their earlier entertainment-industry roots.
"I think she's the biggest pop star of today," Touré says, "partly because she is nonthreatening. She's sort of this Motown ideal in the modern era; beautiful in a way that both black and white women can get behind—singing and dancing and acting and modeling—she can do it all. She can do the inauguration, she can do the first dance, there's this sort of niceness to her, there's no edge to her that would turn anybody off—and yet she's not saccharine."
Dixson, who now works with VIDA, an organization that tracks the inequities women face in the arts, believes it's all a tad more complicated: "Beyoncé appeals not only to men but to women: we have feminism telling us that we can be CEOs. But we have the backlash [against feminism] telling us that we must be mothers and wives. Beyoncé seems to clarify how [young women] can be all of those things. I do think young women are hungry for that. They want to do all of those things, and be all of those things."
Former vice president of Santana Productions Deborah Santana agrees that when it comes to "having it all" Beyoncé seems the closest contemporary approximation of a seemingly unattainable goal. "Although I know it is impossible to 'have it all,' " Santana says, "and that it takes hundreds of moving parts and a vast support team, I love that Beyoncé walks with grace and ease. She represents freedom—an authoritative feminism."
When asked in what way Beyoncé enacts feminism, Santana replied, "Her lyrics scream of women's strength, influence, and muscle in the world." She obviously controls her music career, and how she moves in the world. She has a love relationship that seems to be of equals, is a mother, and is an icon in the sense that her music speaks to millions of people in celebration of power; her talent and energy seem boundless."
I myself am neither a Beyoncé fan nor a detractor. I most certainly possess enough singles of hers to blast her music for exercising to. But having grown up listening to Mingus and Charlie Parker, jazz and blues, I'm more likely to put on some Gary Clark Jr. or Son House than Beyoncé. Yet, I must admit, when that guy on the plane prefigured me as Beyoncé, I—more Michelle Obama's complexion and build, not to mention academic pedigree—gave my thanks at the obvious compliment. That is, before wondering as I sped away toward baggage claim, why I thought the compliment was so glaringly obvious.