You don't have to be living in London or Manchester to have come across it. If you have watched an England game at the World Cup, you will have probably heard the unmistakable chorus or you will have come across countless memes on social media with the same message.
In case you hadn't heard, "Football's coming home."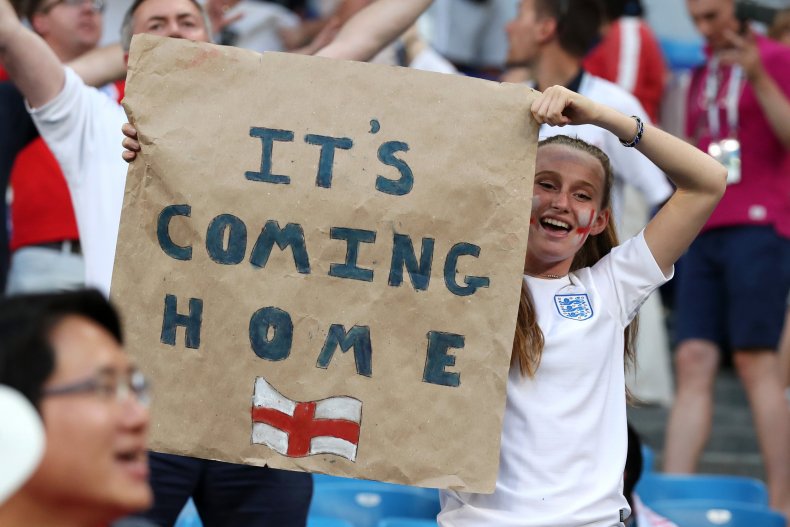 Wait, I have heard of this. Tell me more.
The chorus belongs to English soccer's most loved song, which is actually called "Three Lions" and not, as many seem to think, "Football's coming home."
Written by comedians David Baddiel and Frank Skinner along with Liverpudlian Britpop band the Lightning Seeds, it was released ahead of Euro 1996, which England hosted.
It was not, however, the tournament's official anthem. That particular role fell to Simply Red's "We're in this Together," whose video clip featured England striker Alan Shearer.
However, the tune never made it higher than number 11 in the charts, while "Three Lions" rocketed straight to number 1.
What is the song about?
The song is part nostalgic trip through English soccer's history, part hopeful expectation and perfectly encapsulates the feelings of being an England fan. The first two verses "Everyone seems to know the score, they've seen it all before / They just know, they're so sure / That England's gonna throw it away, gonna blow it away," embody the feeling of resignation that has stemmed from watching England repeatedly falling shorts at major tournaments.
However, the chorus strikes a much more optimistic tone, gallantly declaring that "Three lions on a shirt / Jules Rimet still gleaming / Thirty years of hurt / Never stopped me dreaming."
The Three Lions are proudly displayed on England's badge, while Jules Rimet refers to the original World Cup trophy, which was named after the man who invented the tournament.
England won it in 1966 and it was replaced by the current trophy in 1970, after Brazil won it for a third time. The "30 years of hurt" line meanwhile refers to the fact that by 1996 England had not won a major tournament in three decades. "We know rationally that we tend to disappoint but somehow we keep on hoping that things might be different this time," Baddiel told the Guardian last month.
"And that element of the song, of defiance, of hope in the face of history, picks up energy if history suddenly looks like it might turn round."
What does "coming home" allude to?
In 1996, soccer did come home as England hosted its first major tournament since the 1966 World Cup. According to FIFA, soccer in its current form was invented in England in 1863 and the refrain paid homage to the fact the sport was returning to its spiritual home.
However, the line soon evolved to symbolize the hope England would bring home the trophy.
And did they?
English fans were ultimately left disappointed. A draw in the opening game against Switzerland was followed by a memorable win against Scotland and by a 4-1 thrashing of the Netherlands—to this day one of the finest England performances ever—and by a penalty shootout win against Spain in the quarterfinals.
Against Germany in the semifinal, however, everything fell apart. England took the lead, were pegged back, came within a whisker of winning the game in extra time and ultimately lost on penalties as Gareth Southgate missed.
Wait, that Gareth Southgate?
Yes, that Gareth Southgate. The current England manager was a solid center-back in his playing days and represented England at Euro 1996 and at the 1998 World Cup.
In fact, an updated version of the song was released two years later ahead of the World Cup with an excerpt of commentary from Southgate's missed penalty replacing the original opening verse.
"Gareth Southgate…the whole of England is with you…oh it's saved!" Those words have haunted England fans for over two decades and footage of Southgate's miss even featured in the videoclip of the 1998 version.
Why did the song become so popular?
Two decades marred by hooliganism had finally been consigned to the past, the newborn Premier League was thriving and England had a likeable team that played a modern brand of soccer. The song was the perfect vehicle to usher forward hopes of a new dawn.
In many ways, however, "Three Lions" transcended the sport and reflected the mood of a country that was basking in some much-needed optimism in the mid-1990s, with Tony Blair elected as prime minister in a landslide vote a year after the song was released. Meanwhile, for the first time in decades being British was cool, with the Britpop music scene spearheaded by bands including Oasis and Blur.
Why is the song popular now?
"Three Lions" has been adopted as the de-facto anthem of English soccer ever since it was released but England, despite producing some wonderful players, is still yearning for its first major trophy since 1966.
The years of hurt are now 52 but the feel-good feeling around the team and the country has reached levels unseen since 1996. On July 3, Spotify revealed streams for "Three Lions" reached an all-time high and the song is back at the top of the charts.
England have reached their first World Cup semifinal in 28 years and there's a feeling that, after a long wait, football might finally be coming home.
Correction: This article was updated to clarify when England last appeared in a World Cup semifinal.
Uncommon Knowledge
Newsweek is committed to challenging conventional wisdom and finding connections in the search for common ground.
Newsweek is committed to challenging conventional wisdom and finding connections in the search for common ground.
About the writer
Dan Cancian is currently a reporter for Newsweek based in London, England. Prior to joining Newsweek in January 2018, he was a news and business reporter at International Business Times UK. Dan has also written for The Guardian and The Observer.