'It's Dead': Joe Manchin Says There's No Build Back Better Bill
Senator Joe Manchin just put another nail in the Build Back Better bill's coffin.
Speaking with reporters Tuesday, the West Virginia Democrat said he hasn't had any discussions on the legislation since December. "What Build Back Better bill? I don't know what you guys are talking about," Manchin said, CNN's Manu Raju reported. "It's dead."
Manchin's comments come just one day after the White House said there was momentum in Congress for moving forward with the social spending proposals in Build Back Better. His vote has been critical for Democrats to pass the legislation, which is the cornerstone of Biden's economic and domestic agenda and was passed by the House. But he and Democratic Senator Kyrsten Sinema have withheld support for the bill, blocking its passage in the evenly divided Senate.
On Monday, press secretary Jen Psaki told reporters that "there...is still a great deal of interest—passion, I might say—and advocacy on the Hill for moving forward with a Build Back Better agenda because there's a recognition and understanding that it's long overdue for Congress to take steps to lower costs for child care, lower costs for elder care, negotiate the price of prescription drugs and ask higher-income companies and Americans to pay more."
Psaki also told reporters that there's a lot of discussion among lawmakers and their staffs about which "big chunk" of the legislation will be able to garner enough votes in the 50-50 Senate.
Newsweek reached out to the White House for comment on Manchin's remarks but didn't receive a response before publication.
Commerce Secretary Gina Raimondo said Monday she believed Manchin was "gettable" on Build Back Better.
"He is publicly on record saying he supports investments in the care economy and supports the investments to bring about universal pre-K," Raimondo told Politico. "We know there are large parts of it he does support."
Manchin told reporters Tuesday that any future plan would likely start from scratch. "Whatever we are going to come up with, anything you want to be put on the table we can talk about," he said.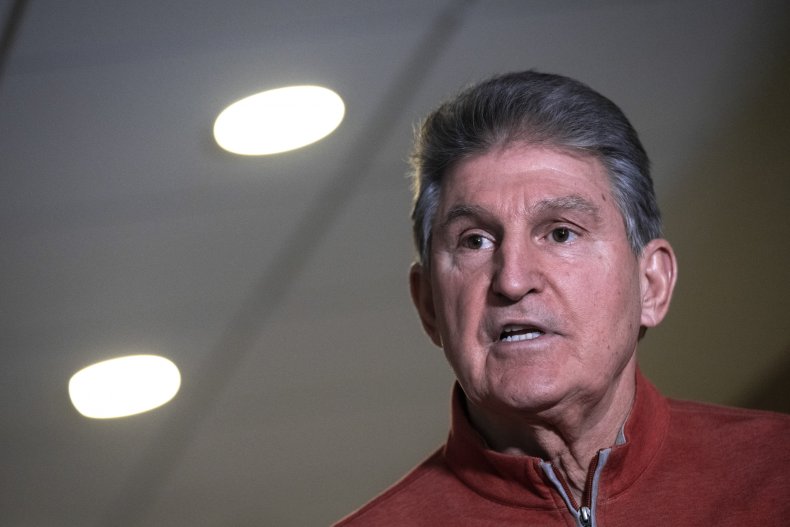 The $1.75 trillion proposal negotiated last year would create universal pre-K, reauthorize the enhanced child tax credit and provide for Medicare expansion and child care subsidies, among other expansions of the social safety net.
The Democrats are aiming to get the legislation through the Senate via reconciliation, a process that would allow Democrats to bypass the filibuster rule and therefore the need for any Republican support. But Manchin announced in December that he couldn't support the bill as written.
"I cannot vote to continue with this piece of legislation. I just can't," the senator said at the time. "I've tried everything humanly possible. I can't get there. This is a no."
Last month, after he announced his opposition to the Build Back Better bill, West Virginia families held a press conference urging Manchin to take action to expand the child tax credit.
"Families in West Virginia are losing the child tax credit in a time when bills are outrageous," one parent said. "Bills cost more, we already know the price of food is higher. It's just a time that we need the child tax credit more than ever."