It's a Gloomy 2016 Start for Wall Street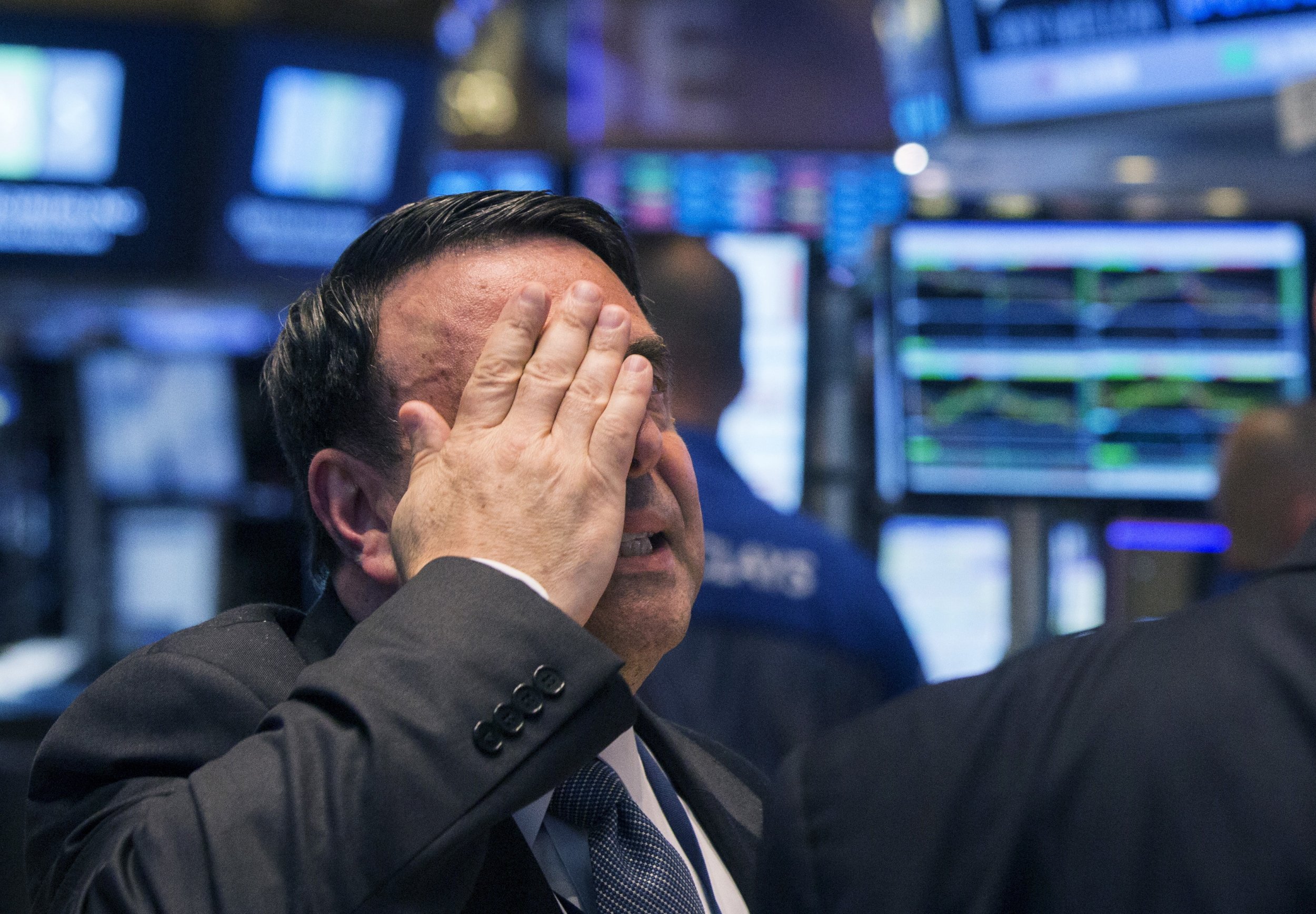 Global equity markets fell on Monday while gold and bonds rose after a 7 percent slide in Chinese shares, sparked by weak economic data, rekindled worries over global growth on the first day of trading in 2016.
Rising tensions in the Middle East also increased demand for safe-haven assets. Global benchmark Brent crude rose above $38 a barrel as some speculated a breakdown in diplomatic ties between Saudi Arabia and Iran could result in oil supply restrictions.
Worries that the weak Chinese data could portend slower world economic growth hurt Wall Street and sent key indexes down more than 2 percent in early trading.
The Dow Jones industrial average fell 351.01 points, or 2.01 percent, to 17,074.02, the S&P 500 slid 38.46 points, or 1.88 percent, to 2,005.48 and the Nasdaq Composite lost 127.45 points, or 2.55 percent, to 4,879.96.
China's yuan currency hit its lowest in more than four years after the central bank lowered its guidance rate and factory activity contracted for a 10th straight month in December, at a sharper pace than November.
Stocks in Europe fell sharply, with Germany's DAX index tumbling 4.0 percent and the pan-European FTSEurofirst 300 index slipping 2.4 percent.
The sell-off in China triggered a circuit-breaker that suspended equities trading nationwide for the first time and put at risk months of regulatory work to restore market stability.
In the United States, the iShares China large-cap ETF fell 3.7 percent, it's biggest single-day slide since a 4.5 percent drop in September.
Investors are warranted to worry about global growth as the factory numbers may not fully indicate how quickly China has been slowing down, said Paul Mendelsohn, chief investment strategist at Windham Financial Services in Charlotte, Vermont.
"The China 7 percent drop last night and the close of the market, along with Saudi Arabia, are causing investors to rethink to their growth estimates and the geopolitical risk that's really out there," Mendelsohn said.
OIL RALLIES
Crude oil futures rallied as much as 4 percent as the Saudi-Iranian tensions raised fears over the security of oil supplies from the Middle East, estimated to hold about half of the world's proven oil reserves.
Saudi Arabia, the world's biggest oil exporter, cut diplomatic ties with Iran on Sunday in response to the storming of its embassy in Tehran, following Riyadh's execution of a prominent Shi'ite cleric on Saturday.
Brent rose 3.94 percent to $38.75 a barrel and U.S. West Texas Intermediate (WTI) futures rose 2.83 percent to $38.09 a barrel.
The dollar pared earlier gains against a basket of key currencies as a private gauge on U.S. manufacturing activity unexpectedly fell in December to its weakest since June 2009, stoking worries about slowing domestic economic growth.
The Institute for Supply Management said its index of national factory activity fell to 48.2 from 48.6 in November, which was below the median forecast of 49 of economists polled by Reuters. A reading below 50 signals contraction in domestic manufacturing activity.
The dollar index, which measures the greenback against a group of six currencies, was last up 0.18 percent at 98.804.
The euro fell 0.33 percent to $1.0822, while against the yen, the dollar fell 0.87 percent to 119.25.
U.S. Treasury yields fell, with benchmark yields hitting nearly two-week lows. Yields on benchmark 10-year Treasury notes earlier hit 2.200 percent, their lowest since Dec. 22.
Benchmark 10-year Treasury notes were last up 17/32 in price to yield 2.214 percent.
In Europe, yields on Germany's 10-year bonds fell 6.4 bps to 0.57 percent.
Gold rallied as much as 2 percent, with spot gold on track for its biggest one-day rise in a month.
U.S. gold futures for February delivery were up $17.50 an ounce at $1,077.70.
It's a Gloomy 2016 Start for Wall Street | Business