It's National Hot Dog Day! Celebrate the Snack That Once Baffled the Queen Mother
What do you think about when you think of hot dogs? Maybe the thought brings you back to memories of the Fourth of July, or your first ball game. Or perhaps you flash back to a favorite drive-thru restaurant, or a barbecue you'll never forget. Whatever the association, we're willing to bet that your mind doesn't immediately go to Queen Elizabeth II's mom, the late Queen Elizabeth The Queen Mother. But that might change.
Wednesday is National Hot Dog Day, and we've got a story for you, to celebrate.
Back when she was the Queen, serving alongside her husband, King George VI, Elizabeth Bowes-Lyon did eat a hot dog (at least) once. Legend has it she was just as confused about the food as you might assume she'd be. The outdoor dining staple was actually served to the King and Queen when they met with some American prominent figures: the Roosevelts.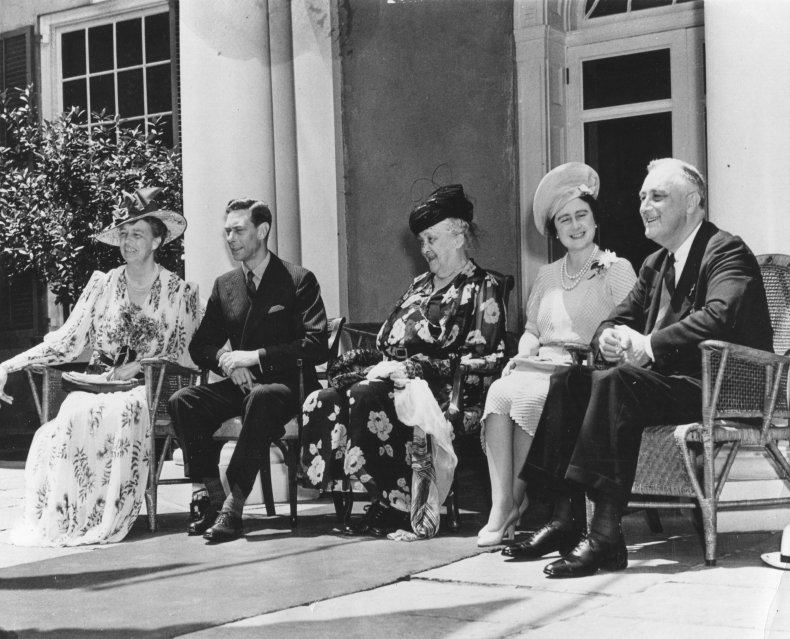 It was June 1939, and the Royal Family was visiting the United States for official, political business. This was the first time they came to America, according to Politico. Tensions were high, with Europe on the brink of erupting into war, and the Royal Family had strategy to discuss. But President Franklin Delano Roosevelt wanted to offer the Royals a little bit of time to relax in the countryside, and they did just that.
Enter hot dogs. On June 11, the Roosevelts and Royals were spending some quiet time at the Roosevelts' Hyde Park cottage in upstate New York. Hot dogs were served, and it appears the Royals were impressed by the American staple. In fact, King George VI even asked for more.
A New York Times headline that ran on June 12 capitalized on the moment. "KING TRIES HOT DOG AND ASKS FOR MORE," read the now-deleted article, according to Smithsonian Magazine. Apparently, King George VI had two hot dogs and a beer—to many people, meals don't get more traditionally American than that.
How Queen Elizabeth reacted is based on rumors, as there's no official account of the moment. But some claim, per Smithsonian, that she questioned how to eat the tubed meat and Roosevelt said something along the lines of "Very simple. Push it into your mouth and keep pushing it until it is all gone." Apparently, she used a fork and knife instead. But the Royals did reportedly forego their silver platters to take eat off of paper plates, like the rest of their company.
Because of how historic it was for the First Family to host Royals, the occasion was dramatized in a film. You can catch a reenactment of the Royals' visit, and the hot dog picnic, in the 2012 film Hyde Park on Hudson, starring Bill Murray and Laura Linney.