It's National Paper Airplane Day! Here's How The Pros Are Celebrating
Break out your prefered stack of freshly bonded 8 1/2 x 11, because today is National Paper Airplane Day! Just because the coronavirus outbreak has put group paper plane contests on hold, that doesn't mean you shouldn't let your imagination fly as high as your best stationary-based creation.
Typically on May 26, participants would gather around the country to craft and fly their paper planes in competition. The winner is usually determined by how far their paper plane was thrown and how much time their toy glider actually spent flying in the air. Back in 2012, John Collins, aka "The Paper Airplane Guy," set the Guinness world record for the farthest flight in North Highlands, California.
Earlier today on Facebook, the National Paper Airplane Day group recommended that aircraft buffs stay inside and continue social distancing. For many, this conjures images of tossing their paper planes sadly around the living room, but the Facebook group has suggestions to keep the day from being a real bust.
"Maybe even toss one off a balcony with a note encouraging others to do the same, but not in such a way as to create a litter problem!"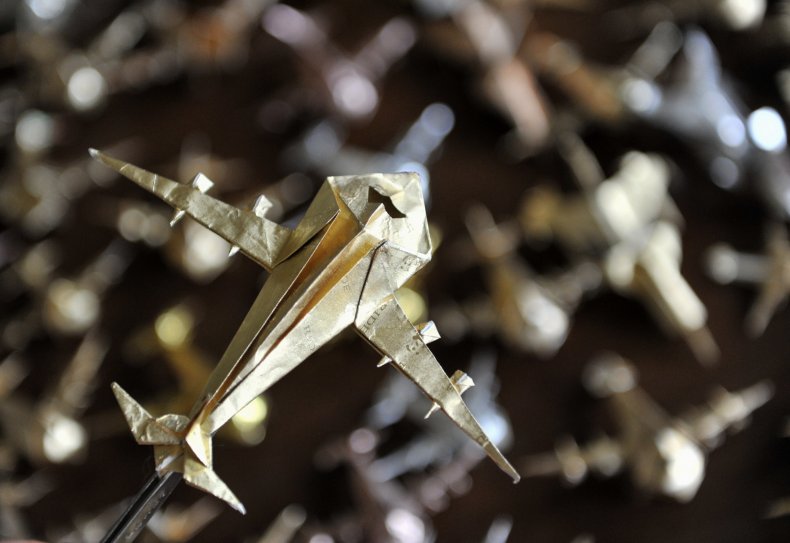 Check out how these paper plane buffs are celebrating:
Tulsa's Channel 8
All of the anchors from Channel 8's morning news team had their own paper plane contest.
8 News Now
Well, someone at Las Vegas' 8 News Now sure had fun with their camera! From a bird's eye view, the cameraman flew their paper plane around the office.
ANA
Over on Twitter, All Nippon Airways released a short tutorial video on how to build their "Buzz" design for their "Fly At Home" series.
Ontario Science Centre
Hosted by science presenter John Cadavos, the Ontario Science Centre recently held a fun and educational class about the aerodynamics of paper planes. Check out the video on how you can build and test out these paper planes.
WOWK 13 News
WOWK 13 News' Hannah Goetz shared an image of herself and her co-anchor, Jack Kane, throwing paper gliders across the newsroom. Goetz teased Kane has a better and stronger arm for tossing a football around.
Goetz tweeted, "Celebrating National Paper Airplane Day or 2021 Heisman candidates? Rumor has it Kane isn't actually retiring, but instead going to play for Neal Brown's West Virginia University team in the fall! Check out the arm!"
Waltonwood Cary Parkway
At the Waltonwood Cary Parkway in North Carolina, the senior living community were able to hold a paper airplane challenge indoors. Even though the pandemic cancelled their group activities, the senior residents gathered on their balconies and threw airplanes at their courtyard, per CBS 17.
NASA
The National Aeronautics and Space Administration has provided an instruction manual on how to fold and cut two of their paper airplanes.
Mahir Cave
Paper plane enthusiast, Mahir Cave, released a recent YouTube video explaining to viewers how to make a toy glider through the art of origami, also known as paper folding.
PowerUp Toys
PowerUp Toys have released video tutorials on how to make the unique designs of their paper planes. They have also included flight tests to show how far these planes have grown.