'It's Never Too Late': Trump's Vaccine Chief Calls Biden's 100-Day Mask Plan 'a Good Idea'
The head of President Donald Trump's Operation Warp Speed program approved of President-elect Joe Biden's 100-day mask plan.
"I think it's a good idea, it's never too late," Moncef Slaoui told CNN anchor Jake Tapper on State of the Union Sunday.
"This pandemic is ravaging the country. We need to take out precautions, wear our masks, wash our hands, keep our distance, remain aware that this virus is a killer," Slaoui continued.
Biden announced his plan to encourage Americans to commit to wearing face masks for the first 100 days of his presidency on Thursday during an interview with CNN.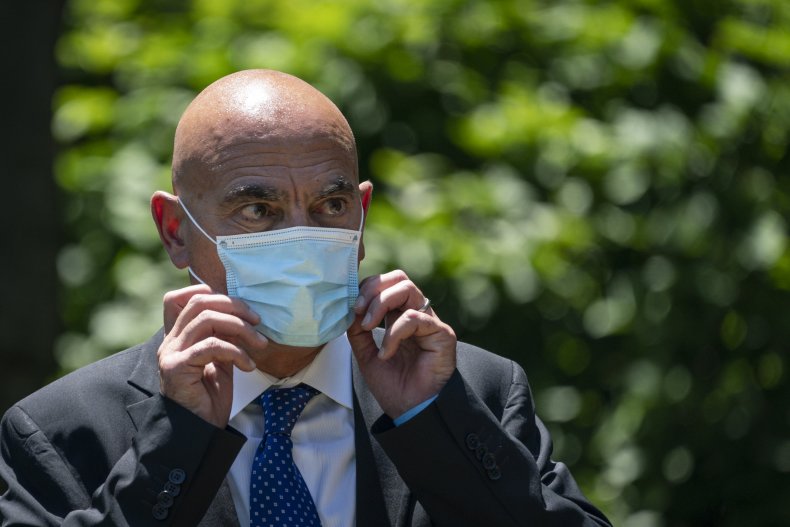 "The first day I'm inaugurated to say I'm going to ask the public for 100 days to mask," said Biden. "Just 100 days to mask, not forever."
The president-elect continued: "And I think we'll see a significant reduction if that occurs with vaccinations and masking to drive down the numbers considerably."
Biden also acknowledged his limited authority to enforce a mask mandate. He noted he will have to rely heavily on state and local leaders' cooperation. This could be challenging as Republicans continued to resist face mask orders as COVID-19 cases surge across the country.
In response to Biden's proposed plan, Georgia GOP Congresswoman-elect Majorie Taylor Green tweeted: "WE WILL NOT COMPLY!"
In Florida, where more than one million positive cases of COVID-19 have been reported, Governor Ron DeSantis refused to enact a statewide mask mandate.
"I'm opposed to mandates, period," DeSantis said during a press briefing on November 30. "I don't think they work."
However, Dr. Anthony Fauci, a member of the White House Coronavirus Task Force, approved of Biden's plan during an interview with NBC News Friday. The infectious disease expert also called it "a good idea."
The U.S. expects nearly 6.4 million doses of Pfizer's COVID-19 vaccine before the end of the year, according to Operation Warp Speed officials, as the pharmaceutical company waits for emergency approval from the Food and Drug Administration (FDA).
Moderna, a pharmaceutical company that also developed a COVID-19 vaccine, applied for FDA emergency use authorization last week. FDA approval for both vaccines is expected in the coming weeks.
"We have a vaccine, there is light at the end of the tunnel, but we will not all have the vaccine in our arms before May or June, so we need to be very cautious and vigilant," said Slaoui in his CNN interview Sunday.
Slaoui also said he planned to meet with Biden's transition team later this week to discuss a plan for how the vaccine should be administered to people.
The White House didn't respond to Newsweek's request for comment in time for publication.