Senate Minority Leader Mitch McConnell is plotting his way back to a Republican majority in the upper chamber of Congress ahead of the 2022 midterm elections. The question is where Donald Trump fits into the equation.
The former president is putting his thumb on the scale in dozens of federal races across the country. As of Thursday, he'd endorsed approximately 50 candidates for the House of Representatives and the Senate. Polls show the former president is still an influential figure among Republican voters, with most even saying they'd back him again in a 2024 White House run.
But Trump has repeatedly bashed McConnell since leaving office. Just last month, the former president called the Kentucky GOP senator the "best thing that ever happened" to the Democratic Party. Trump allies, such as Steve Bannon and Representative Marjorie Taylor Greene, have taken to attacking McConnell as well.
Trump's also continued to falsely state the 2020 presidential election was stolen and riddled with fraud—claims McConnell does not agree with and has pushed back against. Longtime party operatives have also warned that Trump's need to rehash the race—including his endorsements of primary challengers to Republican lawmakers who've been critical of him—could lead to disastrous results.
"It's quite a dance," Mark Weaver, a veteran GOP consultant, told Newsweek.
"Republicans have been winning elections for centuries without Donald Trump, but in the modern era the Republican Party has to embrace the Trump policy agenda without necessarily embracing all things Trump," he added.
There are many races where McConnell and Trump are on the same page, the senator noted during a recent interview with CNN. They are endorsing the same candidates in Nevada and Pennsylvania, two seats that have the potential to flip in November.
But there are the occasional rifts, like in Alaska's Senate race. McConnell is supporting incumbent Lisa Murkowski, while Trump has thrown his support behind her primary challenger Kelly Tshibaka.
"I think you have to approach this with the view that all McConnell cares about is can we get to 51-plus in November?" Scott Jennings, a Republican strategist with close ties to McConnell, told Newsweek.
The Senate is currently evenly divided, with 48 Democrats and the two independents who caucus with them enjoying narrow majority control thanks to tie-breaker Vice President Kamala Harris.
McConnell told CNN that he views the GOP's chances of winning back majority control as 50-50.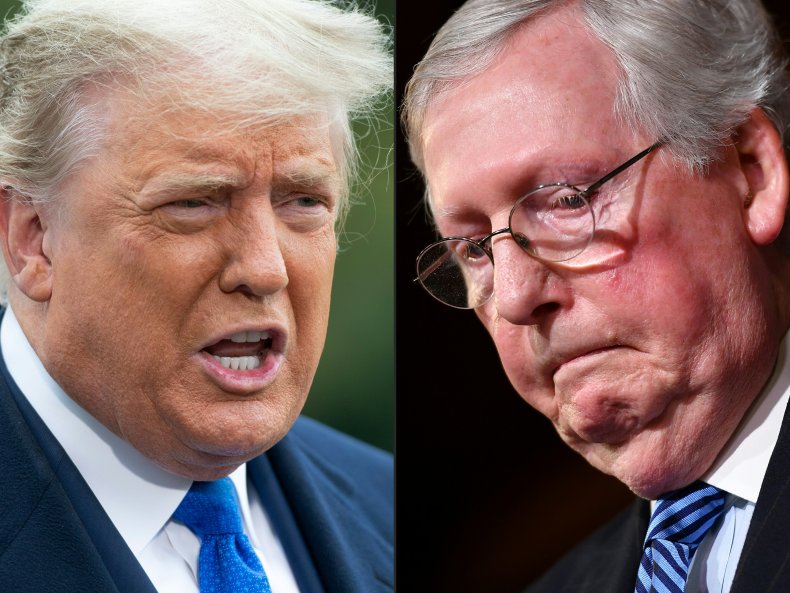 Jennings said that in his view that the current environment is "terrific" for Republicans, citing President Joe Biden's challenges with COVID-19 and the economy.
McConnell has so far committed to making the election a referendum on Biden and the Democrats, as is evident by his decision that the Senate Republicans will not be releasing a legislative agenda until they take the chamber back.
"What I think he is not going to do is take the bait and get into a public squabble with Trump about this because it doesn't serve the interests of keeping the focus of this election on Biden and the Democrats," Jennings said of McConnell.
Matt Klink, a Republican consultant based in California, echoed the belief that McConnell will be disciplined on the messaging.
"If Donald Trump chooses to make himself the issue, I would expect that Senator McConnell will just choose to ignore it to the greatest extent possible and urge other Republican candidates to do the same," Klink told Newsweek.
"Mitch McConnell is a far more seasoned campaigner than Donald Trump," Klink added, "and he realizes that the Republicans have been given a gift by the Democrats of a weak president and a largely failed agenda, which is a great thing to run on and a first midterm election for the party out of power."
Newsweek reached out to McConnell's office for comment but didn't receive a response before publication.