Weather forecasters in South Florida this week warned that with temperatures falling into the 40s, residents should be careful of iguanas falling from trees.
As unusual as such an advisory may sound, the phenomenon is indeed real as the cold-blooded reptiles can't tolerate lower temperatures well.
But while Floridians may experience the unusual sight of an iguana suddenly dropping from above them to the ground, they needn't be overly concerned: Falling iguanas are likely still alive—even if their bodies have temporarily entered into a frozen state—and they usually recover quickly.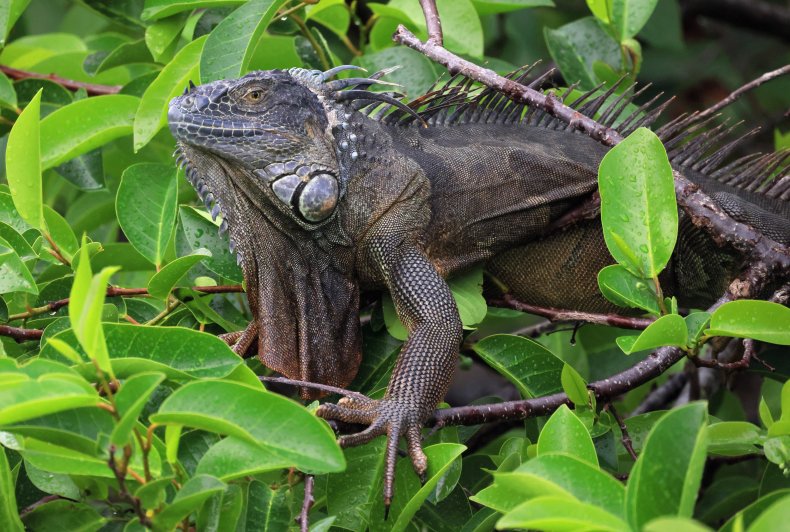 Iguanas often sleep in trees during colder weather conditions, so they can end up falling from branches when they enter a dormant state and potentially land on unsuspecting passersby.
Vivian Gonzalez, a weather anchor at Miami's Fox-affiliated station WVSN, tweeted about the chance of iguanas dropping out of trees on Monday.
"We've entered FALLING IGUANA territory as temps. are in the widespread 40's across Broward & Miami-Dade," Gonzalez wrote. "They slow down or become immobile when temps. drop & could fall from trees, but they are not dead. Don't approach. Once the sun is out, they will move."
Other weather experts joined Gonzalez in warning people to watch out for iguanas from above.
Eric Blake, a senior hurricane specialist at the National Oceanic and Atmospheric Administration's (NOAA) National Hurricane Center (NHC) in Miami, also wrote that it's "[d]efinitely time for an extended-range iguana fall watch."
Reports about the warning reached across the sea. Chris Page, a meteorologist in the United Kingdom, reported on Florida's iguana situation.
Page shared a post by Tyler Roney, a meteorologist in Sioux Falls, South Dakota, proving how unusual the advisory seems to those living outside of Florida.
"Colder temperatures tonight in Florida will lead to falling iguanas," wrote Roney of Dakota News Now on Twitter. "This is what it looks like! (They're totally okay and are fine when the temperatures warm back up)." He added a lizard emoji to his tweet.
The warnings about falling iguanas are not new to Floridians. Whenever temperatures in the state get down into the 50s or 40s, residents are told to be aware.
Last February, the National Weather Service in Miami cautioned residents to be aware of the potential for dropping lizards.
"Well it's that time again," the agency tweeted at the time. "It's cold enough for us to forecast falling Iguanas here in South Florida."
As funny as such warnings sound, having an iguana fall on your head could potentially result in injuries.
According to the Florida Fish and Wildlife Conservation Commission, green iguanas can grow to be more than five feet in length and weigh up to around 17 pounds. They also have sharp spines on their back and pointy claws.