It's Raining Touchdowns: Meet the Man Who Blew Up the College Football Scoreboard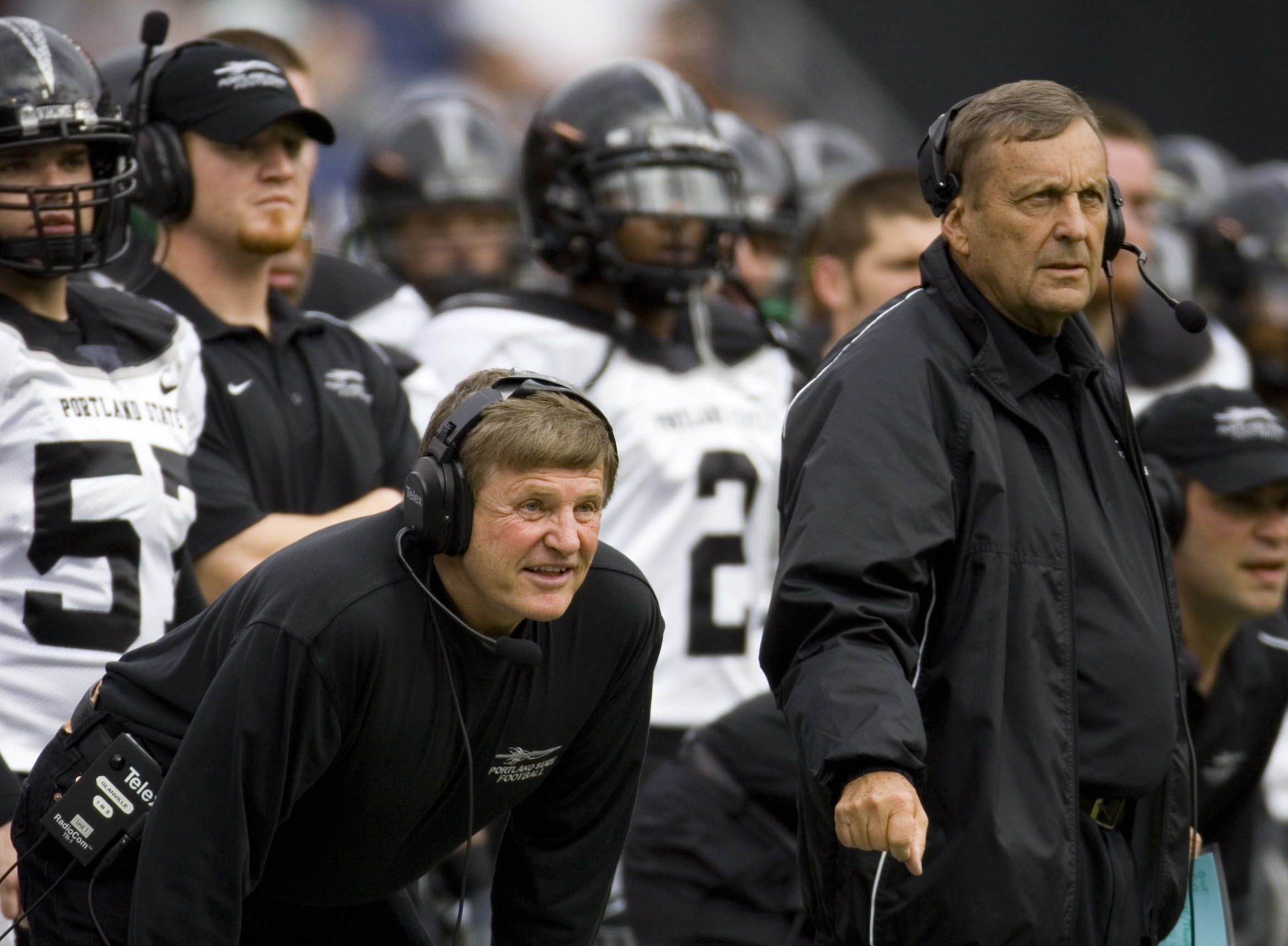 Please do not tell college football's Secretary of Defense, Alabama head coach Nick Saban, but the two schools that bracket his No. 5 Crimson Tide in this week's College Football Playoff (CFP) rankings, No. 4 TCU and No. 6 Arizona State, have each allowed more than 60 points in losses this season. And Baylor, which is just below the Sun Devils at No. 7, surrendered 58 – and won.
On October 11 the Horned Frogs' defense was flayed for 24 points in the final 12 minutes at Baylor, squandering a 21-point lead and losing 61-58. And still TCU is ranked ahead of the Crimson Tide, who have only allowed nine more points in their last three games than TCU did in those final dozen minutes. Last Saturday the Sun Devils, who earlier this season were scorched for 62 points by UCLA, almost blew a 31-point lead to Notre Dame. And yet Sparky is still thisclose to a berth in the inaugural Football Final Four.
Defense may still win national championships – Saban's Tide have won three of the past four while finishing first or second nationally in Scoring Defense -- but offense is what allows most schools to contend for one. Eleven offenses currently average 40 or more points per game – a record amount, if that number holds up -- and the combined record of those teams is 81-20. Of the teams with the five most prolific offenses in the nation, four of them – Baylor, TCU, Oregon and Ohio State -- are ranked in the CFP top eight and the fifth, Marshall, is undefeated.
No lead is safe in 2014: Arizona trailed Cal by 18 at the outset of the fourth quarter on September 20, allowed two touchdowns, and still won because the Wildcats exploded for 36 fourth-quarter points. No rout is too egregious: TCU put up 82 on Big 12 rival Texas Tech and elicited little more than yawns. And no quarterback duel is too outrageous: Cal's Jared Goff threw for 527 yards and five touchdowns in a 60-59 win at Washington State, but his numbers paled next to those of Connor Halliday, who tossed for 734 yards and six touchdowns (between them the two Pac-12 snipers attempted 123 passes without an interception).
Binge-scoring is now almost as rampant on college campuses as binge-drinking. I said, "Almost."
"The game has become much more – well, offense has become much more sophisticated," says Darrell "Mouse" Davis. "You want to score touchdowns? Give me a football, that's all we need."
It is Mouse Davis who is mostly to thank/blame for these fireworks/abominations masquerading as college football games. Davis, 82, was one of the architects of the Run 'n Shoot offense, variations of which are being run at Baylor (leads the nation in scoring at 50.1 points per game) and TCU and ASU and Oregon and Auburn Notre Dame and… well, virtually everywhere teams are successful outside of an Alabama-LSU contest.
The standard Run 'n Shoot model features four to five wide receivers and a mobile quarterback. Plays are not etched in a playbook as much as the quarterback and receivers read the pre-snap defensive coverage, then adjust their routes to exploit its weaknesses.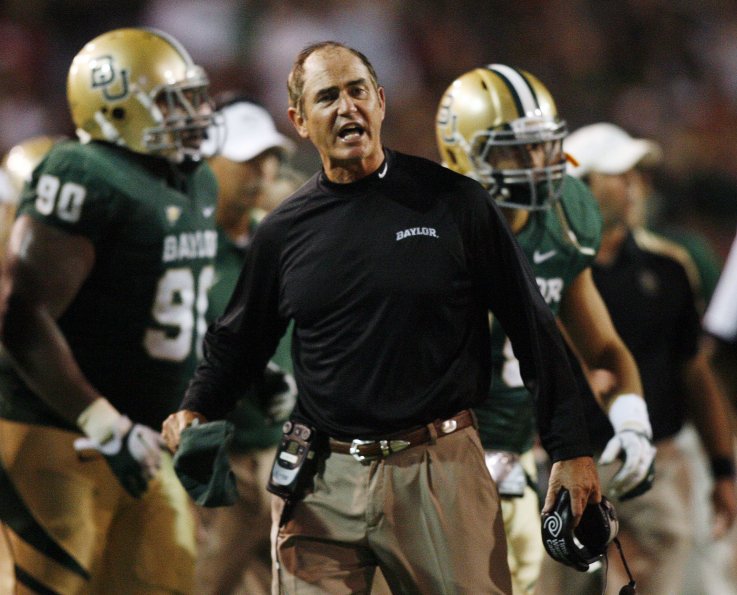 (Another innovator from Davis' era, former Mississippi Valley State coach Archie Cooley, also deployed five wides and was among the first coaches to espouse a no-huddle offense. Cooley, who was certainly not hindered by having Jerry Rice at wide receiver, was known as "Gunslinger" and his offense the "Satellite Express." Pro tip: If your offense has a catchy nickname [Run & Shoot, Satellite Express, Air Coryell, etc.], you're doing it right).
"Why does the Run 'n Shoot work?" asks Davis. "Because [the defense] is always wrong. No matter what you do, we're going to take advantage of it. You can do whatever you want because we always get the chalk last."
We always get the chalk last. The mantra, a favorite of Davis's, refers to a vestigial era when coaches drew up plays on chalkboards, and opposing coaches drew up defenses to counter those plays, and so on. Football as military combat, the oldest metaphor in sports. We always get the chalk last, i.e., we get the last move.
In the early 1970s Davis was a high school coach in suburban Portland, Ore., when he came across a book written by an Ohio high school coach, Glenn "Tiger" Ellison, titled, Run & Shoot Football: Offense of the Future. Davis, so nicknamed because of his five-foot-six stature, adopted many of Ellison's principles. Within a season or two his teams were an offensive leviathan that inspired dread in opposing coaches. Once, after a 73-0 drubbing, the opposing coach sprinted across the field, shook Davis's hand and thanked him for not running up the score. "We did things they'd never seen," Davis recalls. "The first time I lined up five wide receivers, the opposing defense – and this was a very sound team – literally left one man uncovered. They were like, 'You have an extra guy on the field.'"
"It's not like a fluke that you can score fifty," says Davis, who throughout a career on the fringes of college and pro football often had to match his X's and O's versus superior athletes, stud Jimmys and Joes. In 1980, as the head coach of Portland State, Davis watched film of an upcoming foe, Delaware State, and what he saw thrilled him. Yes, the Hornets had a few NFL players on their roster, but their pass coverage was rudimentary. "I told our athletic director, 'We could score 100 points on these guys,' Davis recalls.
On November 8, 1990, the Vikings won 105-0, scoring 15 touchdowns – the score was 49-0 after one quarter. That remains the most points scored by a team in the post-World War II era of Division I football. "It's more fun for everyone," says Davis. "For the spectators, for the offense, even for the defense. It's the way the game should be played. There are some people who say, 'Aw, that's bullshit', but there aren't as much of them saying it any more."
Spreading the field, passing the ball ("spinning it" is the in term among broadcasters), and running more plays per game are the key components of college football's most potent offenses. Take a look at Baylor, which leads the nation at 50.1 points per game. It is no coincidence that the Bears also lead the country in plays per game (92.2). That's nearly 11 plays per game more than the national leader in that category ten years ago, Boise State, ran. No one ever scored a touchdown while huddling up.
If you were to seek a tipping point for college football's offensive explosion, you might circle the date January 4, 2006. On that evening in the Rose Bowl in Pasadena, and for the only time in at least the past quarter century, the top two scoring offenses in the nation met to contend for the national championship. Texas, which entered averaging 50.91 points per game, boasted that year's Heisman Trophy runner-up in quarterback Vince Young. USC, which averaged 50.0 points, had a pair of Heisman winners in quarterback Matt Leinart and tailback Reggie Bush.
Late in the fourth quarter USC, clinging to a four-point lead and facing fourth down, chose to go from it from the Longhorn 45 instead of pinning Texas deep with a punt. Texas held and Young led the Horns to the game-winning touchdown in the final minute and hence the national championship.
Afterward USC coach Pete Carroll, explained why the Trojans went for it instead of punting. "It didn't matter where we gave Texas the ball," said Carroll, in what was a shocking admission for a renowned defensive guru to make. "If they got it, they were going to score."
From 1989 until that 2005 season that concluded with Texas and USC meeting for the BCS championship, no more than six schools averaged 40 or more points per game in a given year. Since that game, which Texas won 41-38 (it's always good to put up more than 40), no less than seven schools have averaged 40 or more points in seven of the nine seasons. Scoring is up--and defensive coordinators are losing sleep in a futile attempt to combat it.
Charles Davis, the college football analyst for FOX, tells of one head coach whose offense is so potent that he worries about the self-esteem of his defense, which faces it every day. "This coach, who shall remain nameless," says Davis, "actually scripts offensive plays in practice that are designed to fail just so his defense can feel better about itself."
Former UCLA coach Rick Neuheisel once advised his interception-prone quarterback, "Punting is winning." Of course that is not true and Neuheisel no longer coaches the Bruins. Punting is not winning; scoring is.
It should come as no surprise that of the 122 teams that averaged at least 40 points per game in the previous quarter-century (1989-2013), all of them finished with a winning record. All of them. In the 1990s those prolific offenses were either the products of purely superior athletes from blue-blood programs (e.g. Penn State and Nebraska) or "gimmick" offenses such as Houston's, which led the nation in scoring two years in a row. The Cougars once put up 95 points in a game and virtually re-wrote the NCAA Division I-A record book's passing section. They were coached by John Jenkins, who had been an assistant coach for the USFL's Houston Gamblers when that team's offensive coordinator was...Mouse Davis.
Davis' influence on Jenkins – the latter succeeded the former as the Gamblers' offensive coordinator in 1985 -- led to Jenkins' influence on the Lone Star State, which continues to this day. Consider that before that epoch-straddling 2006 Texas-USC Rose Bowl, Texas high schools harvested Heisman Trophy-winning running backs such as Earl Campbell and Billy Sims and Heisman contending rushers such as Eric Dickerson, LaDainian Tomlinson and Adrian Peterson. In the years since the Lone Star State has produced Heisman Trophy-winning quarterbacks, Robert Griffin III and Johnny Manziel, and a Heisman runner-up, Andrew Luck, who will be a better NFL quarterback than either of them.
"What's more fun?" asks Davis by way of explanation. "Go out and run your ass off or go out and throw the ball?"
While Davis and Jenkins were charting new galaxies of offensive production in Houston, a young Texas high school coach was taking notes. Art Briles, a former University of Houston wide receiver from the mid-1970s, installed the Spread offense (synonymous with the Run 'n Shoot) at Stephenville High School in the late 1990s. Now Briles is the coach at Baylor, which has finished no lower than fourth in Scoring Offense (and no lower than fifth in Passing Offense) in each of the past four seasons.
When Davis discusses the success of Briles, or when he is reminded that eight of the nine top-ranked teams in this week's rankings (lone exception: Alabama) primarily run a variation of the Spread or Run 'n Shoot, the Mouse roars. "They're putting up points pretty good," says Davis, who returned to Portland State for two seasons (2007-08) in his seventies as offensive coordinator and oversaw an offense that set a Division I record for Most Points Scored by a Losing Team (68).
The retired octogenarian smiles at that memory. That high school offense of his has altered the course of college football. Davis shares one more tale, from Thanksgiving Day, 1990. He had climbed to the highest rung of his career as the offensive coordinator of the Detroit Lions. Before the annual Turkey day game, he overheard a Lions player tell an opposing player from the Denver Broncos, with no small amount of contempt, "We've got this high school offense."
The Lions then went out and beat the Broncos, 40-27. Afterward, Davis wended his way across the field to watch the two players reconvene. "Jesus Christ!" said the Bronco player. "That's not a bad high school offense."
Not bad at all.
It's Raining Touchdowns: Meet the Man Who Blew Up the College Football Scoreboard | Sports