It's Simple. To Make Air Travel Safer, Pay Airport Workers More
The Los Angeles City Council has voted unanimously to raise wages for 10,000 LAX workers and require fully-paid emergency response training to protect travelers at the nations' second busiest airport.
Airport workers at LAX will be paid a minimum of $17 an hour by 2021 and will continue to be paid at least $2 above the city's minimum wage.
The City Council and union airport workers should be commended for this bold action, which will begin to reverse a decades-long trend of declining real wages at U.S. airports. Other cities should act now and follow their lead.
A new report by the UC Berkeley Labor Center and the San Francisco International Airport finds that improving wages at U.S. airports is not only an issue for workers' livelihoods, it is vital for the safety and security of the flying public.
Between 2002 and 2012, average real wages for U.S. airport workers fell by 15 percent. Wages of baggage handlers fell by almost half, from over $19 an hour to $10.60—as the share of those jobs outsourced to contract companies more than tripled, reaching 84 percent of all baggage handlers.
Nationally, more than one-third of cleaning and baggage workers at U.S. airports live in or near poverty, and a similar share of their families rely on one or more public benefits like food stamps and Medicaid to make ends meet.
The relationship between low-wages and worker turnover is well documented, and there is growing evidence of a connection between workers with less experience on the job and the negative impact on safety and security.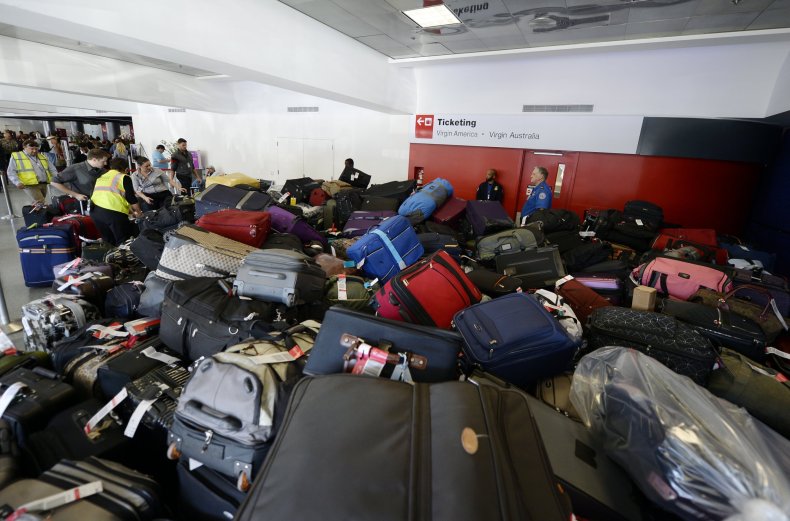 When wages are low, workers seek out other employment for even a small increase in pay. A study by the Seattle-Tacoma Airport found that workers were not staying on the job long enough to achieve "mastery" in their positions—with deleterious effects on safety, security and efficiency.
The same report found that newer workers were nearly 80 percent more likely to receive citations for security violations than those who had spent more time on the job.
These problems are well known within the industry. A 2004 Airport Safety Panel report concluded that "ill-trained and poorly paid workers are a potential lethal hazard with enormously expensive consequences," and that "low-salaries fail to attract experienced workers and contribute to high turnover."
A 2007 report by the Government Accountability Organization pointed to low-wages and high turnover for ramp and fuel workers as a major factor in ramp accidents.
This connection between low wages and threats to public safety are nothing new. Similar effects have been documented in a range of professions, from trucking—where pay and tenure are strong predictors of crash rates—to food safety in the food service industries and quality of care and patient outcomes in nursing homes.
To be sure, airline service firms can't raise wages on their own without risking losing their contracts to competitors. In this environment where competing subcontractors push wages down even further, publicly mandated compensation and training standards are essential.
Setting minimum compensation and training standards like Los Angeles just did is a best practice to improve worker performance and safety and security at our airports.
The good news is that a growing number of U.S. airports are addressing the issues of low wages and poor conditions for workers head on. The San Francisco International Airport established the Quality Standards Program in 2000, which mandated wage and training standards for ground-based workers whose jobs affect safety and security.
Workers covered include screeners, skycaps, baggage handlers, fuelers, customer services agents, airline cleaners, and catering workers. My colleagues at UC Berkeley and I studied the results.
We found that 9,700 workers received wage increases as a result of the policy. The average wage increase in SFO for the covered occupations was 22 percent. Average entry level pay for some workers went from $5.90 to $10.00—a 69 percent increase. After the policy was put in effect, turnover dropped dramatically, by a third overall and 80 percent in the most affected occupations.
The Quality Standards Program has delivered positive benefits to SFO without undermining the airport's ability to continue growing and retaining airline customers.
Employers at SFO interviewed as part of the study reported improved job performance, morale and customer service, and decreases in employee grievances, disciplinary issues, and absenteeism after implementation of the quality standards program.
We estimated that the cost of the Quality Standards Program worked out to only $1.42 a flight. San Francisco is currently exploring raising the airport's living wage rate in order to stay ahead of the local minimum wage and keep turnover down.
Along with Los Angeles and San Francisco, other airports across the country are taking steps to address safety and security concerns by improving the quality of airport jobs and increasing worker training.
Wage standards policies are now in place in multiple U.S. airports, including Oakland, San Jose, Sea-Tac, Miami, Ft. Lauderdale, New York City, Boston, Chicago and St. Louis. Following airport shootings in Los Angeles and Ft. Lauderdale, airport workers have been joining with the Service Employees International Union from coast to coast to create a new training programs on safety and security.
More airports looking to increase safety and security are expected to join them. They should do so.
Ken Jacobs is the chair of the Labor Center. He is the co-editor, with Michael Reich and Miranda Dietz, of When Mandates Work: Raising Labor Standards at the Local Level (University of California Press).