It's Snowing in Texas and Almost 70 Degrees in New York City
In an unlikely series of weather patterns, the temperature in New York City reached nearly 70 degrees on Saturday--while parts of Texas were blanketed by snow amid steadily decreasing temperatures.
"The mercury read 68 in Central Park by early afternoon," reported local news station WABC, while noting that the day's record-breaking temperature shattered the city's previous high of 63 degrees in 1975 and is about "20 to 30 degrees above normal for this time of year."
Though rain is possible in the early part of the following day, the unseasonably warm weather is expected to continue throughout Sunday, before a cool front sweeps through the city with highs in the 30s, 40s and 50s during the week, according to local media.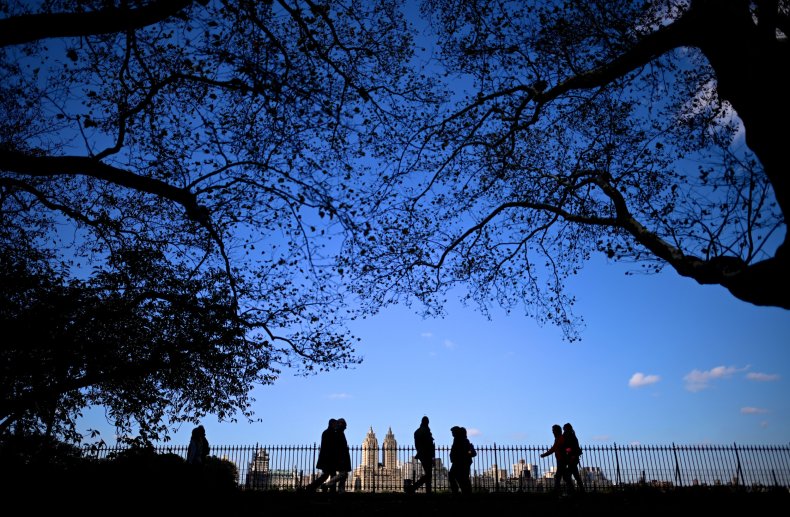 Other parts of the Northeast were hit with spring-like weather conditions, such as Erie, Pennsylvania with a notable 67 degrees. Boston Logan Airport recorded a 70-degree day (only the third time that has occurred in January since 1872, AccuWeather reported via the National Weather Service).
Further south of New York City, however, residents in northern Texas woke up to a snowy surprise courtesy of a cold front that moved through the region Friday evening.
"Rain quickly transitioning to snow through mid-morning with bursts of moderate to heavy snow will be possible through the mid-morning hours," read a local weather advisory for three counties in the region. "Total snowfall accumulations of 1 to 3 inches will be possible in Stephens, Palo Pinto, Parker and Eastland Counties."
The advisory was in effect until 12 p.m. Saturday. By the time it was over, both Denton and Wise counties had seen the largest amount of snowfall, while areas such as Dallas, Fort Worth, Hurst, Colleyville, Flower Mound and Southlake saw unexpected snow showers after not being included in the weather advisory.
Of course, many Texans seized the opportunity to post snow pictures and videos on social media, with some calling the day their "first ever experience with snow."
One Twitter user joked that the world is coming to an end:
On Friday, residents of the Houston area were also preparing for an onslaught of severe severe weather patterns including thunderstorms and a tornado.
"All residents should heed warnings from local officials and pay attention to weather alerts," Texas Governor Greg Abbott said in a statement, as reported by The Associated Press. "I ask that all Texans keep those in the storm's path and all of Texas' first responders in their prayers as they deal with the effects of this storm."
The storms were expected to clear out of the region by Saturday morning, though rain is predicted to hit sometime on Monday afternoon.