It's So Hot in Australia Roads Are Melting Under 'Blast Furnace' Heat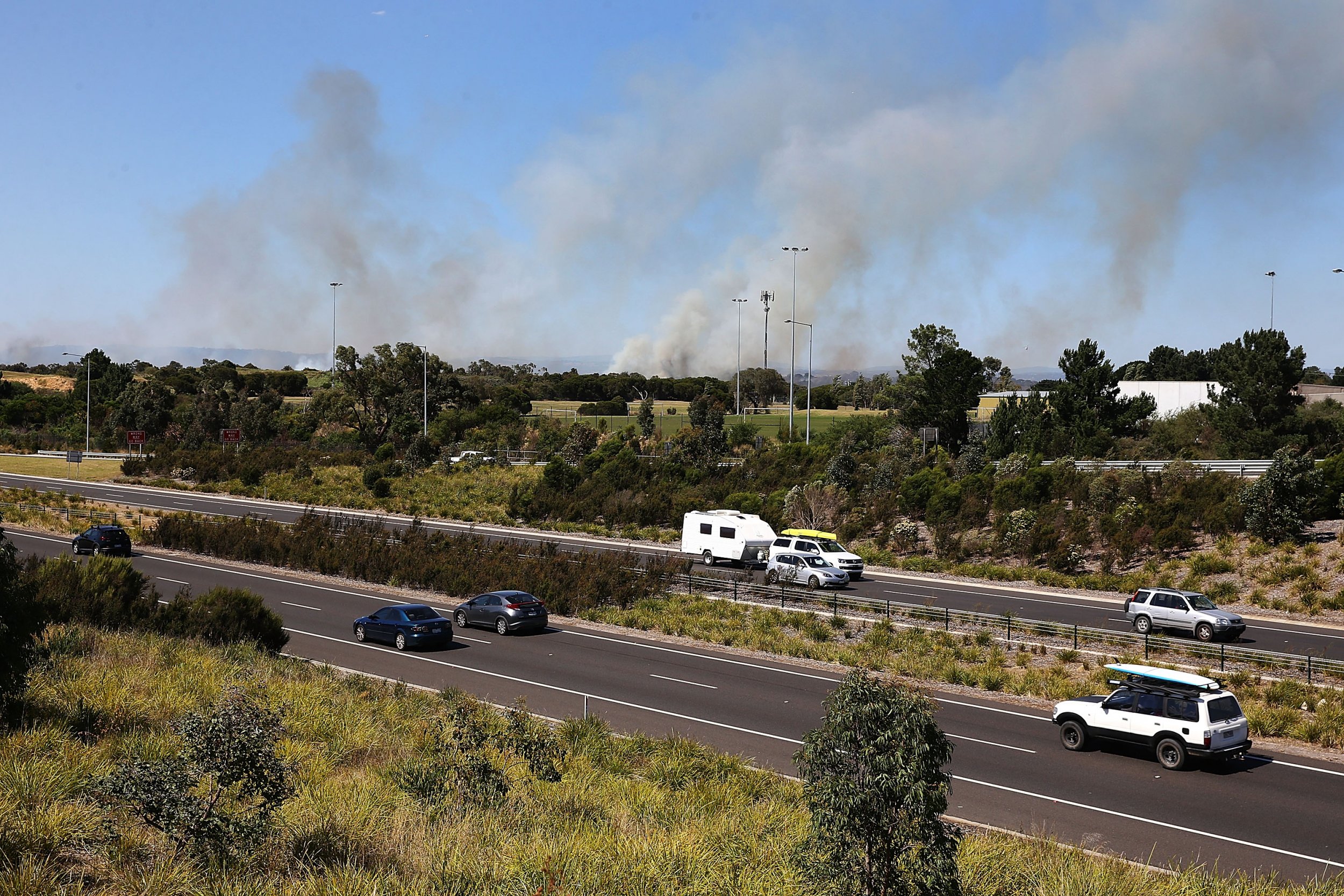 A heatwave sweeping parts of Australia sent temperature soaring to more than 104F, prompting authorities to warn residents to stay inside to protect themselves from the "killer" heat that is fueling fires and melting roads.
Saturday was expected to be the first extreme heat day of the year, the state of Victoria ambulance commander Paul Holman told local media on Friday.
"This heat is a killer," he said, adding: "It's going to be like a blast furnace tomorrow and you need to adjust what you do. You need to take care. So put off the sporting events, put off the outside events, stay inside."
Police in Victoria had to alert motorists of delays around one highway where the bitumen became soft and sticky due to the high temperatures.
"Police are warning motorists to expect delays and to avoid the right-hand lane of the Hume Freeway (heading toward the city) near Broadford as there is a 10km [6-mile] stretch of road that is melting," police wrote in a tweet.
A total fire ban was declared in three states, Tasmania, South Australia—where an emergency warning was issued on Saturday as more than 150 firefighters battled a bushfire in Sherwood—and Victoria, where 50 fires were reported in the state, some of which were put out but others still raged, damaging buildings and causing blackouts to at least 400 homes.
Emergency Services Commissioner Craig Lapsley said the combination of dry weather and strong winds created dangerous conditions and reminded people to respect the absolute fire ban.
"The message has to be not to use inappropriate barbeques. Solid fuel barbeques on a total fire ban day are illegal," he said, quoted in local media. "It needs to be a properly constructed barbeque, gas or electric."
Relief from the heatwave came on Saturday afternoon with the arrival of cool, strong winds causing temperatures to drop by more than 10 degrees.
While bushfires and heatwaves aren't unusual in Australia, the extremely high temperatures are part of worldwide extreme weather events, including the bitter cold in North America and milder-than-average temperatures in Europe. "The French national average on Wednesday was 11.5 degrees Celsius [52.7 degrees Fahrenheit], so that's about 6 degrees Celsius above the normal, so as I said, lots of extreme weather." the World Meteorological Organization spokesperson Clare Nullis said at a U.N. session on on Friday, quoted in Reuters.
Nullis was also asked about President Donald Trump tweeting about "good old Global Warming" referring to cold temperatures in the U.S. The post was mocked relentlessly for misunderstanding the difference between weather—atmospheric conditions over a short period of time—and climate, which is how the atmosphere behaves over a long period of time, climate change referring to changes in long-term averages of daily weather.
"It's cold in large parts of the U.S. but you know, it's feeling pretty warm in Alaska right now. And obviously, as I said, in other parts of the world, we are seeing above-average temperatures. So there is a distinction between weather and long-term climate change," Nullis said.