It's So Hot in Europe's Heat Wave, Countries are Painting Railroad Tracks White So They Don't Melt
Extreme temperatures in Europe this week are severely restricting the speed of trains, due to concerns that track temperatures could reach almost 140 Fahrenheit (60 Celsius) and buckle, putting trains at risk of derailing.
Countries like Germany, Austria, Switzerland and Britain have resorted to painting parts of the track white so the track absorbs less heat. The paint can reduce the temperature up to 50 Fahrenheit (28 Celsius). In the U.K., Network Rail, which manages 20,000 miles of steel track, said it had sent out extreme weather action teams (EWATS) to monitor trains and in some cases paint the tracks.
A number of trains were canceled or delayed in Germany this week. And in the UK and France, authorities appealed to commuters to avoid rail travel if at all possible.
A spokeswoman for Germany's rail company Deutsche Bahn said on Wednesday that "our technology has reached its limits in these extreme temperatures."
Network Rail says it stress tests its steel rail at 80 Fahrenheit (27 Celsius), far below temperatures recorded throughout the U.K. on Thursday.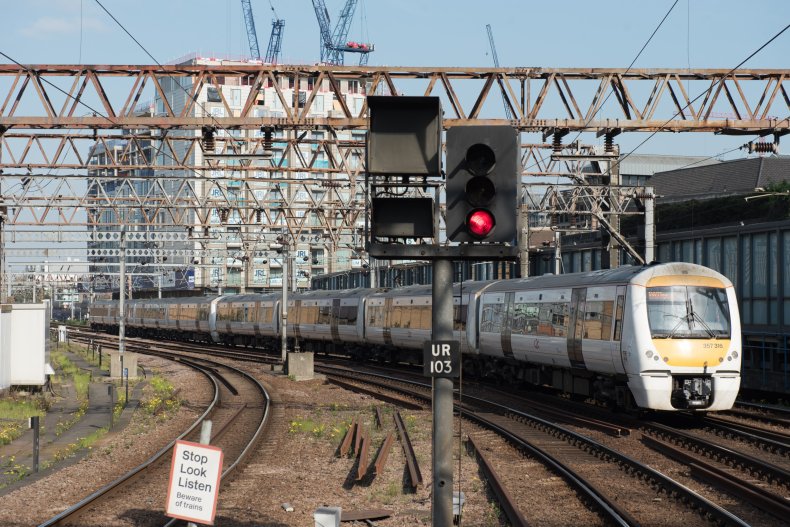 The temperature of steel rails can rise 68 Fahrenheit (38 Celsius) degrees higher than the air around them. That causes the metal to expand and potentially buckle. The only way that train operators can respond is by imposing substantial speed restrictions or canceling services. Some services could be running as slowly as 20mph on, particularly hot stretches.
In Switzerland, on hot days, rails are also cooled with water from a tanker. In Cologne, Germany, volunteers offered free water to passers-by at the initiative of the city's local transportation system.
Chief executive of independent watchdog Transport Focus Anthony Smith said, "All passengers told not to travel due to extreme weather should be entitled to claim compensation," according to the BBC.
Darren Hughes, associate professor in materials and manufacturing at the University of Warwick, told The Guardian, "Engineers optimize the rails and the joining of the rails for a typical hot day. This means you get good performance when cold and when hot. Whilst we try and engineer out these problems, we are limited by the rules of physics."
As climate change continues to happen, it is likely that Europe will continue to experience extremely high temperatures, meaning that periods of railway disruption may become increasingly common.
Other forms of transportation have also been seriously delayed this week, including flights from London Airports, and holes in roads due to extreme heat causing the tarmac to melt.