It's Time to Admit That Racial Hate Isn't Just a White Thing | Opinion
This week saw the latest in a long list of U.S. tragedies: Eleven people were killed by a gunman in Monterey Park, CA. The shooting struck a predominantly Asian-American community during celebrations for the Lunar New Year. At first blush, the shooting appeared to confirm progressive fears about a white supremacist wave of anti-Asian hate—until the authorities identified the shooter as a 72-year-old Asian man.
It's not the first time the white supremacy narrative has been disrupted by facts. A 2021 killing spree at primarily Asian America massage spas that killed eight, six of them Asian, was widely attributed to white supremacy, though the shooter said he was be motivated by sexual addiction; the spas involved were tied to prostitution, and the shooter himself was a former customer. Advocates complained that shooter's self-professed motivation shifted the attention away from anti-Asian bigotry.
Prior to this latest California shooting, the most recent high-profile mass shooting of Asian Americans occurred in 2022, at a Taiwanese church in Laguna Woods, California. Once again, the perpetrator was a 68-year-old Asian man, motivated by his hatred of ethnic Taiwanese.
These examples are the rule, not the exception. While white supremacists still exist, emerging data suggests that they aren't the driving force behind the violence directed at Asian Americans, most of which is perpetrated by non-whites.
In 2018, the Bureau of Justice Statistics (BJS) released data on violence against Asian victims. And contrary to the prevailing narrative in Democratic circles, whites were actually underrepresented as perpetrators, at just 24 percent, compared to their representation in the population. So were Hispanics, who committed 7 percent of anti-Asian attacks. Meanwhile, overrepresented as perpetrators of anti-Asian crimes were Black Americans, who committed 27 percent of them, and Asians, who committed 24 percent. Curiously, BJS dropped the Asian victim category from the relevant table in subsequent years.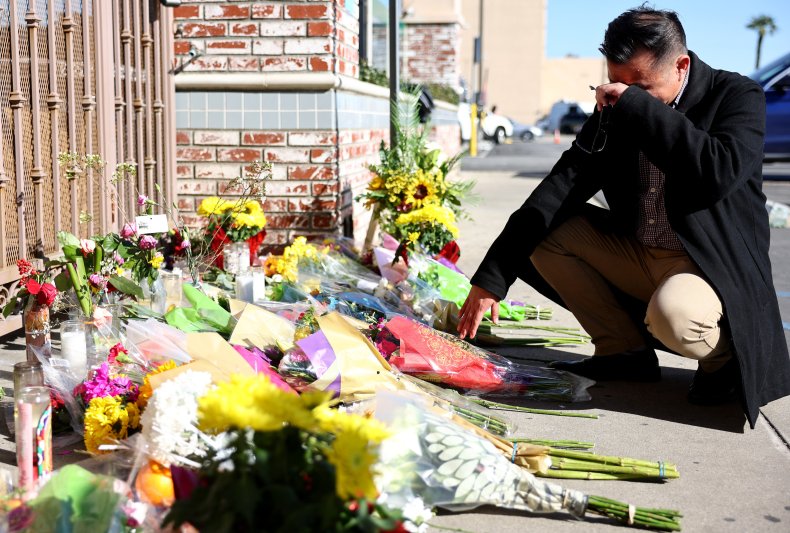 Criminologist Wilfred Reilly found similar results when he analyzed high-profile hate crimes against Asian Americans. According to his data, 40 percent of such crimes are perpetrated by whites, a number consistent with 2021 FBI hate crimes statistics, which found that 56.1 percent of hate crime perpetrators were white, whereas 23.1 percent were Black.
According to 2020 Los Angeles County data, white supremacy was a factor in just 19 percent of all hate crimes. Many hate crimes occurred between Black and Hispanic Americans. 2021 data from LA county were similar: anti-Asian hate crimes were perpetrated 44 percent of the time by whites, 29 percent of the time by Black perpetrators and 25 percent of the time by Hispanics.
The studies that found higher numbers of white Americans in the ranks of hate crime offenders either relied on news reports, most of which don't report race, or on older data.
Of course, the news media fans the narrative by pointing toward hate crimes with true white supremacists, such as the 2022 racist Buffalo shooting that targeted Black Americans, while showing much less curiosity about racist mass violence committed by people of color.
Then there's the tendency on the Left to blame white supremacy for hateful incidents even when no white people are involved. Thus, the racism of Latino politicians in California or the antisemitism of Kanye West are corralled under the narrative of white supremacy. It's a convenient way of avoiding the more quotidian truth, that hate exists in all groups. Perhaps we don't care that it demonizes whites, but this narrative is also racist toward people of color as it infantilizes them, robs them of agency and humanity, and portrays them as puppets of white culture.
Some evidence now suggests that, rather than systemic racism, hate crimes are often associated with mental illness. In this they share a similarity with mass homicides, another crime falsely assumed to be perpetrated exclusively by white men (and which this week's L.A. shooting itself contradicted). Hate crimes may reflect our failure to take mental illness seriously, rather than a racist rot in our culture.
It's time to drop the white supremacy narrative. We are both misdiagnosing the issue and also misinforming end miseducating our youth.
We can acknowledge that most individuals, whether white, Black, Hispanic, Asian or other, are committed to living together as Americans. Though any one is too many, hate crimes generally remain rare (if rising in number) for a multi-ethnic state.
Inter-ethnic strife is endemic to history and remains common throughout the globe. We should join hands, Asian, Black, white, Hispanic, and condemn all acts of hate. But we should also take care to get our facts straight, and rejoice that we live in a nation in which such hate is rare.
Chris Ferguson is a professor of psychology at Stetson University and author of How Madness Shaped History, Mortal Combat: How the War on Violent Video Games is Wrong and the mystery novel Suicide Kings.
The views in this article are the writer's own.