It's That Time: Apple Watch Unveiled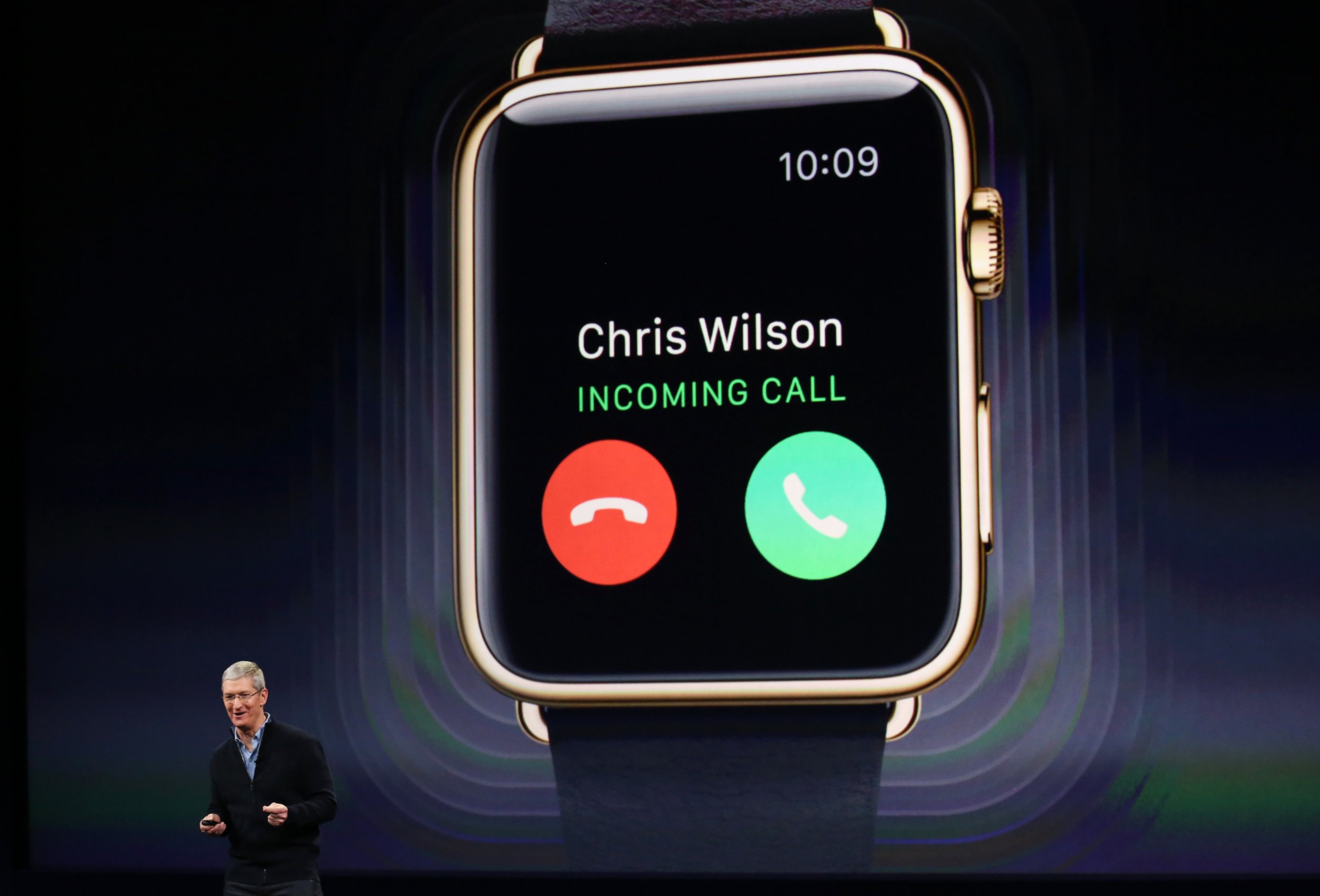 After much anticipation, Apple fully unveiled its Apple Watch during its "Spring Forward" event today. The device marks the company's first foray in wearable technology, as well as its first major product launch in five years (since the iPad).
The Apple Watch is essentially a miniature computer worn on the wrist that mimics the appearance of a watch. The face of the device is a touchscreen, which is able to differentiate between a tap and a push. The side-knob—typically used to wind a watch—allows the user to navigate the device. It connects via bluetooth to iPhones in order to carry out its wide variety of functions.
"It's the most personal device we've ever created," Apple CEO Tim Cook said on stage today in San Francisco.
The device's resting screen is a clock, which can appear in various forms based on the interface options.
Emails and notifications can be read, messages sent back and forth, and phone calls received. "I've been wanting to do this since I was 5 years old!" Cook said.
Additionally, the device can keep tabs on the user's movements—sending activity summaries and offering suggestions for new calorie loss targets. This doesn't include the third-party apps that can be downloaded—from Shazam to Uber.
For a breakdown of the pricing (starting at $349), as well as the collection, face and band options, check out the infographic below.
Cook explained that the watch's battery will last around 18 hours, which seemed to impress the live audience, but those watching remotely saw a red flag.
Despite the recent push by tech companies to break into the wearable tech, sales have been weak. But Apple is convinced it has a winner on its hands.
"If I sit for too long it will actually tap me on the wrist to remind me to get up and move because a lot of doctors believe that sitting is the new cancer," Cook said at a conference in February. "It's something that you're going to think, 'I can't live without this anymore.'"
What really sets it apart from other devices are the types of interactions it warrants. Reports claim that Apple asked developers to design applications that can be used for no longer than 10 seconds at a time—the device is truly made for quick glances. The experience will be characterized by push notifications from pre-determined people and things. As Adrienne LaFrance of The Atlantic frames the product. "It is ultimately a device that helps you decide whether to look at your phone."
But at the high price point, will it be worth it?
Apple Watch pre-orders open on April 10, and devices will begin shipping and become available in stores on April 24 in select countries.