It's Time for Congress to Make the Skies Friendly Again | Opinion
Sen. Maria Cantwell's (D-WA) Senate Committee on Commerce, Science, and Transportation recently convened a hearing on "Strengthening Airline Operations and Consumer Protections." It's critical the committee follow this hearing up with airline reform based on the information and testimonies it received.
American airline consumers have not fared well recently. During the holiday rush in late December, Southwest Airlines canceled over 17,000 flights without even informing their cross-country customers. Then, last month, airlines had to cancel hundreds of more flights following the collapse of the Federal Aviation Administration's computer system—the first time since 9/11 that the United States' entire airspace shut down. America may be the world's greatest and most innovative country, but one would never know that from spending time in its airports.
Much of the problem deals with power becoming concentrated in too few companies' hands. The top four airlines in the country dominate nearly 80 percent of the market, and for years, the Department of Justice has feared that they coordinate to keep fares high, capacity tight, and fees excessive. At a minimum, however, the absence of real competition in the industry appears to be discouraging the Big Four from making information technology upgrades and other infrastructure improvements that could have prevented incidents like December's. They seem to be taking advantage of the fact that the American people need to fly and will continue to buy plane tickets even if the industry does not rectify its systemic issues.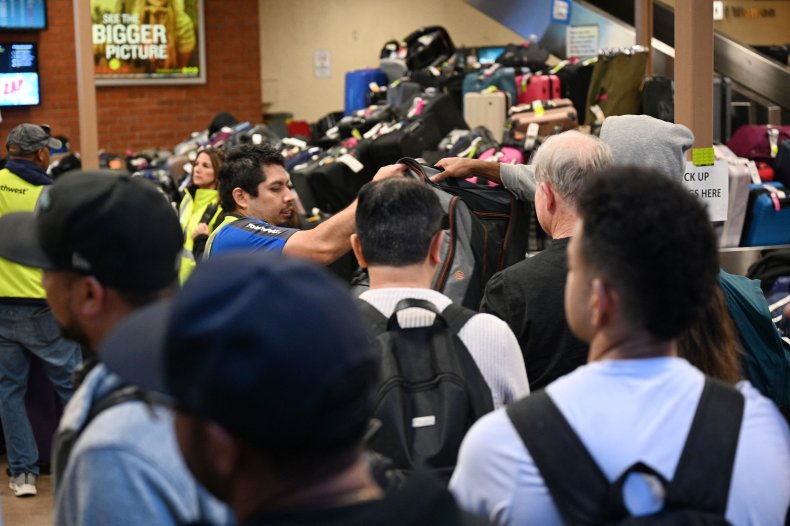 It's possible the situation may improve somewhat with JetBlue's proposed acquisition of Spirit Airlines, creating a stronger competitor to the existing cartel. JetBlue, an airline known for high customer satisfaction, will be able to expand its services into hubs where the big four companies face little to no competition.
However, there are limits to how much the pressure induced by moves like this one, which will only expand one airline's market share to 9 percent, can make the industry improve. With nearly four-fifths of the marketplace still under the control of four companies and many hubs benefitting from few, if any, competitive pressures, the big four could still collude and price-fix in the overwhelming majority of cases. That's precisely why Congress should intervene.
In response to the recent mass travel disruptions, Congress should immediately conduct hearings on the state of the airlines' IT systems to determine what improvements they need to make. Southwest has already pledged to allocate roughly $1 billion on upgrades following the sharp media and public backlash it faced during the holidays. Still, it is unclear what is wrong with these companies' systems and what it will take to fix them. All Congress knows is that these airlines received $54 billion in taxpayer aid and have appeared to allocate little of it to what matters most. Given how significantly their IT failures seem to be impacting flight times, public safety, and America's national security, that is unacceptable.
Congress should also investigate whether these airlines are conspiring to raise prices, increase fees, and limit competition in core areas. In 1994, the Antitrust Division identified 50 separate price-fixing agreements among the big airlines. With prices rising and competition declining yet again, the legislative branch should work with the DOJ to determine whether another antitrust issue has arisen and quickly and effectively pass measures that address it if so.
Members should also seek answers on what needs reform at the FAA. The FAA system that went down in January is over 30 years old and is not scheduled for an update for another six years. That is far too long to wait. Congress should give America's largest and most important transportation agency all the support and funding it needs to protect and uphold the integrity of the U.S. airspace.
America's airline customers have been used and abused for too long, and the time for change is now.
President Biden has already pledged to hold the entities responsible for these travel travails responsible, and a slew of Democratic and Republican members of Congress have echoed his commitment. Here's hoping they follow through.
The American people are fed up and hungry for solutions.
Nick Rahall, D-WV, is a former Ranking Member of the U.S. House of Representatives' Transportation Committee.
The views expressed in this article are the writer's own.