It's Time to Crack Down on Iran-Venezuela Relations | Opinion
Planes and fuel tankers from Iran have been crossing the Atlantic en route to Venezuela. They undermine the Trump administration's maximum pressure campaigns against both ruling regimes—as well as the security of the Americas. It's time to stop ignoring the threat.
Over a decade ago, former Presidents Mahmoud Ahmadinejad of Iran and Hugo Chavez of Venezuela established a special relationship—finding common cause under a banner of "anti-imperialism." Iran began pledging to invest millions in economic development projects bolstering Venezuela's petrochemical and small-arms ammunition factories. Iranian diplomatic missions began growing in size and strategic value. Islamic Revolutionary Guard Corps (IRGC) Quds Force members descended on the region.
The two countries also created an "Aeroterror" flight, with stops in Caracas, Damascus and Tehran, reportedly carrying arms, cash and drugs twice per month. Later, ProPublica reported on evidence they established a joint intelligence program and increased the ease of travel for Iranian operatives and the transfer of air freight.
Now, under the weight of U.S.-led sanctions, both nations are re-enlisting and repurposing personnel from the Ahmadinejad and Chavez eras. "Thank goodness," Iranian President Hassan Rouhani and disputed Venezuelan President Nicolas Maduro must have agreed on their recent call "that their predecessors established strong bilateral ties, robust smuggling and trafficking networks and that the architects are still able to be deployed."
In 2019, Tehran and Caracas began exchanging new ambassadors—Hojatollah Soltani and Carlos Alcala Cordones—both of whom were key figures during the construction of the first phase of their special relationship. This is Soltani's second tour as Iran's ambassador to Venezuela. His first appointment in 2012, during the Ahmadinejad administration, coincided with Tehran and Caracas implementing the understandings they reached following Ahmadinejad's visit, potentially providing Soltani with crucial insight and contacts that could be put to use for future service.
Alcala Cordones served Chavez as commander-general of the Venezuelan Army towards the end of his rule in 2012. The ambassador's past affiliation with the Venezuelan defense establishment may have been a selling point for both regimes, given Venezuela's joint military ventures with Tehran—specifically, munitions and surveillance drones.
Maduro, for his part, went one step further. In April, he appointed Tareck El-Aissami as Venezuela's oil minister, which was certainly cheered in Iran. A longtime fixture of Venezuelan politics, El-Aissami has ascended to the highest rungs of power—legislator, interior minister, governor, vice president and industries minister, to name just a few. El-Aissami has exploited each position he has held for the benefit of Iran and its allies.
El-Aissami has been accused of greenlighting travel documents for members of Hezbollah and Hamas. He was reportedly one of the "main operators" of Aeroterror. He played a leading role in recruiting Hezbollah operatives to establish drug trafficking and intelligence networks. And according to the Simon Wiesenthal Center, there are indications that El-Aissami served as an interlocutor between the Argentinian government and Iran to cover-up Tehran's role in the 1994 bombing of the AMIA Jewish Center in Buenos Aires.
As a tactical matter, Iran's Mahan Air began direct flights between both countries in April 2019, around the time both capitals began swapping new ambassadors. And in recent weeks, the IRGC-linked airline has ferried Iranian energy specialists and equipment to Venezuela in exchange for $500 million in gold.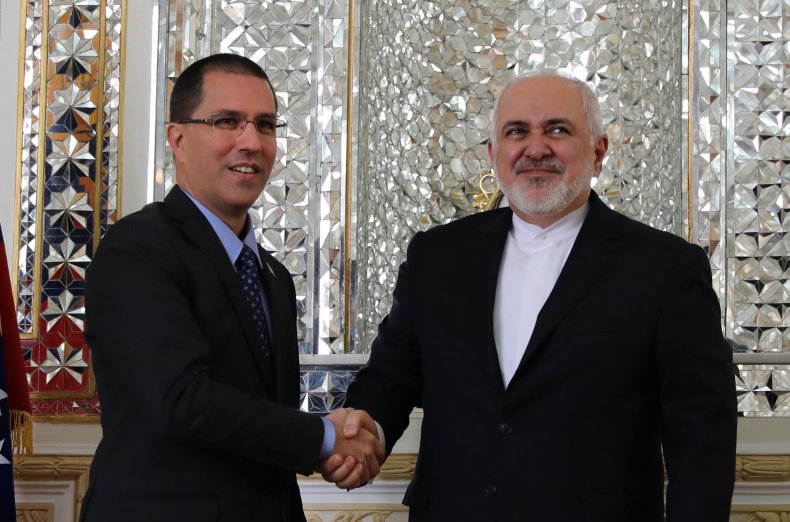 The Trump administration has built a robust sanctions architecture that has forced Venezuela, with the world's largest proven oil reserves, to seek gasoline from abroad. The maximum pressure campaign has forced Iran to fly its planes and sail its vessels to South America in order to prop up its economy. Maduro is one of the only buyers willing to pay for cargo in gold and risk U.S. retribution.
America should not ignore these developments.
Senior administration officials have told reporters the U.S. "will not tolerate continued meddling" by Iran in Venezuelan affairs, and that U.S. Navy ships have been deployed to the area—perhaps preserving the option of intercepting the tankers. But still, a decision looms.
The U.S. can allow both regimes to pierce the maximum pressure campaign; or, it can act decisively to deter Iran from increasing its footprint in Latin America. While these shipments may be equipment and fuel, the next shipments could be arms and terror operatives, too. According to a recent report in The Washington Post, Iran could be assisting the Maduro regime in the development of a "listening post in northern Venezuela to intercept aerial and maritime communications." Soltani's contacts, Alcala Cordones' ties to the military and El-Aissami's starring role in Aeroterror could help seal the deal.
Officials in Washington would be wise to consider that these are not ordinary commercial transactions. They represent the latest advancement in an illicit strategic relationship stretching back more than a decade. With clear evidence of Iranian meddling in the Western hemisphere, now is the time to build a strong and unified coalition against the deadly Iranian regime and its key South American ally.
Jason M. Brodsky is the policy director of United Against Nuclear Iran. He is on Twitter @JasonMBrodsky.
The views expressed in this article are the writer's own.