It's Time to Decolonize Puerto Rico | Opinion
With the new year upon us and the myriad of international problems that plague U.S. policymakers, one must again remind Americans that the world's oldest colony, Puerto Rico, is still suffering from indifferent local and federal policies that seem to further inflame the calls for decolonization.
From the U.S. Congress' imposition of the anti-democratic and unelected Junta of PROMESA and the indifferent federal response to natural disasters, to the recent strengthening of the Jones Act that will further stifle our economy during disasters when supplies are needed the most, Puerto Ricans are tired of the proverbial "we will do better" American narrative. Enough is enough! Puerto Ricans are calling for change and many for freedom itself.
The U.S House of Representatives passed the Puerto Rico Status Act (H.R. 8393) in December 2022, telling us all that while the bill would never see the light of day in the U.S. Senate, it would send a "message." As we know, such "messages" end up in congressional dustbins.
While H.R. 8393 never benefitted from public hearings, "assumed" Spanish would be the language in state government and public schools, and didn't address the effective 70 percent plus combined federal and state income tax, many believe that there were some positives. These included elimination of the failed colonial commonwealth status, the elaboration of both sovereignty options (independence and free association), and confirmed that people can choose to keep their U.S. citizenship, while also embracing Puerto Rican citizenship.
The call for annexation to the U.S. is decreasing in support in Puerto Rico, in the U.S. Congress, and in the United States. Congressman Tom McClintock (R-Calif.) publicly said what many Americans say in private: Puerto Rico is a proud and distinct nation that speaks a different language, has its own national identity, and should not be annexed into the United States.
Some Democrats support "statehood" because they see Puerto Rico as a mere political pawn in their partisan chessboard. Democrats don't realize that Puerto Rico would be a tossup given the conservative fundamentalists, the corrupt pro-statehood party (PNP), and the waning Popular Democratic Party (PPD). Also, most Puerto Rican voters in the U.S. do not support annexation. Even Congress' Government Accountability Office (GAO), in a 2014 report, explained that statehood would negatively impact Puerto Rico's economy, plunge more people into poverty, and push more people and businesses to leave altogether.
If Puerto Rico were annexed, it would surely unleash a plethora of political, cultural, and social issues as Americans moving to the new "state" will become the "minority" and face the highest combined income tax in the world. With statehood, the U.S. would be gaining a defiant and troublesome Caribbean Kosovo. Puerto Ricans will resist and have historically resisted American assimilation and colonial policies ... in fact, we pride ourselves on it.
Despite the death of H.R. 8393, the pro-statehood colonial government led by Governor Pedro Pierluisi (who is supported by only 33 percent of the electorate and opposed by 67 percent of the electorate) continues to promote dependence and poverty. Yet, under the guise of "equality" and "parity," the money is "stuck" in corruption schemes and is not reaching the people. Corruption, colonial cronyism, and dark money networks in Puerto Rico are reportedly managed by pro-statehood oligarchs and financed with federal funds.
Today, six years after Hurricanes Irma and Maria, thousands of Puerto Ricans still have blue FEMA tarps as roofs, suffer constant blackouts, and survive in U.S. colonial squalor. To put it bluntly, colonialism and corruption prevents the billions in unspent federal funds from going to and helping the people.
For Puerto Ricans tired of the same colonialist policies that promote dependence, hope is on the horizon with the upcoming 2024 elections. A political alliance is being negotiated that has the potential to dethrone the corrupt PNP/PPD partocracy in favor of an alliance of pro-democracy, pro-decolonization, and pro-economic development groups.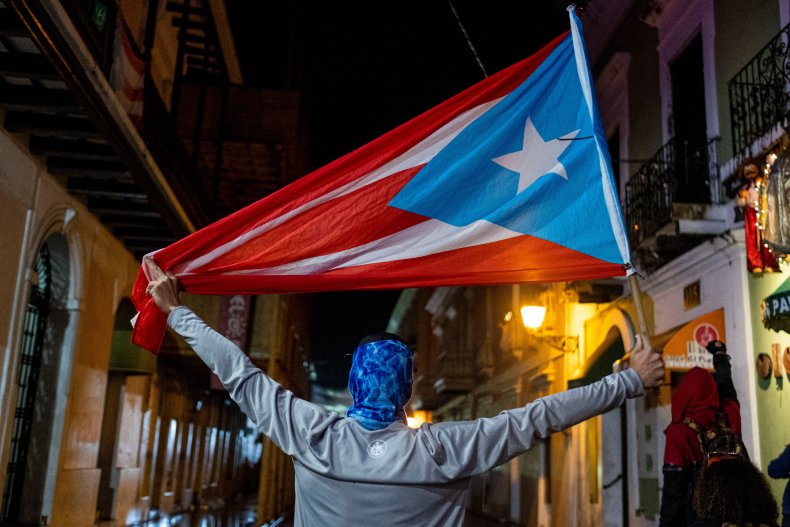 This coalition, called Alianza País, would be composed of the Puerto Rican Independence Party (PIP), the Citizens Victory Movement (MVC), and various civil society organizations. Currently, Alianza País strategists are planning on how to unite their forces to achieve an electoral victory, despite the corrupt pro-statehood party having changed the local electoral law in 2020 to ban such electoral alliances, thus trying to silence the voice of the people. American policymakers should know that the PIP is the political party in Puerto Rico that has consistently fundraised more than any other party.
Fortunately, pro-sovereignty Puerto Ricans and their allies in the U.S. want to end colonial rule and desire a viable relationship with the U.S. based on equality, respect, friendship, cooperation, and mutual interests; not colonial servitude nor political/cultural subordination inherent in annexation. Puerto Ricans, after centuries of foreign rule, finally deserve a democratic and sovereign nation of their own. They have suffered enough; cut their chains and let them be free to forge their own future.
Javier A. Hernandez is a Puerto Rican author, writer, entrepreneur, advisor and pro-sovereignty and decolonization advocate based in New Jersey and Puerto Rico. He is the author of PREXIT: Forging Puerto Rico's Path to Sovereignty and Puerto Rico: The Economic Case for Sovereignty. He can be reached here.
The views expressed in this article are the writer's own.