It's Time to Sanction Russia for Poisoning Alexei Navalny | Opinion
In an essay in Foreign Affairs last year, Joe Biden, at the time a presidential candidate, did not mince words when it came to Russia. "We must impose real costs on Russia for its violations of international norms and stand with Russian civil society," Biden wrote, promising that if elected, he would push back forcefully against Russian President Vladimir Putin's escalating malfeasance.
Will President Biden follow those words with action?
The recent arrest and detention of leading Russian opposition figure Alexei Navalny has put this question front and center. He must now decide whether to formally determine that the Russian government used chemical weapons in August 2020 against Navalny. At the time, then-President Donald Trump declined to follow a U.S. law called the Chemical and Biological Weapons Control and Warfare Elimination (CBW) Act, which requires the president to determine within 60 days that a state used chemical weapons against its own national and specify penalties.
President Biden must now make good on his promise. It's time to sanction Moscow.
In August, Alexei Navalny fell seriously ill and was eventually medevacked from Omsk, Russia, to Berlin, where tests by a German military laboratory confirmed he was poisoned by a banned chemical nerve agent from the Novichok family. Biomedical samples analyzed by French and Swedish laboratories, as well as labs certified by the independent Organization for the Prohibition on Chemical Weapons (OPCW), supported the finding.
As a party to the 1993 Chemical Weapons Convention (CWC), Russia is banned from using chemical weapons and was supposed to have dismantled any remaining weapons or production facilities in 2017. Yet Russia watchers have long suspected Moscow maintains a Novichok program, a deadly agent originally developed by the Soviet Union in the 1980s and 1990s. The matter gained international attention when, in March 2018, Russian intelligence agents used Novichok to try to poison Russian double agent Sergei Skripal and his daughter in the United Kingdom. Skripal and his daughter survived, but a British woman was killed.
Extensive investigations by Bellingcat, CNN and other media organizations last fall uncovered evidence not only that Russia maintains a Novichok program, but also that Russian Federal Security Service officers with training in poisons and chemical weapons trailed Navalny for years, culminating in his near-fatal poisoning. A Russian state security officer subsequently disclosed to Navalny himself that the government was behind the attack.
At the time of the attack, the European Union, U.K. and NATO strongly condemned the Navalny incident. Several U.S. officials spoke out forcefully. but President Trump was largely dismissive, offering only to "take a look."
In response to the 2018 attack on the Skripals, President Trump, to his credit, imposed two rounds of sanctions against Russia in August 2018 and August 2019, but only after repeated congressional prodding. And yet, despite two more House letters and a bipartisan resolution from Congress calling for action after the Navalny incident, Trump did not act, and left office never having settled the matter. Now both the House and Senate have referred the matter to the Biden administration.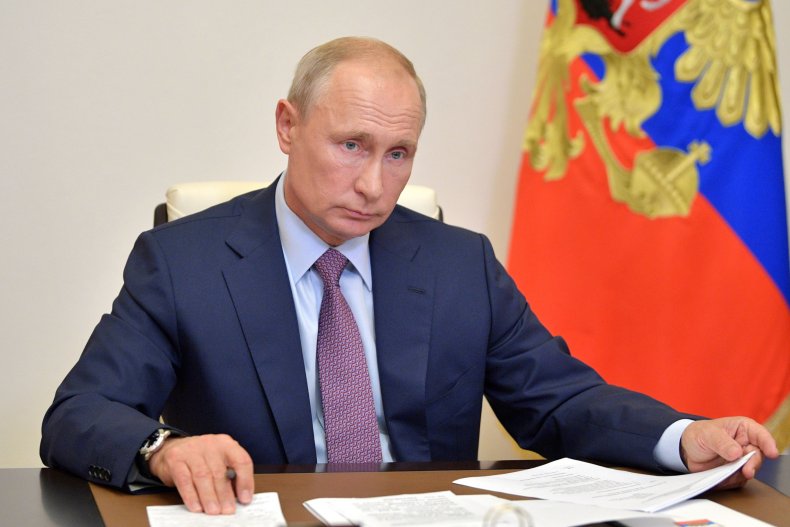 By failing to act quickly, America missed a major opportunity to restrain a Russian president hellbent on stamping out domestic opposition. Indeed, tepid responses by world powers after the Skripal poisoning emboldened Putin to again authorize the use of chemical weapons. When his assassination attempt on Navalny failed, Putin simply had him arrested upon his return to Russia. And still, international censure is tepid at best; a condemnatory statement by the G-7 last week declined even to mention penalties for further harm to Navalny.
President Biden has an immediate opportunity to rectify the situation and make good on his aim to penalize and deter Putin's international law-breaking. The president and his administration should quickly initiate an investigation into the Navalny poisoning and render a legal determination pursuant to the CBW Act.
The administration should introduce new sanctions. The Trump administration did not impose import restrictions against Russia, and the Biden administration could do so with the option to strengthen or loosen those measures in response to Russia's actions. Similarly, Biden's administration can escalate certain Trump administration measures implemented in August 2019, like a calculated expansion of U.S. export restrictions.
To deter Moscow from further egregious chemical weapons use, President Biden should designate senior Russian officials and institutions that authorized, carried out, or facilitated the attack on Navalny and subsequent cover-up. The administration should also impose Global Magnitsky Act sanctions against senior officials to make clear that chemical weapons use is a human rights violation. At the Organisation for the Prohibition of Chemical Weapons, Washington should raise the profile of the issue and gather pledges from partners to vote that Russia verifiably account for and shut down its Novichok program. Washington should take action while leaving room for escalation or de-escalation based on Russian behavior.
Already in 2018, Biden was suggesting that the United States target Russian money laundering and involvement in U.S. financial and real estate markets. The U.S. should freeze the foreign-held assets of Putin, other Kremlin officials, and rich oligarchs close to Putin, which would indicate to the Russian leader that America will shake the foundation of his rule by targeting his pocketbook and that of his wealthy supporters.
Navalny is in a precarious situation. By acting resolutely, Biden may shield him from additional harm.
Mere rhetoric on the part of the Biden administration will only delay a reckoning with Russia. On the other hand, targeting Putin where it hurts would send a strong signal to the Russian people—currently protesting en masse for change—that America is behind them.
Matthew Zweig is a senior fellow at the Foundation for Defense of Democracies (FDD), where Andrea Stricker is a research fellow on nonproliferation. They both contribute to FDD's Center on Economic and Financial Power (CEFP). Follow Stricker on Twitter @StrickerNonpro. FDD is a non-partisan research institute focusing on foreign policy and national security issues.
The views expressed in this article are the writers' own.