It's Time School Buses Went Electric | Opinion
For the sake of children everywhere, it's imperative that U.S. schools reopen safely—and stay open—in a way that protects the health of everyone.
For more than a year, the conversation about cleanliness and health in schools has centered around COVID-19. Yet there are other environmental issues that must be solved if we're to take seriously the health of children, teachers, bus drivers and administrators: And that's diesel school buses. These buses are literally filled with carcinogens while children ride them. They send plumes of pollutants into neighborhoods and schoolyards while they sit idle.
There's an obvious fix to this problem. The bipartisan infrastructure legislation that recently passed the Senate includes $2.5 billion in dedicated funding for electric school buses—a fraction of the $20 billion originally proposed in President Joe Biden's American Jobs Plan. It also includes $2.5 billion for either electric school buses or so-called clean alternative fuel school buses, including polluting fossil fuel school buses. While the funding exclusively for electric school buses is a step in the right direction, it is an outrage that Congress would undermine the health and well-being of our students, teachers and communities by letting fossil fuel interests siphon off funding that should be dedicated to truly clean electric school buses.
School buses are a lifeline in rural America and electric versions are being deployed, albeit slowly, in many districts, even as the nation suffers from a severe bus driver shortage. But to really tackle this problem in a meaningful way, the federal government needs to invest heavily in electric buses so that every child has a safe, clean way to get to school, and so their neighborhoods and school yards are free from toxins.
America's children need that full $20 billion for electric school buses, by any legislative vehicle possible. This is quite literally a scenario in which the people with the smallest, tenderest lungs are regularly exposed to carcinogens that federal workplace safety guidelines deem unsafe for grown adults.
Parents, did you know that pollution levels inside diesel school buses can be up to 12 times higher than ambient levels?
Teachers and school staff, did you know that those diesel buses produce nearly twice as many contaminants per mile than the average tractor-trailer truck?
The studies of how these toxins impact us are in clear agreement. Headaches, dizziness, loss of concentration, higher levels of asthma and even lowered test scores are common effects of breathing in those fumes. Plus, diesel engine exhaust is literally a carcinogen. It can cause cancer.
The trickle-down effects of these health issues touch people across society. When children are sick, it's mothers and other female caregivers who, in large part, sacrifice their own earning potential to care for them.
This isn't a small problem: Asthma, which can be caused by breathing in polluted air, accounts for between 14 and 18 percent of school absences.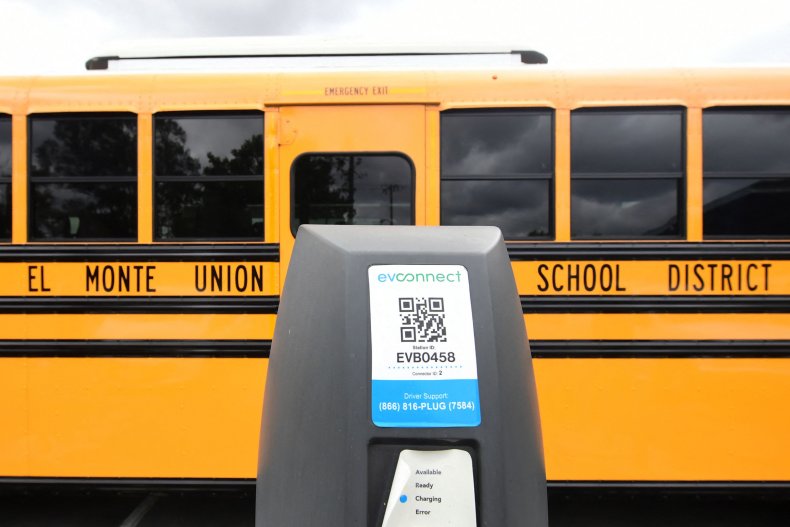 This is also a racial justice issue. Black children spend more time getting to school than do white children. Those kids disproportionately are exposed to more harmful substances than do their white peers. At the same time, neighborhoods with more Black and brown people in them tend to face greater air pollution than do other neighborhoods.
As serious as the impacts of diesel school buses are, the solution isn't complex. Electric school buses are the answer.
So why haven't they become the new, modern-day version of the classic yellow American icon?
As usual, it's all about money. An electric school bus can cost three times more than a diesel bus, which tends to carry a price tag of about $100,000. That's serious sticker shock, but it's short-sighted to nix the idea because of it. In fact, electric buses cost less to operate over time, making them cost competitive. And the investments being discussed in Congress as part of various infrastructure packages will galvanize manufacturing pipelines and energy infrastructure will streamline, lowering costs in the future as a result.
Across the board, people agree that children should be protected from dangerous toxins.
Also, across the board, there's a clear consensus that teachers, drivers and other core school staff members both require and deserve a place to work where their health is a top priority.
And, across the board, there's widespread agreement that public school infrastructure investments need to prepare children and communities for the future, including resources that will perform well for years to come.
It's simple common sense to invest in electric school buses and the bus drivers needed to drive them. We can't let petty partisanship stand in the way of health and safety for the smallest members of our society and the frontline workers who care for them. The bipartisan infrastructure legislation isn't enough; Congress must approve a full $20 billion for electric school buses.
The time is now. Congressmembers, senators, invest in the health of our children.
Randi Weingarten is president of the 1.7 million-member American Federation of Teachers and a member of the World Resources Institute Electric School Bus Advisory Council.
The views expressed in this article are the writer's own.