It's Time to Stop Normalizing Violence Against Women | Opinion
To be a woman in the Democratic Republic of the Congo (DRC), you need to have muscle, because everywhere you go, you must fight. Sexual violence is rampant in conflict zones, but also throughout the country behind closed doors. Married women living with violent husbands are taught to believe that they deserve the abuse that comes their way. They are told they lack obedience. For those who recognize that this is not warranted, it's nearly impossible to leave, as women in the Congo don't have access to their own money or another place to go.
The harrowing conditions for women in the Congo have developed over generations, and sadly, are considered normal. Early marriage and early pregnancy are prevalent, as is female genital mutilation in the conflict zones, and other harmful cultural practices. Women have limited access to land and little, if any, decision-making power when it comes to their own lives, let alone the laws of the nation. For too long these behaviors have gone unquestioned, but the tides are changing.
This month a court in the country's southeastern region found 10 male inmates guilty of rape, arson and attempted escape during 2020 prison riots. In November, former armed group commanders were convicted and sentenced to life imprisonment for war crimes, including rape and sexual slavery. The U.N. continues to work with our government to address sexual violence in conflict, and a World Bank-funded effort to prevent gender-based violence is being implemented by a range of civil society partners, including Panzi Hospital and Foundation founded by the Nobel Peace Prize-winning gynecologist Denis Mukwege.
Still, an average of 1,152 women are raped every day in the DRC. This has catastrophic consequences on individuals, families and communities, including mass displacement, the spread of sexually transmitted diseases, increased poverty and the destruction of social cohesion.
Our President, His Excellency Félix-Antoine Tshisekedi, to whom I serve as a special advisor, understands that more needs to be done. To dispel the deeply-ingrained beliefs that violence against women is inevitable or somehow deserved, there must be agreement not only across African nations, but across the globe. We must establish norms that certain behaviors are neither acceptable nor legal, no matter where you are from, or how long they have permeated a culture.
To start with, President Tshisekedi has increased the number of women in his government from 5 percent to 37 percent. He is working toward 50/50 representation. As chair of the African Union, he recently organized the first-ever men's conference focused solely on finding solutions to eliminating violence against women and girls. From this gathering emerged the Kinshasa Declaration, named for the city where the conference took place, centered on how to solve "the persistence of violence against women and girls in Africa, linked to harmful socio-cultural norms and practices."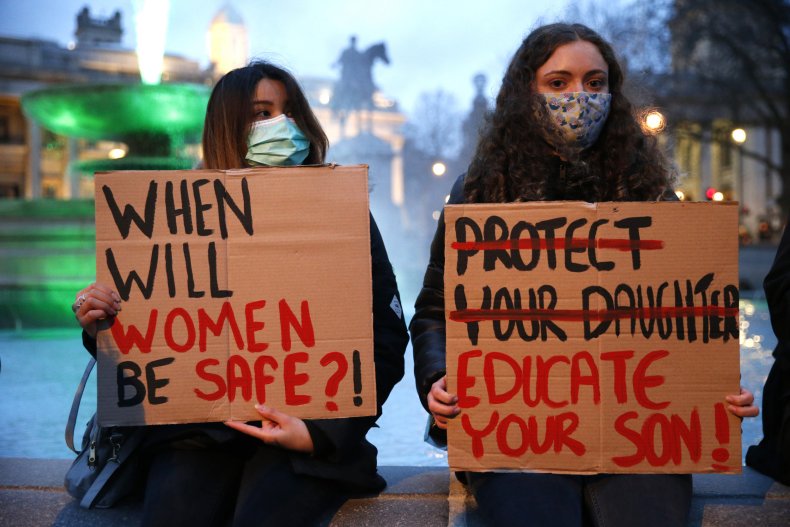 President Tshisekedi went even further by publicly endorsing a global treaty to end violence against women and girls. Although there are regional laws to protect women from violence, including Africa's Maputo Protocol, the majority of the world's women—primarily Black and brown women—do not have access to a treaty that specifically addresses violence. Efforts have been made to interpret the Convention on the Elimination of All Forms of Discrimination Against Women to include violence, but have not been effective. President Tshisekedi knows that no country, including the DRC, can go alone on this path.
According to the World Health Organization, 1 in 3 women worldwide experience violence, with younger women most at risk. COVID-19 lockdowns have exacerbated this even further in what U.N. Women called a "shadow pandemic." The silver lining is that with all of this attention, the problem is becoming impossible to ignore.
In just the last few months, the secretary general of the Organization of American States Luis Almagro and Nigeria's President Muhammadu Buhari have both made public calls for a global treaty to end violence against women and girls.
With access to social media, younger women are doing their own research and talking to each other openly about subjects that were once taboo. The next generation understands that their body is their own, and that marriage is not a trophy that should be accepted under any circumstances.
Too often grassroots activists, like myself, are on the frontlines trying to help other women, with no legal framework to back us up. A global treaty will establish clear definitions so that violence cannot be brushed aside as normal. It will also provide a metrics-based reporting framework; establish an international monitoring body; require training and accountability for police officers, judges and health professionals and increase funding for survivor services such as shelters, hotlines and legal aid.
President Tshisekedi's call for a global treaty is a breakthrough for our region. The DRC no longer wants to be known for violence against women and girls, but rather for our stewardship in ending the most widespread, persistent and devastating human rights violations of our time.
Chantal Mulop is special advisor to the president of the Democratic Republic of the Congo.
The views expressed in this article are the writer's own.