It's Time to Stop Squabbling and Unify Against the Threat to Women's Rights | Opinion
It is difficult to overstate the magnitude of the socio-political earthquake brought about by the revelation that the U.S. Supreme Court is likely on the cusp of overturning Roe v. Wade. After all, nearly half a century of having basic reproductive rights (mostly) shielded by SCOTUS from political meddling by zealots or demagogues did feel to many like irreversible social progress, and the shattering of this order is no trivial matter.
If Roe v. Wade is overturned, it is likely that 25 states—half the country—will ban abortion, with 13 of those states already having "trigger laws" that would implement such bans simultaneously with that decision. And this while 69 percent of Americans already oppose overturning Roe v. Wade.
Women of means and privilege will certainly be impacted by this assault on their rights, but most will likely be able to overcome it by simply traveling to a state that maintains legal access to abortions. It is the least privileged and most vulnerable who will suffer the most, left with the bleak choice of being forced to carry a dreaded pregnancy to term, or risking prison, serious injury, or even death should she pursue an illegal abortion.
That is not how women should be existing in what's supposed to be the most advanced country on the planet in the 21st century.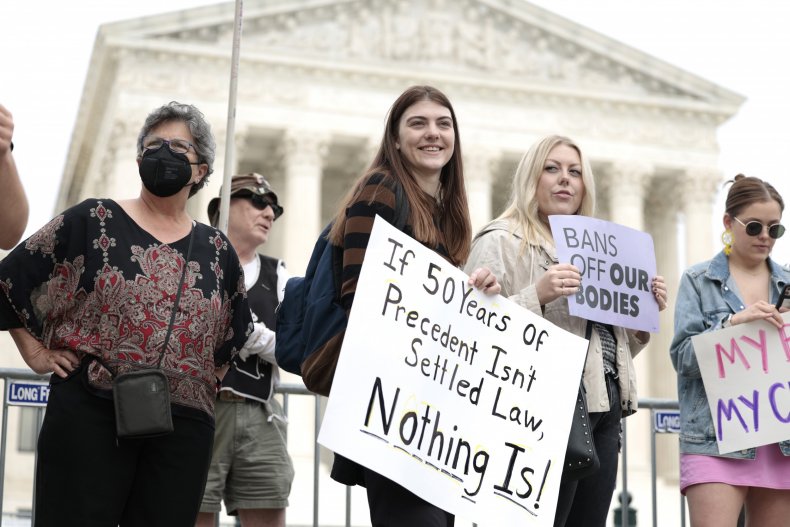 It's worth considering the disturbing way this has all come about, which included several Supreme Court Justices clearly misleading the public on this issue during their confirmation hearings.
Then there's the fact that. Donald Trump, a Republican president who lost the popular vote by nearly 3 million ballots, got to appoint three anti-choice justices to the Supreme Court, while his predecessor, a Democratic president who won the popular vote by 5+ million ballots, was blocked by Republicans from carrying out his rightful duty to appoint a SCOTUS Justice.
This bears repeating: A deeply unpopular move that strips the basic rights of millions of Americans was imposed on us by a party that doesn't even have the backing of the majority of Americans.
On what planet can this series of events represent a functioning democracy?
One would expect moments like these to bring progressives together to focus on what matters and to mobilize like fundamental rights are at stake here—because they are. Alas, many are busy with pointless infighting, dredging up the records of those who trivialized the threat Trump posed to women's rights and dismissed the prospect of this precise scenario playing out, as well as those who defended Ruth Bader Ginsburg's refusal to retire under Obama's presidency.
But the strangest sentiment dominating Twitter is the viral claim that this Biden-era assault on women's rights by SCOTUS is proof that elections don't matter, as if there isn't a direct link between Trump's presidency and this Supreme Court makeup.
At the end of the day, the only question that matters now is: How do we stop this bellicose assault on women's rights?
One obvious path is for Democrats to legislate the very protections that the Supreme Court seems poised to abandon. The problem here is that this path has already been tried quite recently, and was defeated by Republicans and Joe Manchin.
How could Democrats enhance their prospects for securing such legislation? They could end the filibuster to allow a simple majority to pass the needed rights protections. But the Democrats don't have the votes to end the filibuster either, because the likes of Joe Manchin and Kyrsten Sinema have made clear that they would block any effort to end it. The same is the case with expanding the Supreme Court, now that it has been hijacked by people who violate its integrity and disregard its most critical precedents.
The time for easy fixes had long passed, back when the Democrats had a supermajority, when the decades-long legal precedent stood firm, and when a Looney Tune candidate who was serious about gutting a popular core of our country's social progress seemed to have no chance of ever winning the presidency, let alone placing three Justices on the Supreme Court in one term.
Without a quick fix on the horizon, we're left with the need for mass mobilization on every front. We need to make clear to members of the Biden administration that we won't simply accept this as another broken promise when they throw their hands in the air in powerlessness. We need to make clear that we demand they leverage all their political capital and bear down like a ton of bricks on Democrats who stand in the way of protecting women's bodily autonomy.
We also need to exact a direct political cost on any Members of Congress who won't step up to protect women's reproductive rights by organizing to get them out of office.
This goes beyond national politics. We need more pro-choice political representation on the state and local level, where the battle will move once the Supreme Court lifts the nationwide protections. We need to find the organizations doing most to make abortion accessible to all women and support them financially, and we need to take to the streets to raise our voices in defense of reproductive rights.
Perhaps most crucially, we need to combat the Right's voter suppression efforts and fight for a better, healthier democracy that represents its increasingly diverse and progressive population.
This is a test for our generation, and we need to rise to the occasion.
Omar Baddar is a political analyst and the former director of the Arab American Institute.
The views in this article are the writer's own.