It's Time to Take Care of Home Care Workers Like Me | Opinion
Fifteen years ago, my mom suffered a brain aneurysm and got into a severe car accident. I quit my secure job as an insurance agent to care for her, in order to make sure she could remain at home with maximum independence, dignity and quality of life.
My mother is now 74 years old, and caring for her is tough work. I help her with bathing, dressing, cooking, feeding, grocery shopping, picking up prescriptions, going to doctors appointments and making sure she takes her medications.
I'm grateful that I'm able to provide her loving care at home, but I really had no other alternative. When she first needed support, choices for good quality and economical home care were severely limited, and turnover among care workers was high.
My story is unfortunately all too common. Families across Illinois and the country face the wrenching decision of whether to leave their careers to care for an aging parent, grandparent or child with disabilities. And the pandemic has only made this decision harder.
On the one hand, the pandemic revealed the systemic problems with our care economy. Nursing homes, which have long been under-resourced, understaffed, subject to misleading rating systems, and often mismanaged by for-profit corporations, became COVID-19 hotspots, accounting for a quarter of COVID deaths nationwide and making existing problems impossible to ignore.
But the pandemic has also revealed the cost of care. Family members, primarily women, have been forced to leave the workforce in order to care for loved ones at home and keep them safe. Over 800,000 women stepped out of the workforce in September alone, primarily due to the caregiving needs of their families. In total, women have lost 5.3 million jobs since the pandemic began, and all of the net job losses this past December were due to women—predominantly people of color like myself—being laid off.
But with a new administration tasked with charting a just recovery from COVID-19, we have an opportunity to invest in the care economy, so people like me actually have options, and we know our loved ones will be cared for by professionals, no matter which route we choose.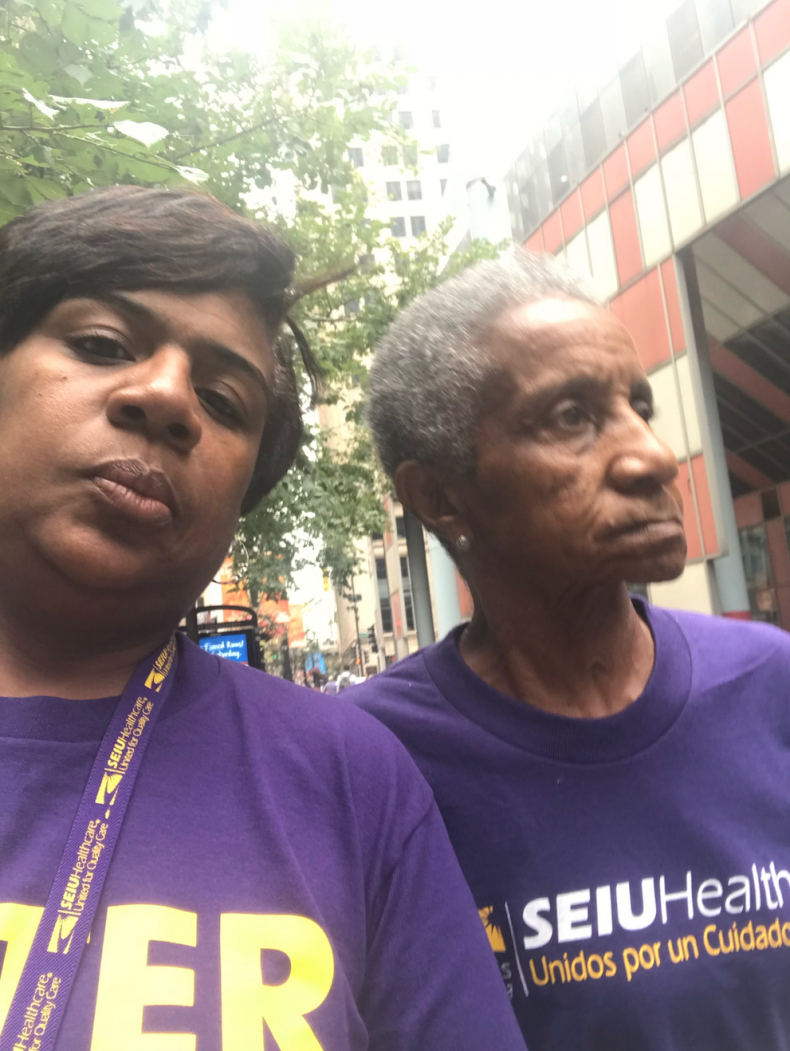 Investing in home care jobs would not only create employment opportunities for people who want to become care workers; it would also support families and free up more people to enter the workforce. This must be a top priority for our state and our country, because the population is rapidly aging, creating skyrocketing demand for home care services.
The U.S. Census Bureau estimates that over 22 percent of Illinois's population will be 60 and older by the year 2030. Nationally, 10,000 adults are turning 65 every day and older Americans will soon outnumber children for the first time in our country's history. This has made home care one of the fastest-growing sectors, and over a million more workers will be needed in the next decade.
Unfortunately, home care workers, who are mostly Black, Latina and Asian women, have been shamefully undervalued for far too long, which has led to a severe workforce shortage. Home care workers nationally have a median wage of just $11.52, and most lack healthcare, paid sick days, job training or the personal protective equipment they need to protect themselves and their clients. The majority of home care workers in 41 states do not even have the basic right to join a union enjoyed by other American workers.
And that is just what they need. Through our union here in Illinois, we've been able to win $15 an hour wages for home care workers.
Care jobs should be good jobs no matter where you live. That's why I'm speaking out for fundamental changes to the long term care system.
The good news is that elected officials have begun to listen. President Biden and Vice President Harris's Build Back Better plan would invest in home care to eliminate the long waiting list for services, making it easier for more families (like mine!) to access quality at-home care. It would create 1.5 million new care jobs to solve the workforce shortage, laying the foundation for our country's future as the population ages. It would raise wages and expand benefits for care workers across the country, which helps retain care workers, and increase job training to guarantee high standards of care. Crucially, it would ensure every worker has the freedom to join together in a union, which is especially important in a fragmented industry like home care where so many of us lack a common employer.
We home care workers and advocates are calling on our congressional representatives to support this plan, and turn it into concrete legislation as soon as possible.
When family members have access to home care services and are confident their loved ones will be supported by skilled caregivers, then they'll be able to stay in their professions and earn a living, an urgent concern as we strive to emerge from this economic crisis.
I wouldn't trade the time I've been able to spend with my mom or the loving care I've been able to provide for her. But I shouldn't have had to choose between a stable paycheck and dignified care for my mother. Investing in care workers, and in the care economy, will strengthen families and entire communities. That's the kind of recovery we need.
Alantris Muhammad is a home care worker in Chicago Heights, Illinois and a member leader of her union, SEIU Healthcare Illinois Indiana.
The views in this article are the writer's own.