12-Year-Old With Rare Autoimmune Disease Invents 'Medi Teddy' IV Covers For Kids
Hospitals are scary places, especially for kids. Ella Casano knows that all too well: Five years ago, the 12-year-old from Fairfield, Connecticut, was diagnosed with a rare autoimmune disease called Idiopathic Thrombocytopenia Purpura (ITP).
"It's when her body attacks and destroys its own platelets, so it puts her at higher risk for bleeding or injury, more than most people," Ella's mom, Meg Casano, told CNN.
A healthy person typically has between 150,000 and 450,000 platelets per microliter of blood. People with ITP often have platelet counts below 20,000. Ella's can dip well under 10,000.
Some children outgrow ITP but Ella hasn't been so lucky. So every eight weeks she has to get an IV infusion, an experience that filled her with anxiety.
Newsweek subscription offers >
"When I had my first infusion, I was surprised and a little bit intimidated by the look [and] the amount of tubing and medical equipment on my IV pole," she wrote on her website. "As I saw more and more children experiencing the same feelings, I became more interested in creating a friendlier experience for young IV patients."
So she cut up a stuffed animal, grabbed a hot-glue gun and created what would become the first "Medi Teddy," a stuffed animal pouch that covers and conceals an IV bag.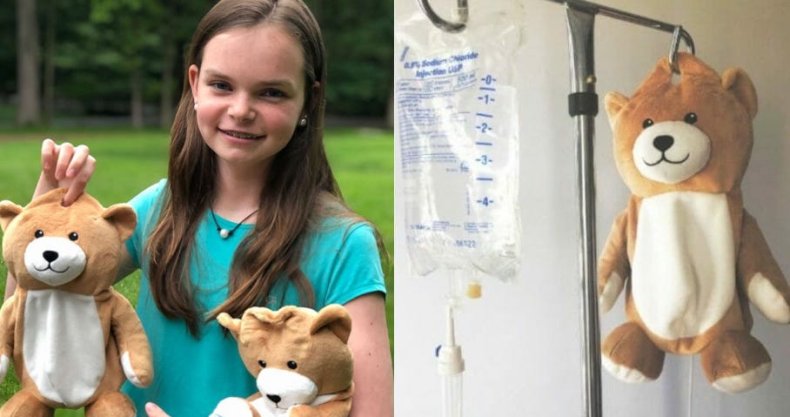 Now she's working to create more so other kids don't have to be so scared when they're getting the treatment they need. The back of the Medi Teddy is made of mesh so doctors and nurses can still see through it, but from the front it looks like a friendly teddy bear.
Newsweek subscription offers >
Ella and her mom began researching how to manufacture and distribute the Medi Teddy and incorporate as a non-profit, and her nurses have tried the prototypes and offered suggestions.
Last week, mother and daughter launched a GoFundMe campaign, hoping to collect $5,000 toward making 500 units. Within a few days, they sailed past their goal and, as of this reporting, have garnered more than $20,400.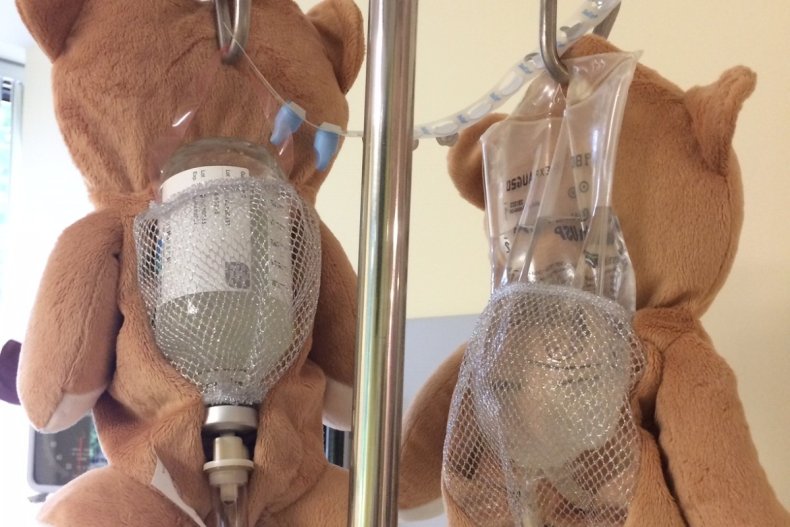 The comment section on the Medi Teddy GoFundMe page is filled with praise for Ella, some from parents of children with life-threatening illnesses of their own.
"About two years ago I was in the hospital for quite awhile," wrote one donor. "It was very stressful and scary—and I'm an adult. I love that you thought of other kiddos and making their stays better. I will be following the progress of this wonderful idea."
The money will help to cover costs, but Ella and her mom plan to distribute the bears to hospitals and patients free of charge.
"We knew she had a great idea, but we never expected this level of response," Casano told Good Morning America. "It's really been heartwarming to hear such supportive emails from all over the world. And it's motivating me, personally, to work as hard as I can to make this successful for Ella."
12-Year-Old With Rare Autoimmune Disease Invents 'Medi Teddy' IV Covers For Kids | Health