Ivana Trump Branded 'Rude' Guest by Talk Show Presenter
A British talk show presenter has named Ivana Trump, the former president's ex-wife, as the rudest person to appear as a guest on her show.
Kaye Adams, 60, who hosts the show Loose Women, shared her view on Ivana Trump, 73, during an interview on IGTV show Celebrity Skin Talk with actor Scott McGlynn, which was shared on the platform on Monday, May 9.
Near the end of the 44-minute episode, McGlynn asked the presenter if she had ever dealt with anyone difficult or rude.
Adams then revealed that she considered Ivana to have been the rudest guest and recalled an interview with the businesswoman that happened before Donald Trump became president of the U.S.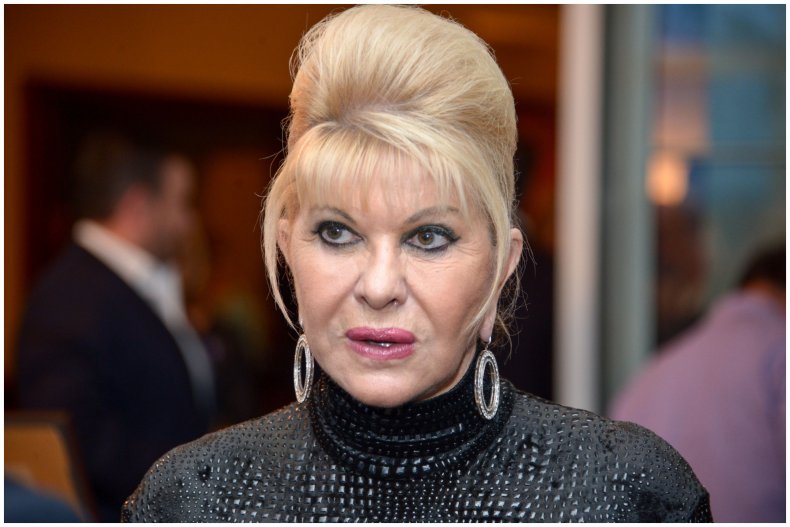 Adams said she did the interview with fellow host Nadia Sawalha, 57, and said the former model "terrified" them both.
Adams added: "She terrified the living daylights out of us and we were both like pathetic little schoolgirls because she was just so rude.
"There was no pretense at being polite whatsoever. She was like, swatting us away like little flies and Nadia was actually hiding behind me at one point and I had to, kind of, pull her out.
"She was just scary. She was really scary and at the time the show was quite new and we didn't feel very confident and it was a car crash."
Ivana Trump most recently appeared on the discussion show Loose Women back in 2020 where she praised her former husband and his stance toward immigration in the U.S.
According to the U.K.-based Daily Record, she praised Donald Trump for "all he achieved with immigration."
Panelist Jane Moore then said: "What you've said about migrants, a lot of people would find quite offensive. You're a migrant yourself—are you not shutting the door behind you?
"Do you not understand that some people just want a better life? How you describe them is quite inhumane."
Ivana Trump replied: "It is inhumane but everybody has to pick themselves up. They have to go and apply for the visa properly then they come to America. They come and cross the border properly."
She added: "I am an immigrant, and I have no problem with the immigrants, but must come into the country legally and get a job and pay taxes like the rest of the Americans and just live and be part of a society."
Newsweek has contacted Ivana Trump's publisher for comment.
Ivana and Donald Trump divorced in 1992. She shares children Donald Jr., Ivanka and Eric with her former husband.
The businesswoman holds her daughter in high regard and when asked whether she could be president, she responded: "Definitely."
During her 2020 appearance on Loose Women, Ivana Trump said: "I think she's in the White House every day, she's next to her father every day, she knows all that is going around... I think she could be one day the first woman president, definitely. She's smart as hell, she's beautiful."