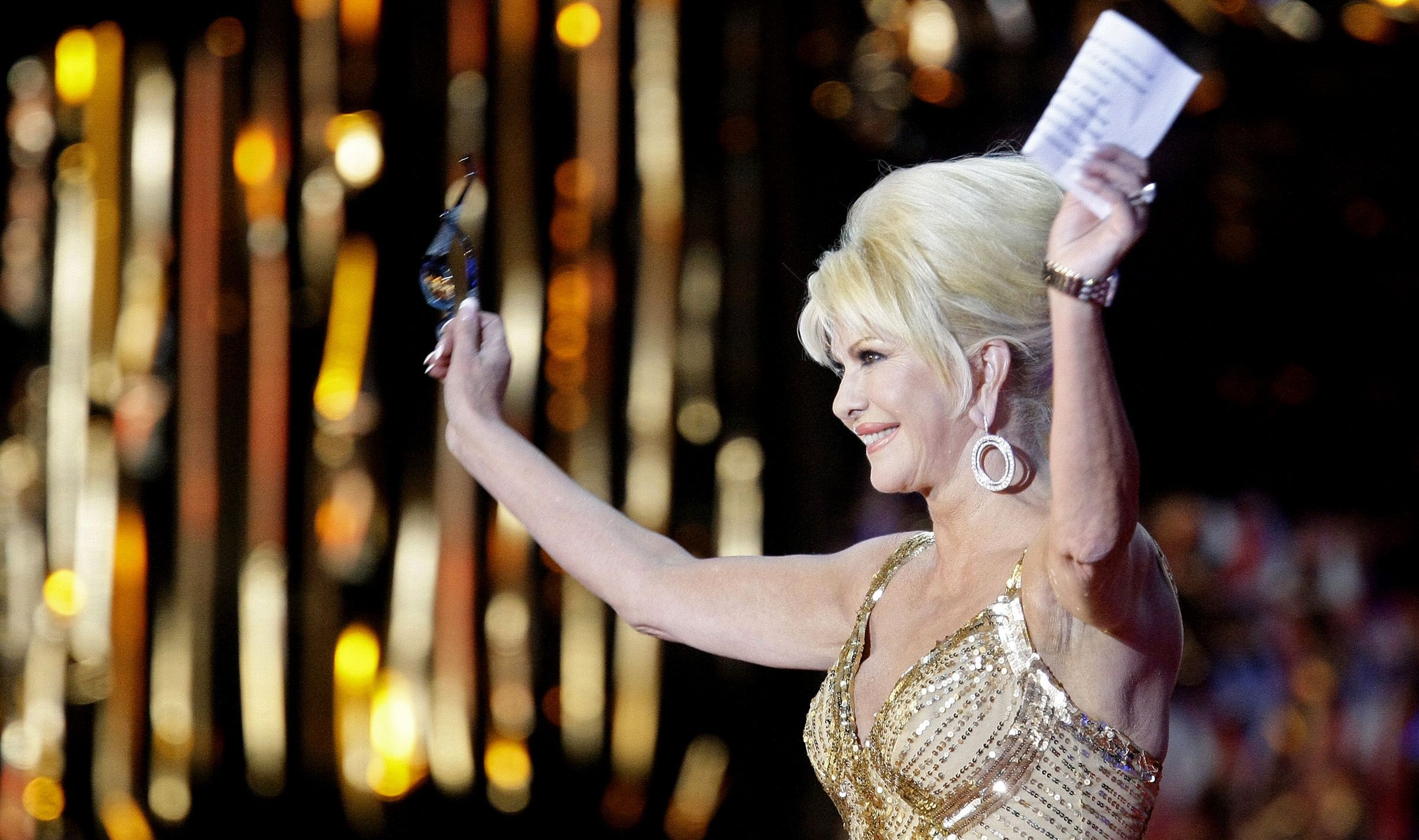 Remember that scene in The First Wives Club when Ivana Trump gives eternal words of wisdom to a fawning Goldie Hawn, Diane Keaton and Bette Midler? "Ladies, you have to be strong and independent. And remember—don't get mad, get everything!"
Well, Donald Trump was not as excited as the movie's leading ladies and felt that she did, in fact, "get everything." He vented his scorn for his first wife's movie appearance, calling her "out of control" to his old friend Howard Stern, according to tapes released this week to Newsweek through the website Factba.se. And he felt it added insult to injury in the true story behind her words—the money she took from him.
Trump was surprisingly careful not to slander the mother of his favorite children with insults—at one point, Stern even asked, "What is this, a courtroom?" But the former Mrs. Trump called him constantly to ask for money, got $25 million from their prenuptial agreement and then violated that prenup and went on to write a book about their marriage. The Czech businesswoman and former model has written four memoirs, with the latest out this year.
On January 13, 1997, Stern and Trump bantered about Ivana's lawsuit against the company that sold her a $6 million boat.
Stern: Oh, I love that.
Trump: What people don't know, Ivana calls me constantly. "I need a yacht, I want a boat, I want this." This is not a yacht, first of all, it's a cabin cruiser.
Stern: Right. This is not a real yacht.
Trump: I asked her not to buy it, don't buy it, but once you buy it you have it.
Stern: Right.
Trump: Now you don't knock the hell out of it, so now it's got zero value. She's not gonna win the lawsuit, it's got zero value.
Robin Quivers (Stern's co-host): You're saying she's not a good businessman?
Trump: So she lost $6 million of my money, and I'm not happy about it.
Stern: She bought a yacht with your own money and lost the money.
Trump: She certainly did.
Stern: Yes she did.
Trump: Real problem.
Stern: You know, I'm sitting on a plane, I see this First Wives Club, and they got Ivana, and I'm—
Trump: This is another thing.
Stern: She should go home and take care of the kids, take care of Donald's kids.
Trump: It does get out of control, but that's OK.
Stern: Right, but how do you feel about your daughter's [Ivanka's] modeling career? You OK with that?
Trump: She's doing great, and she's really—you know, she likes it, Ivanka.
Stern: Right.
Trump: And she's doing tremendously well.
Stern: And you're doing well, you were here, you remarried, your marriage is successful. Yes, it's true, the whole thing with Ivana was very public and all that, but as Donald taught me one very important lesson—
Quivers: What did he teach you?
Stern: He took me aside [at] his wedding, and he said to me, "You know now I'm getting remarried." He said to me, "Howard, vagina is expensive." That is what he said to me, and I'll never forget those words, and the guy was right.
Quivers: Those were exact words.
Stern: Those were the exact words, ladies and gentlemen. And don't I know it, doesn't my wife keep reminding me of that. The great Donald Trump, everybody. Thanks for coming by.
On a May 8, 1993, show, Trump dished with Stern about feeling bamboozled by Ivana's betrayal of the prenup.
Stern: Well, who doesn't? So anyway, getting back to it, you get Ivana to sign this prenuptial agreement, and what does she do? Donald says, "I will give you the $25 million, but don't write about me, don't talk about me." Personally, I'd shut my mouth for 10 million.
Trump: The one big condition.
Stern: The one big condition.
Trump: The one big condition.
Stern: So what does she do? There she goes, "I want to write a book. I want to write a book." It's, it's not, it's not their true story. What I will do is, I won't call the man in the book the Donald, I'll call him the Ronald. And the book was clearly about you, was it not?
Trump: It was, it was.
Stern: And you are entitled to that $25 million back.
Trump: If there was a judge with courage—and I heard you saying this once on your morning show, in your radio show—if there were a judge with courage, they would give me that $25 million back. Yes.
Stern: Now which is better? The old Ivana or the new Ivana? Isn't it the ultimate trip to have a wife or a woman change your whole physical appearance just to keep you, Donald Trump. That to me—for what—my wife, if she would even go on an exercise regimen for me I'd be happy. She's walking around, she doesn't care what she looks like. But really, Ivana, I feel in order to hold on to you, really did a remarkable makeover. Is [Inaudible] correct?
Trump: Well, I don't want—I don't want to talk about what she did or whatever, but...she's a good woman, and I'll always love her.
Stern: She's not a good woman, Donald. I'm going to tell you something. Any woman, if you give her $25 million, you don't have to say she's a good woman. She's not a good woman. She's the mother of your children. That's true.
Trump: True.
Stern: But that's it. That's as far as it goes.
Trump: Yeah. But she's the mother of my children.
Stern: She's screwing you. She screwed you on this. I'm saying you don't have to say, you sit there quiet. I'm saying for $25 million she should keep her mouth shut. True?
Trump: She should not have said anything.
Stern: Of course. A deal is a deal.
Trump: She should not have been commercial. She should not have done what she did. She did it, and there's litigation on this whole point. It will be interesting to see what a judge rules.
Stern: Well, I certainly would rule in your favor.
Trump: And why can't you be a judge?
Stern: I'm not a judge, although I have the hair of a judge. An English judge. So, let's...do I to take a break? OK. I'm going to take a break, Donald. When we come back, I want to explore the various women you are dating. I have pictures.