Ivana Trump Says Daughter Ivanka Could Be 'First Woman President'
Ivana Trump believes that her daughter, Ivanka Trump, could be the "first woman president."
The former wife of Donald Trump appeared on British daytime panel show Loose Women today (September 14) where she gave a wide-ranging interview about the president, their daughter Ivanka, immigration and Melania Trump.
Asked if she thinks daughter Ivanka could be president, Ivana responded: "Definitely."
She added: "I think she's in the White House every day, she's next to her father every day, she knows all that is going around... I think she could be one day the first woman president, definitely. She's smart as hell, she's beautiful."
Ivana—who recently turned 70—is a former model and businesswoman, and was the president's first wife. The pair married in 1977 and divorced in 1992. They have three children together—Donald Trump Jr., Ivanka Trump and Eric Trump, who were born in 1977, 1981 and 1984 respectively.
On the subject of the First Lady, Melania, Ivana said: "She's very quiet and she really doesn't go to too many places."
As for her own dating life, Ivana spoke about having "a lot of friends who are companions."
She explained: "I go with them for the lunches and the dinners and now we don't have any opera or anything, which I used to go to, but I have a lot of friends, male friends, who are friends, friends. Companionship yes, but not for the relationship."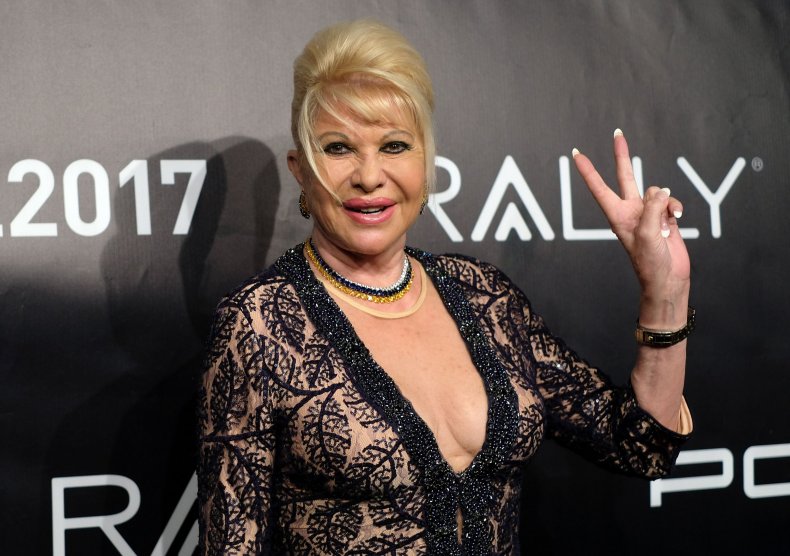 The former model grew up in Czechoslovakia (now Czechia) before moving to Canada in September 1973. She met Donald in 1976 at a modeling event in New York City.
In her Loose Women interview today, she shocked viewers by saying that immigrants "steal and rape women" in comments that did not go down well with host Jane Moore.
Speaking about her ex-husband, Ivana said, "He is pro everything I believe in. He is Republican and so am I. He's achieved so much, especially with immigration.
"I am immigrant, but they have to come to the country legally, they have to get a job, they have to pay taxes like the rest of Americans... A lot of people don't dress even American, they dress whatever they dress in.
"And they don't get a job and they steal and they rape the women. That's not our idea."
Moore responded: What you've just said about migrants a lot of people would find quite offensive. You're a migrant yourself—are you not shutting the door behind you? Do you not understand some people just want a better life? How you describe them is quite inhumane."
Ivana responded: "It is inhumane but everybody has to pick themselves up. They have to go and apply for the visa properly then they come to America. They can come and cross the border properly."